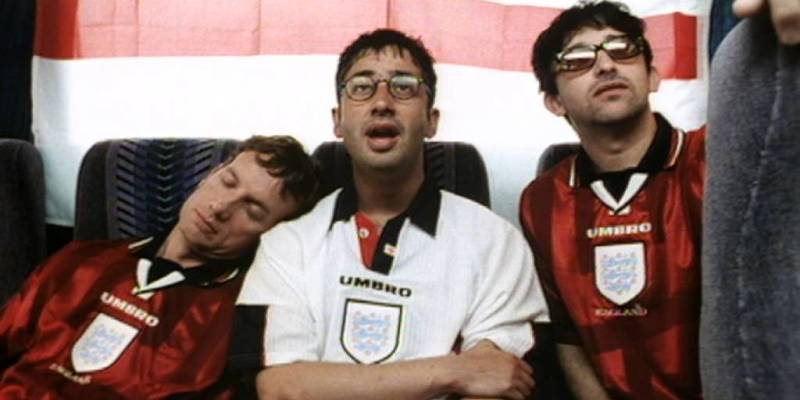 The Greatest England Songs Ever
For some reason, every time a major tournament rolls around, an 'official England song' is released. The idea is to get England fans excited and behind the team but often, the songs are either rubbish or unintentionally hilarious.
This year's crop of songs are slightly disappointing (you can listen to them here), but there have been some real 'classics' over the years. Here are some of our favourites!
(P.S: we're giving away an Official England Shirt to one lucky person who completes an order with us by June 8th. Check out this post for more details!)
Three Lions – The Lightning Seeds and Baddiel and Skinner
This is the England song, capturing the hopeless optimism of supporting a team that always  disappoints. It's weirdly beautiful and usually coincides with at least one bloke getting something in his eye. Crucially, though, it's great for a lairy singalong.
World in Motion – John Barnes ft. New Order and the rest of the England Squad
A favourite among musically-inclined England fans, this is actually a brilliant song by a great band. But let's not pretend that's why everyone likes it: this song is all about John Barnes, spitting bars like a politer Dr. Dre. Sublime stuff.
All Together Now – The Farm
As far as anthems go, this is top. It's got a belting chorus, a lovely tune inspired by Pachebel's Canon and a lovely message of unity. It loses points for not having a lairy bit overly excited England fans can chant outside the pub, though. Weirdly, it wasn't used as an England song until 2004 either.
 Sing 4 England – Chris 'Kammy' Kamara & Joe Public Utd.
Chris Kamara can sing?! Unbelievable Jeff! The only thing that could improve this is a couple of samples of Kammy's greatest Soccer Saturday moments.
On The Ball – Ant & Dec
Light entertainment titans Ant & Dec provided this rousing (and not at all annoying…) tune for England's trip to Japan and South Korea in 2002. The video sees the cheeky scamps attempting to impersonate Sven Goran-Eriksson and his assistant Tord Grip. We presume that's to manage England, and not to enjoy Sven's…erm, 'active' private life.
Vindaloo – Fat Les
The musical equivalent of shouting 'LADS, LADS, LADS!'. Also lacks ambition by stating that England will only score 'one more than you', which likely makes this Roy Hodgson's favourite England song.
Back Home – The 1970 England squad
Before the swagger of Vindaloo, there was Back Home, a somber tune sung with mournful grace by England's 1970 squad. It's a nice song, but c'mon lads, cheer up – you're the world champions!
This Time (We'll Get it Right) – The 1982 England squad

Another squad-based effort, although half the team look (and sound) like they'd rather be putting their tongue in a mousetrap than singing this tune. One performer stands out though; a perfectly permed Kevin Keegan, showing early signs of his showmanship (which culminated with his classic recital of his poem  'I'd Love It' on Sky Sports).
Diamond Lights – Glenn (Hoddle) & Chris (Waddle)
Not strictly an England song, but sung by 2 legends of the team. Glenn and Chris (who decided, criminally, not to dub themselves 'Hoddle and Waddle') croon over a moody synthpop track while dressed like a couple of punters at a Croydon wine bar in the 80s. Surprisingly, it's actually quite a good song.
What is your favourite England song? Have we missed any off our list? Give us a shout on Facebook, Twitter or in the comments.