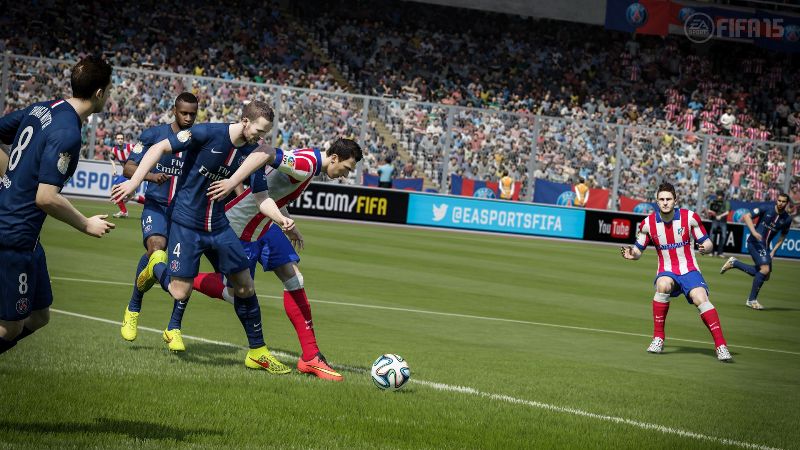 8 Alternatives to FIFA 16
FIFA 16, the latest edition of the world's biggest football game, is released this month. By the time you read this, thousands of people will be preparing to bang in goals and/or scream at their virtual team of overpaid divas because they can't seem to pass in a straight line.
Not all football fanatics will be snapping up EA's latest round of goals and glory, however; it could be that they don't have the money yet, or they might just not fancy EA's particular blend of football fun.
If you're one of those people, here are a few alternatives.
---
Pro Evolution Soccer 16
Pro Evolution Soccer is the Manchester United of the football game world: after a few years of unrivalled success, it has been overtaken by its rival and has spent a few years in the wilderness. The good news is, like United, Pro Evo is on the way back up.
This year, Pro Evo is going for the best football game title with some fancy new features – including an revamped Master League – added to the already-solid main engine.
The only real downside is that Konami still don't have official licenses for many leagues, which means you'll be playing as West Midlands Village (Aston Villa), South Wales (Swansea City) and Hampshire Red (Manchester Un"¦- sorry, Southampton) in generic kits.
If that doesn't bother you too much (you could always edit the team names if it does), give the Pro Evo 16 demo a go.
---
New Star Soccer (iOS & Android)
If realistic graphics and tactics aren't your thing, then New Star Soccer might just be the game for you.
NSS is ridiculously simple: you control a single player and try to score goals and provide assists by dragging your finger across the screen and tapping where you want to hit the ball. That's it.
On it's own, it'd be a fun but eventually boring game. Luckily, NSS has an RPG element tacked onto it. You have to guide a player through his career; the better you play, the more likely you are to be signed up for a big team. You also have to help your player find a girlfriend and buy lots of nice stuff with all of his money – it's a tough life being a footballer.
---
Football Manager
For those who think FIFA isn't hardcore enough, there is Football Manager. The ultimate management sim lets you control almost every aspect of a football team from transfers to tactics (apart from, of course, the players on the pitch), and has gained a massive cult following.
Of course, the life of a manager is often stressful and definitely time-consuming. Football Manager will test your love of the beautiful game to its very limits, but those who persevere will no doubt feel proud once they've led a Conference North side to the Champion's League Final.
---
Score! World Goals
Score! World Goals is actually more of a puzzle game than a football game, but don't let that put you off: it's still great fun.
Score! presents you with various classic real-life goals and asks you to recreate them by drawing lines on your screen. The more accurate your recreation of the goal, the more points you score – the more points you score, the more levels you unlock.
---
Flick Kick Football
Flick Kick Football, like Score!, is a relatively simple game where you score goals by flicking your finger across the screen. It doesn't offer anywhere near the depth of FIFA, but you'll get immense satisfaction from dispatching an inch-perfect free kick with a well-placed flick.
---
Fluid Football
Fluid Football is more or less the same game as New Star Soccer, except you get to dictate where other players run before placing your passes. Oh, and it also features the controversial duo of Richard Keys and Andy Grey on commentary.
You can download Fluid Football for free, although an ad-free version is available for 69p.
---
Sensible World of Soccer
Before FIFA and Pro Evo, there was Sensible World of Soccer. Originally released on the Amiga, the Xbox Live Arcade version is a direct port of the 1996/97 version of the game (widely considered to be the best).
If you like your football games to be ultra-realistic, this probably isn't the game for you. If you like a bit of arcade-y fun and a surprisingly in-depth career mode, however, SWOS might be worth a shot.
---
Old FIFAs
Now that FIFA 16 is nearly out, you'll be able to pick up the old FIFA games for practically nothing. FIFA 15 is the obvious choice if you want kind of up-to-date teams, but a lot of people prefer the slower-paced action of FIFA 15, while others enjoy the fast-paced 13 and 12. If you really want a throwback (and don't like the "˜tactical defending' of new FIFA games), dig out FIFA 11!
---
If you're planning to buy FIFA 15 (or if you've already bought it), sell your old FIFA games for cash with musicMagpie!