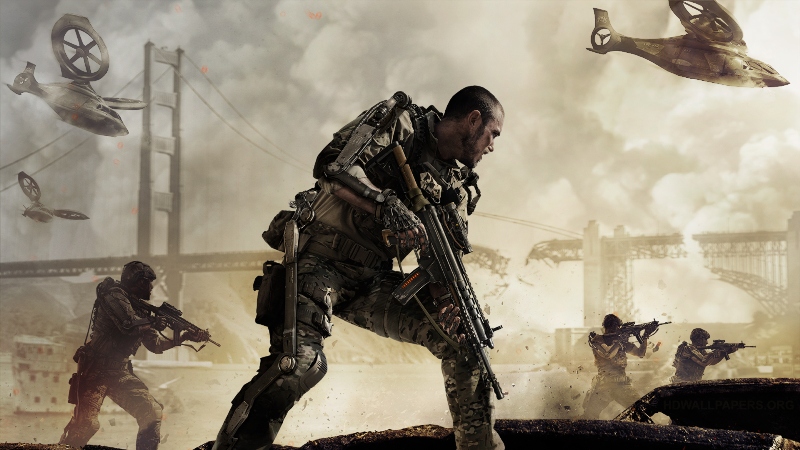 The Ultimate Call of Duty: Advanced Warfare Review Round-Up
Call of Duty: Advanced Warfare is now officially on shelves, but is it actually worth buying?
We've trawled the web and pulled together a few opinions from some of the finest games journalists around. Suit up, soldier!
---
Eurogamer
The notoriously harsh Eurogamer only gave Call of Duty: Ghosts 7/10 (which isn't a bad score, but is certainly lower than you'd expect for a Call of Duty game), and they published a (brilliant) piece on the long shadow the original Modern Warfare had cast over the franchise a couple of days ago: it wasn't looking good for Advanced Warfare.
Well, we needn't have worried. Eurogamer call Advanced Warfare 'the finest Call of Duty in years', with special praise reserved for the futuristic settings, the new abilities granted by the exosuit and, surprisingly, the campaign (which clocks in at 7 hours rather than the typical 5 or so).
Eurogamer haven't given Advanced Warfare a score yet, as they're planning to publish a full review based on playing on the live multiplayer servers. However, the signals are positive.
---
Gamespot
Gamespot's Miguel Concepcion awards Advanced Warfare 8/10, praising the 'content-rich multiplayer' and the 'futuristic combat tech and gear'.
The review describes the abundance of progression options in the game's multiplayer mode as erring on 'the side of excess'. Sledgehammer has included loads of multiplayer game modes too, a decision Gamespot describe as being like 'saying "let's give the fans every mode imaginable and let them decide what will be the popular mode in six months' time"'.
Concluding, Conception says: 'Advanced Warfare makes for a convincing foundation of futuristic yet relatable combat that is worth exploring and expanding further.' Sounds like an endorsement to us!
---
IGN
We love a good pun and IGN deliver with a single word corker: 'Exo-llent'.
It's pretty clear from the outset that IGN's reviewer Brian Albert loves the game, calling it 'the biggest and most successful departure from what's expected from a Call of Duty game since Modern Warfare' and 'faster and more focused than any Call of Duty game before it.'
As with the Gamespot review, Advanced Warfare's slightly cheesy plot comes in for some criticism, although the mechanics of the campaign are praised, such as the renewed focus on interactivity rather than the standard quicktime 'press X to do this' event.
The multiplayer is also praised for its selection of maps and modes. All in all, IGN give Advanced Warfare a very impressive 9.1/10.
---
Polygon
Polygon open with high praise for Advanced Warfare, stating the production values, excellently-balanced campaign and additions to multiplayer '…might be enough to chase away bad memories of Ghosts.'
Again, the plot is the main element singled out for criticism, but on the whole, Advanced Warfare is described as a leap forward for the series 'with vision and remarkable execution.'
Polygon gave the game a lovely 9/10.
---
GamesRadar
It's always a good sign when several reviews pick up on the same positives and negatives, so it's almost reassuring to see GamesRadar criticise Advanced Warfare's plot and save their praise for the 'fresh gameplay mechanics' and 'the massive multiplayer offering'. They give the game another near-perfect 4/5.
---
So, based on the reviews, it appears that Advanced Warfare is one of the best entries in the Call of Duty series to date.
If you're planning to buy Advanced Warfare but need a bit of extra cash, why not sell some of your games with musicMagpie?