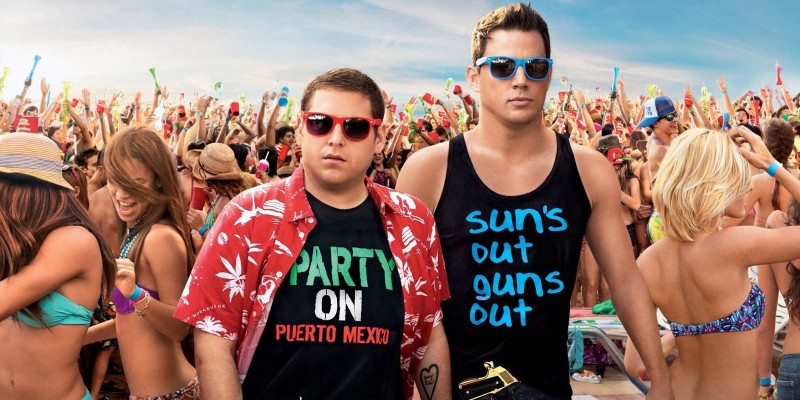 8 of the best comedy movie sequels
History is littered with bad comedy sequels. The genre lends itself to rubbish follow-ups: recycled jokes, generic plots, irritating characters – the list goes on.
Every now and then, though, a comedy sequel emerges that is actually pretty good. Take Ride Along 2, which is out now on DVD and Blu-Ray (both available from the musicMagpie Store, nudgenudgewinkwink), for example: while it has pretty much the same formula as the first, the relationship between Ice Cube and Kevin Hart is funny enough to sustain it all over again.
Here are some more hilarious comedy sequels that bucked the trend…
---
22 Jump Street
22 Jump Street isn't just a great comedy sequel; it's better than the first.
Remarkably, it manages it by being pretty much exactly the same film. Jenko and Schmidt return with eyes on joining the Secret Service, only to be reassigned to infiltrating a college. From then on, the film mocks itself mercilessly for copying the same plot as the first.
The real reason 22 Jump Street works so well is the chemistry between Jonah Hill and Channing Tatum, a comedy duo more unlikely than Adam Sandler and George Clooney.
---
Toy Story 2
Pixar rarely make a bad movie, so it's no surprise that they nailed a comedy sequel at the first time of asking.
This time, Woody is kidnapped by toy store tycoon and 'chicken man' Al. He plans to sell Woody and his co-stars from Woody's Round-Up to a collector in Japan, although he fails to account for the fact that Woody is best buds with Buzz Lightyear AKA the baddest toy on the planet.
Like the original, Toy Story 2 is hilarious and heart-warming in equal measure.
---
Harold and Kumar Escape from Guantanamo Bay
We're not going to pretend Harold and Kumar Escape from Guantanamo Bay is high art, although 'high' is probably a fair description for most of the movie.
Everyone's second favourite stoners (after Cheech and Chong) are sentenced to a stay in America's most notorious detention centre after trying to sneak a bong (which is mistaken for a bomb) onto a flight to Amsterdam.
They don't fancy that though, so they go on the run instead. Cue lots of stoner humour and some surprisingly stinging satire about the War on Terror.
The real highlight, however, is Neil Patrick Harris' show-stealing magic mushroom-fuelled cameo.
---
Anchorman 2: The Legend Continues
Alright, alright: it's not as good as the original.
It's a great comedy movie on its own merit though. Ron and the gang are great characters, and their road trip is hilarious – as is Ron's exile in a lighthouse (even though it's pretty weird). Ron's sensationalised take on the news, designed purely to win ratings, hits pretty close to home too.
Even the reused gags and catchphrases – and there are a lot of them – are pretty funny.
---
Bill and Ted's Bogus Journey
Most comedy films shy away from killing their main characters because…well, someone you like dying isn't that funny. So it's quite a shock when Bill and Ted, two lovable slackers, are thrown off a cliff by time-travelling robots.
Fortunately, it's a set-up for another wacky adventure where Death himself is a comedy sidekick and descent into the fiery depths of Hell is played almost entirely for laughs. It sounds pretty heavy but it's really not; if you loved the first movie, you'll love this too.
---
Jackass Number Two
You know you're in for a treat when a movie's title doubles up as a poo joke.
Jackass Number Two isn't big and it isn't clever either – but it doesn't want to be. Johnny Knoxville and co just want to make you laugh with gross, painful stunts involving a lot of bodily fluids, prosthetic genitals and the potential for broken limbs.
Turn off your brain and enjoy.
---
Austin Powers: The Spy Who Shagged Me
The sequel to Austin Powers: International Man of Mystery is pretty much the same movie, but in reverse. Instead of travelling to the future, Austin has to travel back to the past, where Dr Evil has taken everything he's learned from the future – monetary inflation and clips from disaster movies included – to try and take over the world.
You don't watch a movie like this for the plot though. It relies almost entirely on its characters, and how much you like it really depends on how funny you find evil mini clones, lairy obese Scotsmen and inept evil villains. Oh, and jokes about inappropriately shaped spaceships.
---
Ace Ventura: When Nature Calls
– Do you enjoy watching Jim Carrey gurn, put on silly voices and pretend to talk out of his bum?
– Would you like to watch that for an hour and a half?
If yes, you'll love Ace Ventura: When Nature Calls. If not, well…maybe watch something else. Although we do recommend checking out the scene where Carrey emerges from a fake rhino's behind regardless.
---
What is your favourite comedy sequel? Let us know below!
You can find all of the movies in this post, as well as Ride Along 2, on the musicMagpie Store. With FREE delivery and prices from just £1.19, we're one of the cheapest places to buy DVDs!