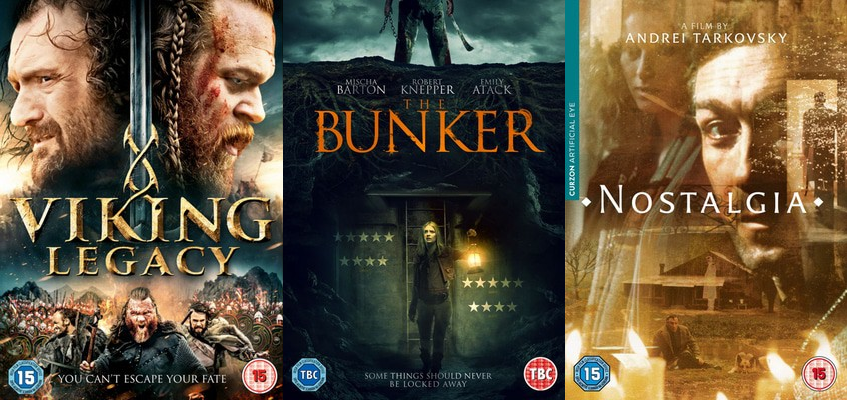 Magpie DVD Club: Check out this week's DVD recommendations
Seeing as we already share some of the best new and upcoming music with our Magpie Recommends series, it only seemed right that we recommend some of our favourite DVDs coming to the musicMagpie Store soon as well!
Here are our recommendations this week – go check them out!
---
Viking Legacy
Vikings are awesome. They have big axes, bigger beards and when they die, they get burned on a badass boat.
Therefore, pretty much anything about Vikings is awesome: the TV show Vikings, Valhalla Rising, Amon Amarth – the list goes on.
Viking Legacy could well join those vaunted classics in the halls of entertainment Valhalla. It follows factions warring over sacred scrolls which bring power and prosperity to their keeper. Unfortunately, the king who holds them is murdered, which forces his daughter – the heir to all that power – into hiding from some bloodthirsty miscreants.
If you like Vikings or Game of Thrones, this'll be right up your alley.
Pre-order Viking Legacy on DVD
---
The Bunker
The Bunker is a brutal horror that combines the thrills of a slasher movie with the disturbing concepts and visuals of Saw.
Mischa Barton plays Ella, who discovers her fiancée is secretly renting a storage unit at a local facility. She assumes he's cheating (naturally), so enlists the help of her friend Molly (Emily Atack) to break into the facility after hours.
It turns out the facility holds much more than old junk, however, and Ella is forced to fight for survival against a maniac who enjoys experimenting on people. Joining her are a drug addict, an ex-cop and even more unfortunates.
With Halloween just round the corner, this is a refreshing change from the norm.
---
Nostalgia
Nostalgia is the penultimate film by Andrei Tarkovsky, the legendary Russian director behind Solaris, and is being re-released on DVD and Blu-Ray.
It follows homesick Russian poet Andrei Gorchakov (Oleg Janovsky), who is in Italy to research an 18th century composer for a biography, and the young translator with whom he's engaged in a tense will-they won't-they relationship (like an arthouse Ross and Rachel…sorta).
Like most Tarkovsky movies, Nostalgia is a slow-burner; the man himself recommended people watch it "as if it were the window in a train travelling through your life". But the narrative – which parallels Tarkovsky's own self-exile from Soviet Russia – and the gorgeous visuals, which look even better on Blu-Ray, make it well worth spending an intellectual night in for.
Pre-order Nostalgia on Blu-Ray
---
Final Fantasy XV: Kingsglaive
After what feels like an age, Final Fantasy XV finally hits consoles next month. This prequel, which features the voices of Aaron Paul, Lena Heady and Sean Bean, should appease your FF appetite until then.
Kingsglaive sets up the events of Final Fantasy X, charting the war between the magical nation of Lucis and the evil Niflheim Empire. Under the command of King Lucis (Sean Bean), the Kingsglaives are sent to fight the Niflheim. King Lucis soon faces an ultimatum that puts his nation at threat, however…
If you're even the slightest bit interested in Final Fantasy XV, this is a must watch.
Pre-order Final Fantasy XV: Kingsglaive on DVD
Pre-order Final Fantasy XV: Kingsglaive on Blu-Ray
---
Preacher: Season One
Preacher is a supernatural fantasy drama based off the comic book of the same. It follows shambolic Texan preacher Jesse Custer, who is losing his faith in the almighty and replacing it with booze and bad behaviour. However, when a powerful force enters his body and gives him extreme powers of persuasion, Custer on a new, more awesome, path of preaching.
This isn't a faith drama by any stretch of the imagination. It's insanely violent, with Joe Gilgun of This is England fame playing a particularly violent vampire, and pretty blasphemous too. It also has a wicked sense of humour, which is no surprise seeing as Seth Rogen, Evan Goldberg and Sam Catlin co-created the show.
All in all, this is one of the most original TV shows of the year. Get it for your next boxset binge.
Pre-order Preacher: Season One on DVD
Pre-order Preacher: Season One on Blu-Ray
Pre-order the Preacher: Season One Steelbook
---
Check back next week for more DVD recommendations from the musicMagpie Store.
In the meantime, browse 1000s of movies and TV shows from just £1.19 plus FREE delivery!