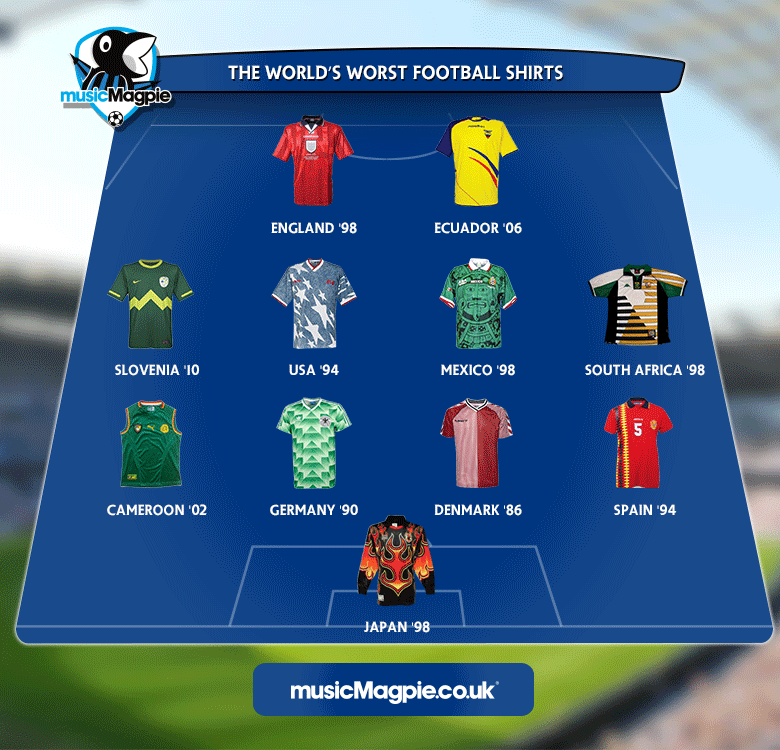 The World's Worst Football Shirts XI
Football has given us some truly terrible football shirts over the years, the kind of garments that would have any dedicated fashionista crying into the latest issue of Vogue.
None, though, are quite as bad as the shirts in our World's Worst Football Shirts XI. We've scoured the archives for terrible shirts from international tournaments past and dug up some true shockers. You can see all of them in the above GIF, or scroll down a little bit more info on all of them.
Luckily, the Official England Shirt this year is a classy number that'd be just as home in a posh restaurant as it would on the terraces (probably). And, in even better news, we're giving one away! Just complete an order with us by June 8th for a chance to win an Official England Shirt (which, let's not forget, costs up to £90!). Full details on the comp can be found here.
In the meantime, enjoy our gallery of terrible shirts! If one does happen to take your fancy (we're not judging…much), most of them are still available online but be warned; they cost a pretty penny. Best get selling DVDs, CDs and Games to afford them, eh?!
SCROLL DOWN TO SEE EACH SHIRT AND MORE FUN FACTS!
So here it is; our World's Worst Football Shirt XI. No matter how badly England do this summer, at least they won't look as bad as this.
Unconfirmed sources (that we've just made up) suggest that this shirt was designed by a 13 year-old boy who'd just heard Metallica for the first time. Either way, Japan's attempt to scare opposition strikers with fire failed miserably; they finished bottom of their group having lost every single match.
Two very different but equally gross shirts now. Cameroon's gun-show shirt was groundbreaking when it was unveiled in 2002 but the prudish suits who run football decided to think of the children and banned the shirt. Cameroon had to wear a t-shirt underneath the shirt, making them look like British tourists trying to avoid sunburn.
Germany's effort was the first of a succession of awful shirts, an action-chevron-adorned number that was inspired by a page ripped from a book of optical illusions.
Denmark are renowned for their excellent bacon, but they decided to take inspiration from another famous purveyor of meat for their '86 shirt: Wimpy. The result is a lovely red and white menu effect straight from the 'menu' template on Microsoft Publisher.
Spain's '94 shirt is in stark contrast to the stylish all-conquering team they have now. It's a bit like someone very attractive's awful school photo that they won't show anyone until their dying day.
The various badges and sash across Slovenia's '10 shirt form a very convincing cartoon monster. In fact, the shirt went on to have its own cartoon in Slovenia until an unfortunate scandal involving a beautiful woman and a hot tub (we made that up, sorry).
While the USA's 94 shirt is pretty horrendous, it could have been much worse than the denim and stars number they produced. Initial plans included having a picture of some cowboys, a Big Mac and Kevin Costner's face on the front (we made that up too, sorry again).
Mexico's '98 shirt is very 'love it or hate it'. We would say we hate it, but we're scared of risking the vengeance of the ancient Aztec God of Football, so we're going to say we love it (please don't strike us down, Aztec God of Football).
The design brief for South Africa's '98 shirt (it was a bad year for football shirts…) appears to have been 'make it look like that spinny thing you get in the corner of the TV before adverts, except a bit more colourful'. Job done (although not very well).
 EN-GER-LAND! A controversial choice, especially as it's from the year when Michael Owen scored an absolute screamer against Argentina. Unfortunately, national treasure David Beckham was sent off in the same game for kicking Diego Simeone, so it brings bad memories.
Ecuador took inspiration from '80s fitness videos for this little number, combining the one-sleeve, action-slashes and athletic line into one kit.