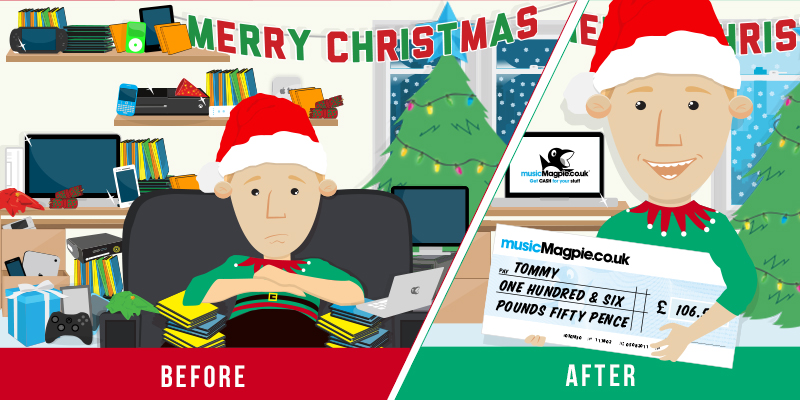 The Surprisingly Easy Guide to Decluttering before Christmas
Christmas is less than a month away, which means we're now officially in the period where you have to stop complaining about people talking about Christmas and actually start preparing for it.
A significant part of these preparations is decluttering, even though a lot of people forget to. Clearing your home before Christmas is essential if you don't want your house to end up looking like a unused set from the beginning of Willy Wonka and the Chocolate Factory.
So, without any further ado, here is our surprisingly easy guide to decluttering before Christmas.
---
Think about how much space you're going to need
Christmas is a drain on space as well as money, with growing sections of your home dedicated to presents, Christmas trees and rubbish ornaments your mum bought you a few years ago that you don't have the heart to leave in the box.
To make this space, you'll have to take one of two steps: shift a load of stuff around temporarily, or sell some stuff. It's pretty obvious which of those we'd advocate, but there's a good reason for that. Shifting stuff around leaves your home looking messy, and you don't want that if your relatives are coming round.
So, before you put the Christmas tree up, take a look around and see if there's anything you can get rid of for good – it'll make setting up for Christmas a lot easier.
---
Prepare for presents
Presents are lovely, but they take up space too. The more presents you get, the less room you'll have in your home. Something's got to give and, unless your present is particularly rubbish, you're not going to get rid of your new stuff. Guess it's time to declutter!
Decluttering before you get an influx of presents is easier in the long run, although it does involve figuring out roughly what you might be getting. If you're expecting DVDs, start clearing out your DVD collection (read some top tips here) and so on.
Electronics are slightly different, because you probably won't want to get rid of your old iPad until you're playing with your new one on Christmas morning. If you're absolutely certain you're getting some new gadgets, though, get selling: the money might come in handy!
---
Be brutal
Christmas is the most sentimental time of the year, but there's no room for sentiment during a pre-Christmas declutter. Don't talk yourself out of getting rid of stuff you don't need any more, as sentimental value doesn't count for much if you're struggling to find space for your Mum to sit on Christmas Day!
---
Plan ahead for January
A pre-Christmas declutter is a good way of making money as well as clearing space. January – that endless month of misery and bills – is not too far off, so it's a good idea to start working out your expenses for December (including all those parties!) and start coming up with ways to pay them off in January. Selling your stuff can help!
---
Put on a Christmas CD and a jumper
Add a bit of Christmas cheer to your decluttering session by sticking on a few Christmas classics and wearing a horrifically ugly jumper. You know it makes sense.
---
Have you got any pre-Christmas decluttering tips? Share them with us below.
And remember: you can sell all of your unwanted CDs, DVDs, Games and Electronics with musicMagpie all year round.