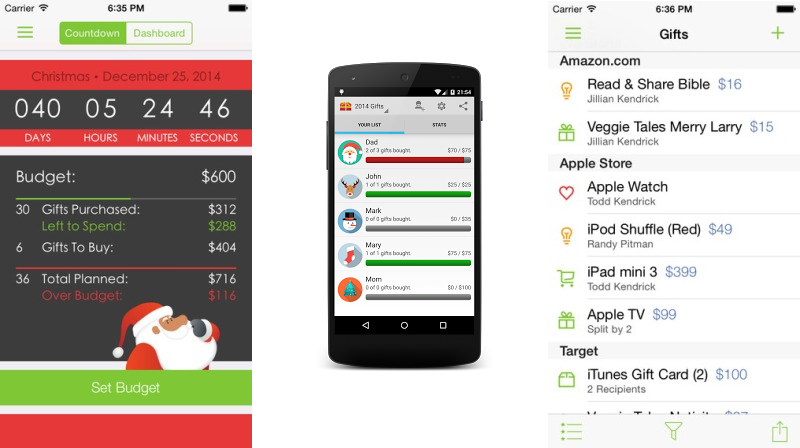 The Surprisingly Easy App of the Week: A Christmas Shopping Special
Each Thursday, we normally bring you one app that'll make your life easier. However, as its the season of giving (and the fact that one of the apps is an iOS exclusive…), we're bringing you two surprisingly apps this week!
Both of the apps in this week's post are designed to make Christmas shopping – that horrible, endless slog where you desperately scrabble around trying to find something half-decent for the people you love – easier.
---
iOS: Santa's Bag – Christmas Gift List
What is it?
Santa's Bag is a smart shopping list manager that makes your Christmas shopping plans as effective as a well-planned military operation. It tells you who you need to buy for, how much money you have left and (crucially) how many days you have left.
Why is it surprisingly easy?
The creator's of Santa's Bag have literally thought of everything (apart from the fact that the name of app borders on innuendo territory).
To start, you import the people you're buying for and set an overall budget, as well as a budget for each person on your list. From there, you can plan gifts and create wishlists and shopping lists. The app will then track your purchases, telling you how much you've got left for each person on your list (and whether you've gone over).
The best bit
Everything. Before Santa's Bag, Christmas shopping was hell. Now we're wondering what all the fuss was about: we've got our gifts, we're on budget and we've got plenty of time to kick back with a mince pie and some mulled wine before the big day. Lovely stuff!
The downside
You'll still have to brave the crowds in your local High Street. It doesn't tell you what to buy people either.
---
Android: Christmas Gift List
What is it?
Another shopping list manager which shares many of Santa's Bag's main features: you add people and their gifts to a list, set a budget and track your purchases while a scary clock counts down to Christmas Day. Honestly, the clock makes Christmas Eve shopping as tense as an episode of 24.
Why is it surprisingly easy?
It'll make your Christmas shopping a doddle. It's so easy to set up your list and budget that you'll wonder why you haven't bothered using an app before. Tracking is just as easy too.
Oh, and you can set a password so no-one can open the app to find out what they're getting!
The best bit
Like Santa's Bag, Christmas Gift List is an impressive all-around package that we wish we'd used sooner.
The downside
Christmas Gift List is nowhere near as catchy (or funny) a name as Santa's Bag. It doesn't look as festive as Santa's Bag either.
Download Christmas Gift List on Android
---
Got a surprisingly easy app you want to share? Let us know in the comments. And don't forget, you can check out every surprisingly easy app we've covered by clicking this link.
If you want to make a bit of cash to help you through Christmas and January, why not sell your unused phones with musicMagpie?