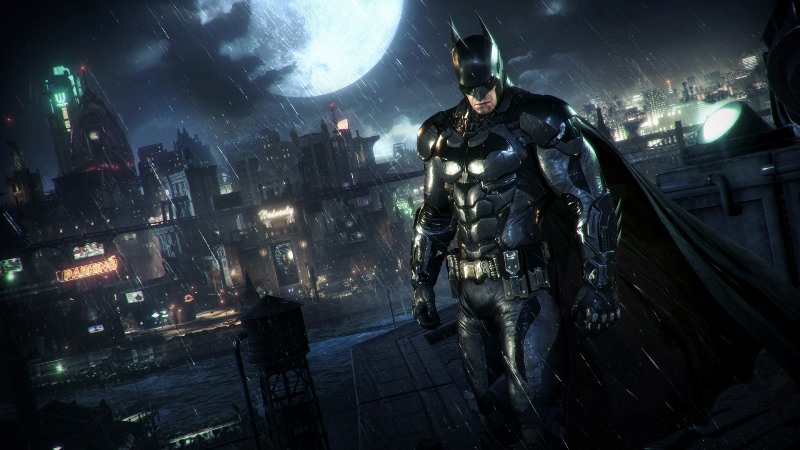 2015's most exciting new games
It's been a funny old year in the world of games. The Xbox One and PS4 had their first full year, yet neither really set the world on fire. Destiny, the world's most expensive game, ended up being…well, alright. There were loads and loads of remakes too.
But let's not dwell on the past (that's for another post). Join us as we gaze into the future and get all giddy about the wealth of epic games heading our way.
Make some space and start selling your unwanted games now!
---
Metal Gear Solid V: The Phantom Pain
Legendary hide-and-seek champion Solid Snake returns for another bout of confusing conspiracies, silly boss fights and crawling around in cardboard boxes.
This time around, Snake forms a group of mercenaries called the Diamond Dogs (clearly a Bowie fan) to take down a shadowy organisation called Cipher, who are apparently planning to build some seriously destructive military hardware.
The game, like the prologue Ground Zeroes (which was released earlier this year), is open world and includes fancy new features like base-building, companions and…erm, horse-riding. Unlike Ground Zeroes, it'll be more than 10 minutes long.
Release date: '2015' is the official date, which is useful. A rumour is persisting that it may be released on June 22nd, though.
---
Batman: Arkham Knight
The final part of the Arkham trilogy sees Bats taking on the Scarecrow, who has come back to try and drive Gotham's citizens mad by scaring the living daylights out of them.
Arkham Knight retains the incredible combat and stealth systems of the previous games, with one crucial edition: the BATMOBILE!
Yes, you will actually be able to drive the Batmobile. Holy moly, I think I need to sit down…
Release date: June 2nd 2015. Get your Batmobile keys ready.
---
Uncharted 4: A Thief's End
Intrepid explorer Nathan Drake has retired, which is probably well deserved considering what's gone through in previous games. However, like all good retired heroes, Drake is forced back into action in what Naughty Dog have called his 'greatest adventure yet'. Suppose it beats sitting at home munching Werther's Originals and watching Countdown…
Oh, did we mention that Uncharted 4 looks nothing short of incredible? Seriously, watch the video above and try not to hurt your jaw too much when it drops to the floor.
Release date: 'TBA 2015'. Grr…
---
Battlefield: Hardline
AKA Battlefield: Cops and Robbers. Hardline does away with the soldiers of previous Battlefield games and instead casts players as either a member of a SWAT Team or an extremely well-armed criminal.
It looks like a novel take on a franchise that needed bit of retooling after the disappointing previous instalment, and it'll certainly make a change from playing as generic armed-to-the-teeth modern combat army man.
Release date: March 17th, 2015.
---
Halo 5: Guardians
No-one actually knows exactly what Halo 5: Guardians is about yet but a lot of people are still very excited. What we do know for sure is that Master Chief will return, and that people who bought The Master Chief Collection will be able to access an exclusive multiplayer beta from December 29th.
Release date: Autumn 2015
---
No Man's Sky
This science-fiction adventure has been the talk of the gaming industry since it was first unveiled at VGX 2013, and we'll finally get to experience it for ourselves in 2015.
Players explore various universes and planets, all of which are generated using an algorithm. This essentially means that no two games will be the same, with players able to share their own unique stories with other gamers.
Release date: June 2015
---
Star Wars: Battlefront
2015's Battlefront is the first new game in the Battlefront series in 6 years, and the first to hit consoles since 2005.
In case you're not familiar with the series, it basically involves two massive teams of Star Wars characters (Stormtroopers, Wookies, etc) blowing each other to smithereens on various battlefields from the franchise.
As long as we can crush all before us with an AT-AT Walker, we're sold.
Release date: Late 2015 (around the same time as The Force Awakens).
---
Star Fox
2015 is going to be a good year for Nintendo: not only are sales of the Wii U finally picking up, but they've got some great games on the way too.
Star Fox is the pick of the bunch, with Nintendo reviving the classic 3D spaceship side-scrolling gameplay of the legendary SNES and N64 editions.
Nintendo has something of a knack for updating its classic formulas and making them even better (see Super Mario Bros and Mario Kart), so we're pretty convinced this will be a hit.
Release date: TBA 2015…
---
Tom Clancy's The Division
War! Huh! What is it good for?
Good video games, as it turns out. This 3rd person MMO centres around the collapse of the United States after a biological agent is spread on banknotes on Black Friday (there's some kind of social commentary there…). Players team up to restore order and save what's left of America.
Release date: TBA 2015…
---
The Order: 1886
This historical action-adventure, which focuses on a long and bloody conflict between man and were-man, was due to be released at the same time as the PS4. Unfortunately, it's been significantly delayed.
The wait seems to be worth it though, as The Order looks amazing.
Release date: February 20th 2015
---
What games are you looking forward to in 2015? Let us know in the comments!