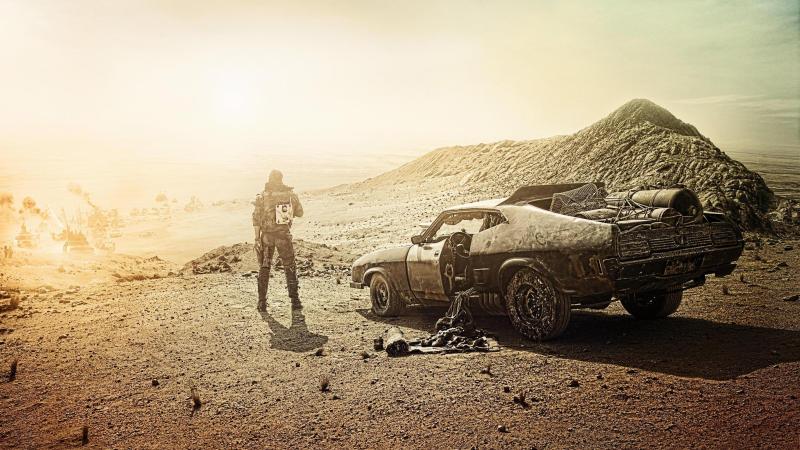 The Films You Should Be Looking Forward to in 2015: Part One
They say the only certainties in life are death and taxes, but we're pretty confident we can add another certainty to that list: 2015 is going to be a ridiculously good year for movies.
There are so many good movies lined up over the next year that when it came to putting together this post, we couldn't actually fit them all in. So, we've decided to split our look forward into two posts: this one features films up until mid-May, while part 2 (which we'll publish on Tuesday) covers the rest of 2015.
So, read on and get very, very excited. Oh, and you'll probably be spending quite a bit on cinema tickets next year, so think about selling some DVDs if you need the extra cash!
---
Birdman (1st January 2015)
Alright, so this isn't strictly a 2015 movie, as it's been out in the States for a couple of months now. However, as we in the UK don't get to see it until next month, we're counting it.
This darkly comic tale of a washed-up actor who found fame playing a superhero (played by none other than ex-Batman Michael Keaton) has cleaned up at the Golden Globes nominations, getting 7 nods including Best Picture (Comedy), Best Director and a couple of Best Actors noms for Keaton and Edward Norton.
That almost certainly means it'll do well at the Oscars too, so it's well worth checking out.
---
Taken 3 (January 9th 2015)
Liam Neeson returns as cinema's greatest badass Bryan Mills. This time, poor Bryan is framed for the murder of his ex-wife and has to use his particular set of skills to find the real killers and protect his daughter at the same time.
Needless to say, he will find them and he will…well, you know the rest.
---
Jupiter Ascending (6th February 2015)
This space opera from the Wachowskis (who directed The Matrix) was due to be released earlier this year, but was delayed so that over 2,000 new special effects shots could be completed.
It seems to have paid off, because Jupiter Ascending looks pretty amazing. The film follows a normal Earth girl (Mila Kunis) who is told she has a much greater purpose by a visiting spaceman (Channing Tatum). It's been described as a mix of Star Wars and The Matrix which sounds very promising indeed.
---
Fifty Shades of Grey (13th February 2015)
After much chatter and speculation, the film adaptation of the only mucky book its acceptable to read on the bus (trust us…) is nearly with us.
It looks like a fairly straightforward adaptation of the book, although don't go expecting lots of full-on rumpy pumpy as the film is reported to be getting a 15 certificate. We still wouldn't go and watch it with your parents though…
---
Blackhat (20th February 2015)
Although Michael Mann's last film was the slightly disappointing Public Enemies, we will always be excited for a new film from the genius who brought us Heat.
Blackhat sees Chris Hemsworth (you're going to be seeing a lot of him next year, by the way) star as an ex-hacker tasked with helping the US and Chinese governments find a notorious cyber criminal. Heat for the 21st century? We can't wait.
---
In the Heart of the Sea (13th March 2015)
It's Chris Hemsworth again! This time, the artist also known as Thor is taking to the 7 seas for an adaptation of the real-life tale which inspired Moby Dick. Hemsworth and his merry crew of sailors are attacked by an angry sperm whale and forced to survive after their ship is destroyed.
---
Chappie (27th March 2015)
Chappie is the latest film from Neill Blomkamp (Elysium/District 9) and follows a child-like robot who gets kidnapped by a gang in order to do their bidding.
It looks slightly lighter and funnier than Blomkamp's previous films, although there should still be a fair bit of action too. Sharlto Copley voices CHAPPiE, with Hugh Jackman and Sigourney Weaver co-starring.
---
Furious 7 (3rd April 2015)
The latest edition of the long-running street-racing franchise has dropped the 'fast' from its title, although we wouldn't worry too much because it looks like there are still plenty of speedy cars (it wouldn't be much of a film without them really, would it?).
Sadly, Furious 7 will be Paul Walker's final film appearance. He had filmed half of the movie by the time he passed away last year. The rest of the film was completed using his brothers Caleb and Cody as stand-ins.
---
The Avengers: Age of Ultron (24th April 2015 – 7 days before America!)
In any normal year, this sequel to The Avengers would be the biggest film of the year without question. However, a little film called Star Wars is almost certain to claim that crown instead…
Neverthless, Iron Man and his pals are back to battle evil robot fella Ultron, a self-aware being created by Tony Stark to bring peace to the world until he decides that the best way to bring peace to the world is to get rid of people.
The big news, though, is that Iron Man and The Hulk might have a scrap. Bring it on!
---
Mad Max: Fury Road (15th May 2015)
Words simply cannot do justice to how crazy – and good – the new Mad Max film looks, so just watch the trailer. We seriously cannot wait.
---
Join us on Tuesday for part 2 of our 2015 film countdown, when we'll be laughing at ant-based superheroes, marvelling at dinosaurs and debating the merits of lightsabers with handles.
Until then, let us know what films you're looking forward to in the comments!