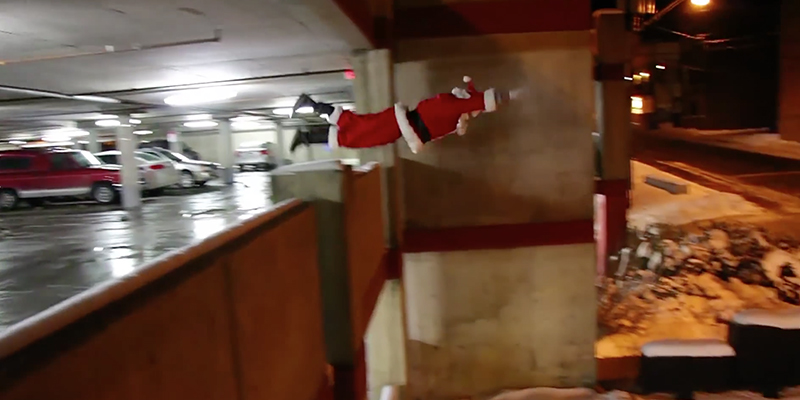 Christmas Cheer: 7 of the Best Christmas Videos
'Tis the season to be jolly – or something like that. To get you in the mood for all the festive fun and frolics over the next couple of weeks, we've put together some of our favourite festive videos for you – including two stuntmen Santas (one good, one very, very bad), two epic Christmas light displays and literally the best Dad dancing you'll ever see.
---
Santa Claus: Great Delivery Man, Even Better Stunt Man
Forget a sleigh; in the 21st century, this is how the big guy actually delivers his presents. Expect a video of Rudolph boardsliding down someone's stair rail soon.
---
Erm, Actually, Forget About That Stunt Thing…
For a man who can jump off roofs and do backflips, you'd expect Santa to be able to rappel down a short line in a mall without it turning into a horribly cringeworthy ordeal. Apparently not…
---
The Greatest Christmas Lights Ever (Part 1)
The next time someone brags about how great their Christmas display is, show them this. That'll keep them quiet.
---
The Greatest Christmas Lights Ever (Part 2)
Nothing says Christmas like a lights display set to the festive sounds of…erm, Slayer.
---
Top Dad Dancing
Sainsbury's brought together a group of Dads and forced them to dance to dubstep. What happened next could change our perception of Dad dancing for good…
---
Drones Spreading Christmas Love (and Germs)
Ah, the wonders of technology: you can now make people kiss each other at will with just a drone and a bit of miseltoe. D'aww…
---
Don't Tell The Kids…
And finally, a newsreader in Australia blabs the biggest Christmas secret of them all on live television. We suspect Ms. Flanagan might be receiving coal in her stocking this year…
---
Share your favourite Christmas videos with us in the comments!