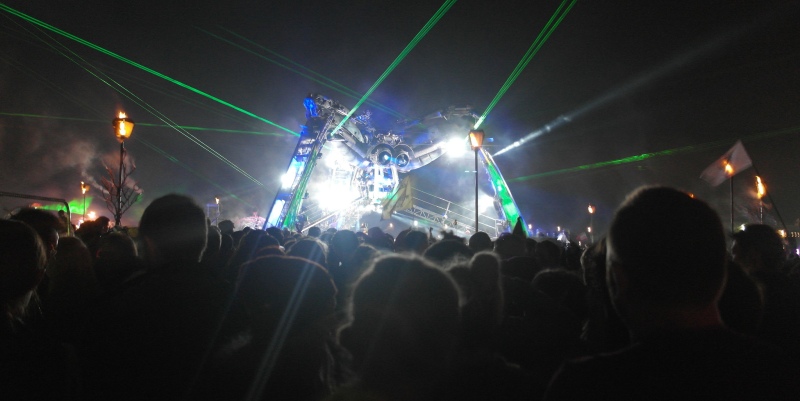 Friday Five: Songs you won't want to miss at Glastonbury
After traffic chaos on Wednesday and mudbaths on Thursday, the music bit of Glastonbury finally kicks off today.
If you aren't at the festival (hello if you are), then here are five songs you won't want to miss on this weekend's TV coverage.
---
Hello – Adele
Adele isn't your typical Glastonbury headliner for two reasons: she isn't a rock band and she is almost universally loved. Honestly, try and find someone who doesn't like Adele. It's impossible. There wasn't even a hint of a petition to stop Adele playing this year's fest (Coldplay, on the other hand…)
There are bound to be plenty of highlights in Adele's set, from the weepie Someone Like You to her now infamous on-stage banter. We think Hello will be the biggest moment though; that chorus was written for hundreds of thousands of people to belt out in the middle of a field together.
---
Let It Happen – Tame Impala
Tame Impala's brand of psychedelic rock is perfectly suited to Glastonbury's heady mix of hippies, stone circles and…erm, 'substances'.
While Tame Impala's older records saw the band take a more straightforward psych-rock route (if there is such a thing), their latest album Currents is a more electronic offering.
The highlight of Currents is undoubtedly Let It Happen, an eight minute epic with lyrics that are basically Let It Go if it was written by John Lennon. You won't be able to get the main melody out of your head for days.
---
What Went Down – Foals
Foals have always been a good band, but we were taken aback when we first heard What Went Down, a snarling, aggressive rocker that wouldn't sound out of place in a punk band's set list.
This is the kind of song made for going crazy to, the kind of song you don't mind falling face-first into the middle of a muddy mosh pit for. Although we're quite content rocking out to it from the comfort of our armchairs, thank you very much.
---
Shutdown – Skepta
Grime has finally broken into the mainstream thanks to artists like Stormzy, JME and Skepta, something which has been confirmed by Skepta's slot on the Pyramid Stage on Friday.
His recent album Konnichiwa is full of great tunes, but Shutdown is the pick of the bunch. It'll also be funny to watch loads of drunk people trying to rap along and failing miserably.
---
Mr Blue Sky – Jeff Lynne's ELO
Filling the 'beloved veteran' slot this year, Jeff Lynne and the Electric Light Orchestra don't boast quite as many hits as Lionel Richie and Dolly Parton.
You can expect the roof to come off when the first notes of Mr Blue Sky start playing though (metaphorically, of course). The feelgood chorus should be a perfect antidote to what has been a fairly bitter couple of weeks.
---
Who are you most looking forward to at this year's Glastonbury? Let us know in the comments.
Don't forget: you can buy CDs and vinyl from all of the artists in the post, plus loads more artists playing Glastonbury, on the musicMagpie Store. Prices start from just £1.19!
Image credit: draxil on Flickr via Creative Commons.