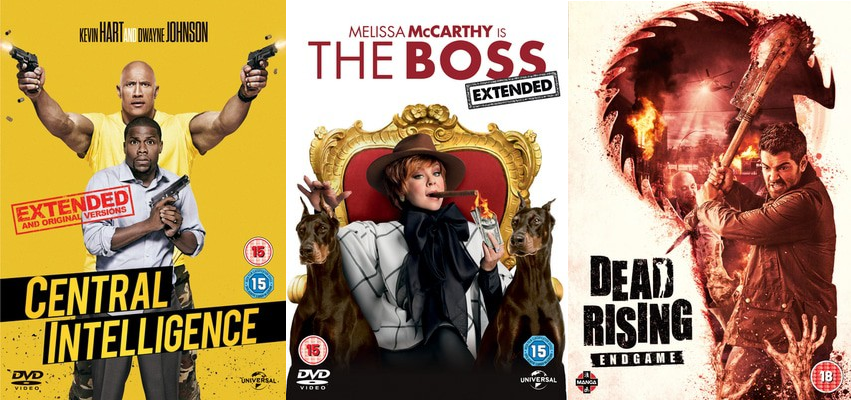 Magpie DVD Club: The Angry Birds Movie, The Boss and more!
Looking for something new to watch? Here are some of the best new films coming to DVD and Blu-Ray on the musicMagpie Store over the next couple of weeks!
---
The Angry Birds Movie
When The Angry Birds Movie was announced, a lot of people wondered what it'd be about. After all, the game boils down to lobbing birds to their death in order to kill green pigs who want to eat the birds' children. Not only is it pretty grim, but most films don't have their main characters die every 2 seconds either.
Luckily, The Angry Birds Movie does a great job of bringing the bird vs. pig war to the big screen. It follows Red, voiced by Jason Sudeikis, who is sent to anger management and meets some equally angry birds – Matilda (Maya Rudoplph), Chuck (Josh Gad) and Bomb (Danny McBride).
At the same time, a seemingly friendly (spoilers: they're not) group of pigs visits the birds' island and present them with a shiny new catapult. Of course, they're really there for the eggs and it soon falls to Red, the angriest of the angry birds, to jump into the catapult and hurl himself at the pigs.
The Angry Birds Movie is a great family comedy, the perfect kind of movie to stick on during the school holidays or on a lazy Sunday afternoon!
Angry Birds is released on 17th October
Buy The Angry Birds Movie: DVD | Blu-Ray | 3D Blu-Ray | 4K | Steelbook Edition
---
The Boss
Melissa McCarthy plays millionaire CEO, motivational speaker and all-around bad egg Michelle Darnell in this excellent comedy.
Darnell is responsible for building up numerous Fortune 500 companies, a feat she achieved by actively avoiding family and friends. Unfortunately, she gets caught insider trading and is sent to jail.
When she leaves, her money and business are gone. In hard times, she moves in with her loyal assistant and eventually begins a Girl Scout cookie enterprise to try and get back to the top.
If you enjoyed Spy, Tammy or The Heat, you'll probably love this two.
The Boss is released on 24th October
Pre-order The Boss: DVD | Blu-Ray
---
Dead Rising: Endgame
If you watch The Walking Dead, you'll know that the zombie apocalypse is pretty flipping depressing. But it doesn't have to be, as Dead Rising series of games has proved. With some inventive weaponry, it can even be quite fun!
Dead Rising: Endgame brings all the fun and frolics of killing zombies with an insane arsenal of personally-crafted weaponry to the film world.
It follows reporter Chase Carter, who is investigating the government's involvement in a zombie outbreak. However, he soon finds out that an evil General is planning to kill survivors using a drug that wards off the effects of infection, sparking a race against time to stop him (while trying not to get his brains eaten, obviously).
Dead Rising: Endgame is released on 31st October
Pre-order Dead Rising: Endgame: DVD | Blu-Ray
Pre-order Dead Rising: Endgame & Dead Rising: Watchtower: DVD | Blu-Ray
---
Maggie's Plan
Indie favourite Greta Gerwig stars in this comedy-drama as Maggie, who wants to have a baby despite being single.
The film follows her attempts to find a sperm donor for her plan, although said plan goes a little off the rails when she falls in love with a charming professor (Ethan Hawke) who happens to be married to even more brilliant academic (Julianne Moore).
A complex love triangle soon emerges, and Maggie is soon left with a tough decision regarding her future. If you like clever, quirky humour and/or have ever wondered what Julianne Moore would sound like with a Danish accent, give this a watch!
Maggie's Plan is released on 31st October
Pre-order Maggie's Plan: DVD
---
Central Intelligence
Central Intelligence was one of the biggest comedy movies of the summer and it's not hard to see why: not only does it star Kevin Hart, one of the funniest men alive, but it teams him up with Dwayne 'The Rock' Johnson, who possesses surprisingly brilliant comedy talent along with his brawn.
Johnson plays Bob Stone, a formerly nerdy teenager who has since hulked out into a behemoth CIA agent… who still loves Molly Ringwald and wears a 'fanny pack', who meets Calvin (Hart), the only kid who was nice to him at school, at a reunion.
Calvin, who was once the coolest kid at school, is now stuck in middle age tedium and so jumps at the chance to help his old buddy clear his name and thwart some terrorists with his accounting and software skills. Unfortunately, he's woefully inadequate at pretty much every other aspect of being a secret agent…
Central Intelligence is released on 31st October
Pre-order Central Intelligence: DVD | Blu-Ray
---
You can find 1000s more DVDs and Blu-Rays at amazing prices on the musicMagpie Store. Save even more by checking out our special offers too!