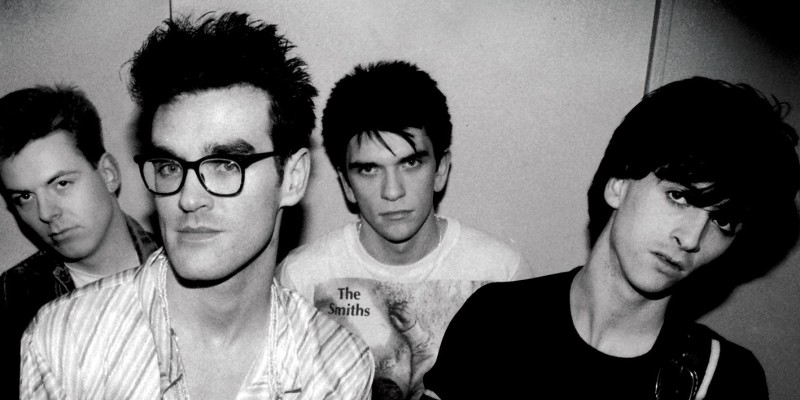 10 incredible facts about Morrissey
Steven Patrick Morrissey, the former Smiths frontman, is the subject of biopic 'England is Mine' which was released in the UK earlier this month. One of the most loved singers ever is immortalised in the feature film that looks at the life Morrissey had before he became the flower-wielding enigma he's known as today. How much do you know about him? Take a look at our 10 interesting facts about the man himself.
Johnny Marr is responsible for the 'Moz' nickname
Morrissey is often lovingly shortened to Moz, and it's just always been that way. But, this nickname is actually down to Morrissey's Smiths bandmate Johnny Marr. Back in 1984, Marr would dub Morrissey 'Misery Mozzery' – the rest, as they say, is history.
Morrissey loves his soaps
Strangely, yes. Morrissey might be vocal about his disdain for his home city of Manchester but he adores the cobbled streets of Coronation Street. So much so, he even asked if he could write for Corrie. His ties with soaps don't end there – he's appeared on Brookside and turned down appearances on Emmerdale and EastEnders.
Tony Wilson wasn't a fan
'Mr Manchester' Tony Wilson is renowned for his involvement in Mancunian culture and music. He is portrayed in the films 24 Hour Party People and Control. Wilson apparently couldn't see the hype around four-piece The Smiths, and is quoted as saying; "I'm not so sure about Johnny… 'Hand In Glove' is 'Rebel Rebel'." Fortunately, many others disagreed and saw the worth in The Smiths!
'There Is a Light That Never Goes Out' almost didn't make the cut
Well, if Morrissey had had his way. In his autobiography, the Moz said "I had missed the value of 'There Is a Light That Never Goes Out', and I suggested to Johnny that it shouldn't be included on the album. He laughs a you-silly-thing warranty and I drop the protest." Indie fans everywhere have Johnny Marr to thank for this classic making The Queen is Dead in the end!
Morrissey felt some pressure to do an unlikely duet…
Former Take That member Robbie Williams was apparently desperate to do a song with Morrissey; so much so that Robbie would post handwritten letters asking him to do the duet. Unsurprisingly, Moz declined.
…and was pressured into making an even stranger album
Morrissey moved to LA back in the late 1990s, and it is alleged that he was told to get rid of his band so he could "make an album either with Radiohead or Everything But the Girl singer Tracey Thorn." A Radiohead-Morrissey hybrid album never came to be, but it may have been the most depressing album ever made if it had.
The One With The Morrissey Cameo
There is a recurring theme, but Morrissey declined on the opportunity to star on one of the biggest sitcoms ever – Friends. He had met the cast on set and from there he was taken aside and asked to be in the show in a last minute, thrown together plot. Moz was asked to sing with Phoebe Buffay in Central Perk in 'a really depressing voice'. Friends didn't get their man, as Moz puts it: "Within seconds of the proposal, I wind down the fire-escape like a serpent, and it's goodbye to Hollywood yet again."
He's been in trouble with Scotland Yard
When Morrissey released his autobiography back in 2013, he revealed that he was quizzed over the lyrics to 'Margaret on the Guillotine'. The song appears on debut album Viva Hate and discusses the death of former Prime Minister Margaret Thatcher while she was still in power.
He got an apology from Keane in 2004
Not the famous Irish midfielder Roy, but rather the English band fronted by Tom Chaplin. Their debut album Hopes and Fears was huge, with singles such as Somewhere Only We Know and This Is The Last Time – so big in fact, it kept one of Mozza's best loved works, You Are the Quarry off the top of the album charts. The band felt awful and were compelled to apologise to Morrissey for it.
He's a certified British Icon
In 2006, Steven Patrick Morrissey was pipped to a very different top spot. BBC's The Culture Show named Morrissey second in the list of Britain's Greatest Living Icons. He was beaten by national treasure Sir David Attenborough, so it's not all bad.
Has this whetted your appetite for all things Moz? Why not check out the Morrissey and Smiths items currently in stock at musicMagpie? Build up your classic collection for a lot less!