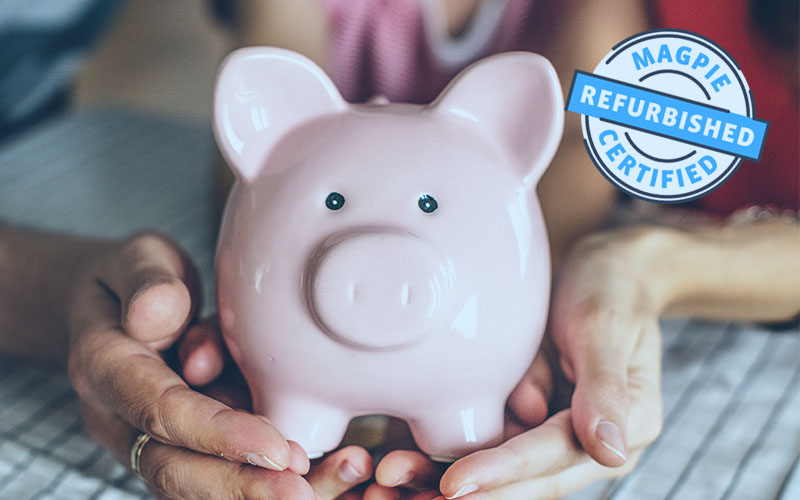 Why should I buy a refurbished phone?
Buying a refurbished phone means you get a great quality device without having to spend a fortune on it. We explained what refurbished means in our blog to give you a better understanding of what it means – now we'll tell you why you should buy a refurbished phone!
---
Why should I buy refurbished?
One of the biggest reasons to steer away from brand new phones and buy refurbished is the cost. Mobile phone prices have been steadily rising for years, with the iPhone X costing an eye-watering £999. This is a pretty unrealistic price for most of us. Instead, you can buy a refurbished device at a much more affordable price and saving yourself a fortune by doing so!
You might not even want to buy the most recent phone – you might want one that's a few generations older, but still does the trick, at a much lower cost. Not everyone is fussed about the flashiest phone; we all have different needs and budgets but a refurbished phone can tick all the boxes!
Buying a refurbished phone in the best possible condition – which is pristine on the musicMagpie Store – means you're getting a phone that's just as good as new, but you're saving quite a bit of money in the process!
In the devastating event that your phone should become lost, stolen or if you break it in an accident, you may be faced with limited options. You could fork out hundreds to upgrade early to make sure you get a phone – or you could get your hands on a refurbished phone which will work just as well. You can get your phone the next day so you won't be uncontactable for too long.
If the time has come to get your child their first phone, the best decision you can make is investing in a refurbished phone. Kids want the latest tech, and a phone is no exception, but they don't understand what it's like to foot the bill. A refurbished phone gives you the option to get a pretty recent device but at a much lower cost, knowing there's a warranty in place. You aren't stuck paying a long contract, paying over the odds – you control how much you want to spend and its easy to keep in with your budget.
It's not just kids! Those of us who are older and are less in tune with the latest tech on the market can benefit from a refurbished device. You can get a phone that's a few years older for an absolute bargain and you're covered by the warranty! Why pay more than you have to?
Summertime means it's festival season and who is willing to take their phone with them? Not many. Rather than buying a burner phone, you could buy a cheap, refurb smartphone so you'll still have all the apps you love and you won't have to lose any kind of contact. Added bonus: you don't have to try to teach yourself predictive text all over again and you'll have a decent back up phone whenever you don't want to bring yours somewhere.
With musicMagpie, we'll provide a SIM opening tool (if applicable) as well as the charging cable so you have all you need to use your phone! You should remember that this won't be the case across the board. Buying a phone from a private seller or even another company may mean you're left with just the phone and you may have to cough up for a charger or any accessories. Consider that cost before you buy.
---
Are you ready to take the plunge and buy a refurbished phone? Look no further than musicMagpie! We provide a 12 month warranty so you'll have peace of mind.