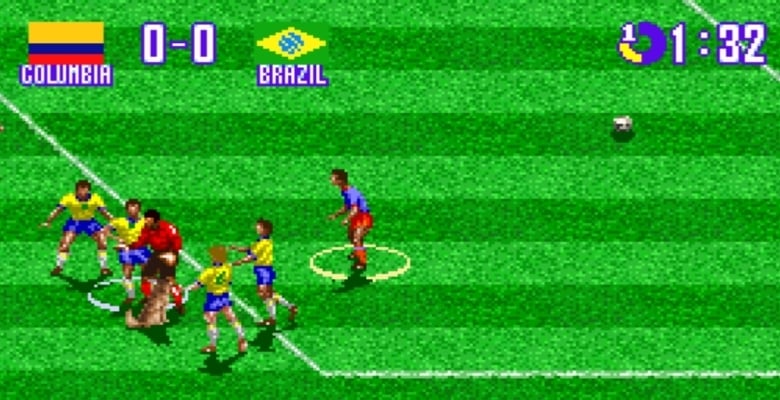 The World's Greatest Football Games
Football fever has gripped Magpie Towers. England shirts are everywhere. Lairy chants break out at random. We've all had hair transplants in honour of Wayne Rooney.
Unfortunately, we haven't been able to play much actual football because the weather has been…well, British. Thank goodness for the humble football game then, which allows to pretend we're guiding England to glory (when we're actually sat in our pants eating crisps).
But what are the best football games to live out your daydreams on?
International Superstar Soccer Deluxe (SNES)
The year is 1996. Gareth Southgate has just sliced his penalty into the welcoming hands of a German and broken millions of hearts, including one belonging to a 6 year-old boy with a head full of dreams.
Luckily, that 6 year-old boy had a SNES and a copy of ISS Deluxe, so he went upstairs and destroyed the Germans 5 – 0. Vengeance is mine, Germany!
Back then, ISS Deluxe was the king of football gaming. Now, it's very dated…although it's worth firing up for the hilarious commentary. "That's a big kick!"
FIFA 14
Even though it won't earn me any football hipster points, I reckon FIFA 14 is the best football game ever made. It's so realistic that I feel out of breath playing it. The other day, I thought I could actually smell Ronaldo's overpowering aftershave as he breezed past another of my hapless defenders.
The only real problem with FIFA 14 is Ultimate Team. It's not a bad game mode, but I'm going to have to consider selling organs to keep buying packs (alternatively, and more sensibly, sell your games).
Championship Manager 2001/02
Championship Manager 2001/02 is slightly less in-depth than its newer relatives, but is still engrossing enough to destroy friendships and marriages in a wave of tactical heaven.
Believe it or not, Championship Manager 2001/02 is still being updated by members of the Champ Manager community, so you can play the game with the nation's current crop of overpaid divers. Hooray!
Sensible World of Soccer
Sadly, sensible soccer isn't a variant of the beautiful game in which players are paid modest wages, drive Fiat Pandas and make sure they get to bed by 10pm at the latest.
It is, however, one of the most influential football games ever made. The top-down gameplay is archaic, but the career mode and transfer market are still influencing football games over 20 years after the game was released.
Jumpers for Goalposts
Jumpers for Goalposts takes every little boy's dream (no, not the Katy Perry one) and turns it into a game, as you take a non-league player to the World Cup final by scoring a series of ridiculous volleys.
You also have to run your player's personal life, which sounds difficult, but mainly consists of buying nice things and dating lots of women (and buying them something nice when they get a bit stroppy – it's not exactly The Female Eunuch).
Three Lions
Three Lions is special for a couple of reasons: it's the only official England game ever released and, instead of featuring commentary, you could hear your teammates barking out orders and being rude to you.
Apart from that, it was pretty rubbish. You could only score from a couple of angles and completing a pass was like kicking a medicine ball through a pool of superglue. Still, at least you could hear Paul Ince screaming at you when you blazed another shot over the bar.
What is your favourite football game? Let us know in the comments, on Facebook or on Twitter.