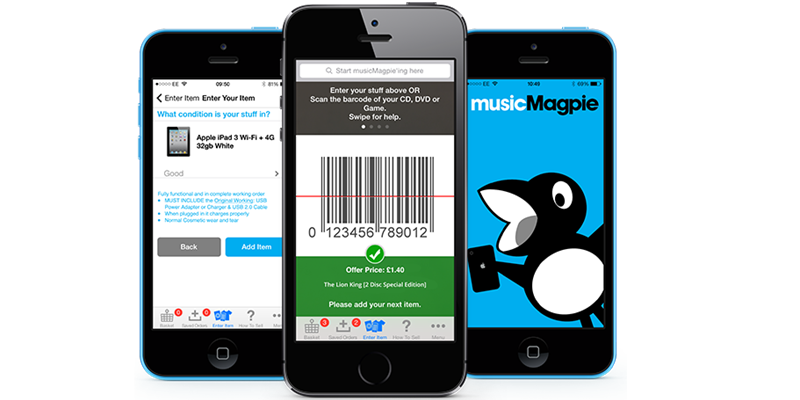 5 ways the musicMagpie app will make your life easier
Decluttering can be a real pain in the behind. Not only do you have to confront all the embarrassing stuff you once enjoyed (don't worry, we won't tell anyone), but you have to spend hours doing it.
Luckily, we at musicMagpie are dedicated to making decluttering surprisingly easy. And we think we've come up with the ultimate way to solve your decluttering woes: the musicMagpie app.
Here are a few ways our app will make your life easier.
---
You can scan lots of items quickly
You don't have to enter any barcodes with our app. Just scan them using your camera, and we'll give you an instant price.
Scanning a barcode takes a couple of seconds, which means you could probably scan your entire CD, DVD, and Games collection (unless you've got a REALLY big collection) in a day and still have plenty of time left to do fun stuff.
---
You can declutter whenever you want
We've said it before and we'll say it again: trying to sort all of your clutter at once is a bad idea. It'll take ages, you'll get bored and you'll probably get quite emotional too.
A better approach is to declutter bit-by-bit, and our app makes it easy to do this. Just scan items as you see them and add them to a saved order. You'll be able to retrieve and add to this order whenever you like. Once you've finished, just tap complete order – you've decluttered without even realising it.
It's worth noting that your saved order will expire after a certain amount of time but we'll send you a reminder before this happens.
---
You can check the progress of your order wherever you are
You're walking down the street, when all of a sudden you think 'how is my musicMagpie order going?'
In the past, you would have had to run home and turn on your computer to check. Now, you can whip out your phone and see all of your order details with just a few taps. Who said technology was a bad thing?
---
You can arrange your courier wherever you are
You can organise a FREE courier collection or find your nearest send shop all from your phone. You could even do it while you're out and about.
---
You can find out how much money your mates' stuff is worth
You can scan items anywhere with the musicMagpie app, which means you can find out how much money your mates' stuff is worth. Why would you do this? Bragging rights, of course! Unless your stuff is worth less than theirs, in which case you should probably just keep quiet.
---
Download the musicMagpie app now!