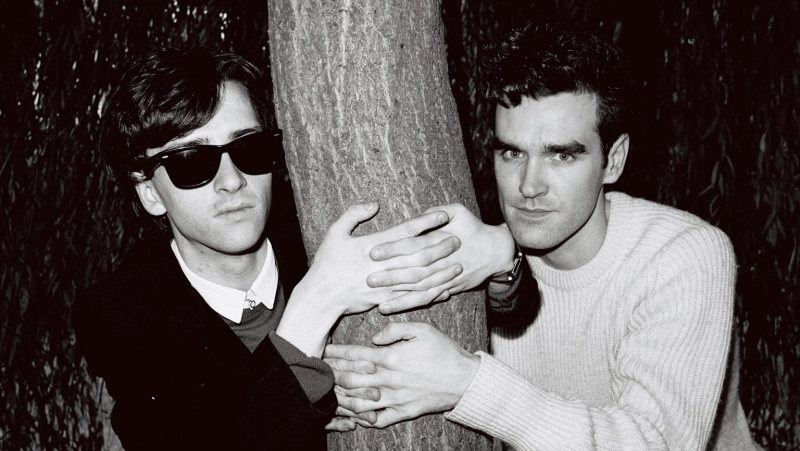 6 legendary musical duos we'd love to see get back together
Johnny Marr's new solo album, Playland, comes out today and it's pretty good; you'll get Easy Money stuck in your head for hours.
But, as much as we like Marr's solo material, we can't help but dream of him teaming up with his old mucker Morrissey again (even though Johnny rather wouldn't…). While they're both good solo, they're unbeatable as a team; just like these 5 other legendary musical duos…
---
Slash and Axl Rose
In the 80s, a poodle-haired guitar god and a screaming ginger ego maniac formed one of the greatest rock bands of all time.
Slash and Axl Rose are both iconic rock stars and, like with Morrissey and Marr, wrote their respective best songs together.
Unfortunately, they also hate each other's guts. In 2009, Axl even called Slash 'a cancer', to which Slash responded 'whatever, dude' (which is a polite way of telling him to shut up). Best keep these two apart, on second thoughts…
---
Noel and Liam Gallagher
Noel and Liam's regular bouts of verbal (and sometimes physical) fisticuffs are well documented, but surely brotherly love will bring them back together one day?
Erm…probably not actually. Liam sparked rumours of a reunion earlier this year when he tweeted the word Oasis one letter at a time, but Noel promptly stamped on the dreams of millions of fans by saying that there was 'more chance of him getting back with his ex-wife'.
So, if we can just get Noel and Meg Matthews back toge – oh no, he's happily married. Never mind then.
---
Meg and Jack White
Meg and Jack White's relationship is one of the weirdest in musical history. When The White Stripes first rose to fame, the two claimed they were brother and sister. However, it later emerged that the two were husband and wife…or at least they were, because they actually divorced a year or so before the band got big.
Whatever their relationship, they still made good music together. They probably won't give it another go though: Jack is doing his own thing, while Meg has taken a step back from the music industry.
---
Metallica and Dave Mustaine
There is a lot of bad blood between Metallica and Megadeth's Dave Mustaine: Dave was fired from Metallica, shortly after he punched James Hetfield in the face, and then he spent the next 20 years arguing with as many members of Metallica as possible. A reunion seems unlikely…
Or at least it did. Mustaine actually performed with the band in 2010, although subsequent rumours of a Megadeth/Metallica supergroup (think McBusted for hairy men) were dismissed as 'crazy' by James Hetfield (even though Dave seemed quite keen…)
---
Snoop Dogg and Dr. Dre
Snoop Dogg and Dr. Dre are responsible for loads of classic tracks, including Nuthin' But A G Thang,  The Next Episode and Still D.R.E.
But we haven't heard the pair together for a long time. To be fair, they've both been busy: Dre is now hip-hop's richest man after selling Beats to Apple, while Snoop has been collaborating with every pop star under the sun and releasing reggae albums.
Hopefully Snoop will feature on Dre's long-awaited (15 years and counting…) new album, Detox.
---
Which famous musical duos would you like to see back together? Let us know in the comments.
If you've got any albums by any of the artists in this post that you don't listen to anymore, clear some clutter and make some cash by selling your CDs with musicMagpie.