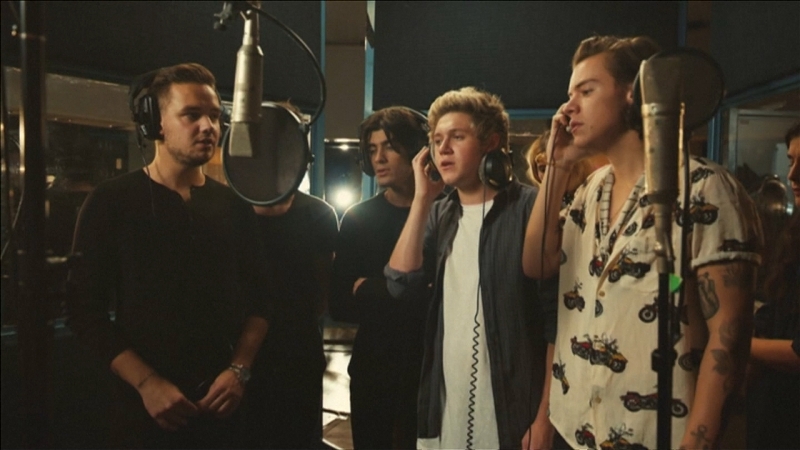 This week's music news round-up: Band Aid, Slipknot and Philosophical Teenagers
Well, here we are again: another week, another round-up of the latest music news. This week's edition features Bob Geldof swearing, 9 men in masks shouting and Will Smith's offspring spouting the kind of philosophical nonsense you'd expect from a slightly drunk 6th former. Enjoy!
---
Band Aid 30
Forget John Lewis, Coca-Cola and Slade: the surest sign that its Christmas is Bob Geldof assembling a group of pop superstars to record "˜Do They Know Its Christmas?'
The latest version of the 30 year old track features the vocal talents of Rita Ora, Ed Sheeran, Ellie Goulding, One Direction and Bono, with all proceeds going towards the fight against Ebola in West Africa.
After launching on The X Factor last weekend, the single has become the fastest-selling of year "" over 200,000 copies were sold within a day of its release. That might have something to do with Bob Geldof (who, let's face it, is a little bit scary) telling everyone to buy it twice, though.
Of course, no Band Aid project would be complete without Bob Geldof swearing on live TV, and the great man duly obliged by saying a rather naughty word twice on Sky News (after which his interview was cut short).
Here's the video: buy the single too!
---
Download 2015: Men in Masks, Men in Facepaint and Muse.
The organisers of Download have confirmed the first set of bands playing at next year's festival, including three potentially epic headliners: Slipknot, Muse and Kiss.
Slipknot, fresh off the release of the brilliant .5: The Gray Chapter, will be headlining on Friday night. They're embarking on a UK tour in January, which should be a nice warm up for the madness they'll bring to the Download stage.
Heavy metal legends Judas Priest, American metallers Five Finger Death Punch and hard rock favourites Black Stone Cherry will also be playing on Friday.
Muse "" probably the least "˜Download' of all the announced bands "" will be headlining on Saturday night. The announcement has come as quite a surprise to some; while the band have their fair share of heavy tunes, their previous two albums have focused heavily on electronics and poppier songs. Could their announcement at Download be a sign that their new album is going to be heavier?
Muse will be supported by the reunited Faith No More (who are releasing a new album next year) and metalcore heroes A Day To Remember, while legendary shock rocker Marilyn Manson will be headlining on the second stage.
Sunday night appears to be "˜big-haired metal night', with Kiss headlining and Motley Crue and Slash supporting. Rounding off Sunday night is electro-metal band Enter Shikari.
Tickets go on sale tomorrow (Thursday 20th); why not sell some CDs to help you pay for them?
---
Taylor Swift vs. Spotify, Round 769403
The Taylor Swift/Spotify row has been bubbling away for a few weeks now, and it's taken an unexpected turn this week when Swift's music appeared on rival service YouTube Music Key.
In case you aren't familiar with the controversy, Swift pulled her entire back catalogue from Spotify after they complained about her not streaming her latest album 1989 (which you can read more about on our blog by clicking here). Swift cited the poor deal for artists as a primary reason for withdrawing her music.
However, her back catalogue now appears on YouTube Music Key, the video-sharing site's new streaming service (which was launched in the US yesterday). This obviously looks quite bad, seeing as both services are relatively similar, although Swift has denied discussing the move with YouTube and Google. 1989, the source of the original row with Spotify, isn't available on the service either.
---
Jaden and Willow Smith: Philosophical Teenagers
It's been a while since we've heard from Jaden and Willow Smith, the talented offspring of Will Smith and Jada Pinkett-Smith.
This week, however, they've both got new music coming out. And, to promote their new music, both have given an incredibly strange interview to the New York Times.
Here's Jaden's thoughts on the human brain and creativity: "That comes from a place of oneness. That's not a duality consciousness. And you can't listen to your mind in those times "" it'll tell you what you think and also what other people think."
Meanwhile, Willow had this to say about literature: "There're no novels that I like to read so I write my own novels, and then I read them again, and it's the best thing."
Jaden, who is best known for starring in a remake of The Karate Kid, has strong ambitions for the future too, declaring that he wants to be "˜just the most craziest person of all time'.
Deep, we're sure you'll agree (if you can figure out what any of it actually means).
Join us soon for another round of music news!