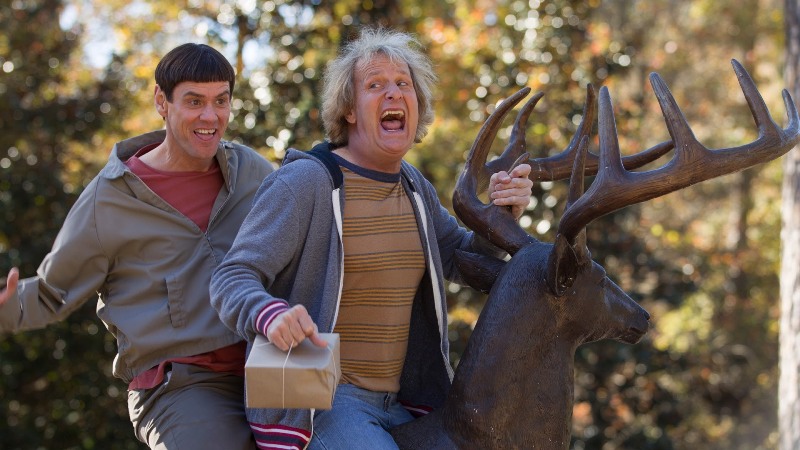 December's new releases
Christmas is just around the corner, which means this month is chock-full of new cinema releases, new DVDs and a few new CDs too! Click one of the categories below to view this month's releases.
Cinema
Music
Games
Electronics
DVDs
---
Cinema
5th December
Penguins of Madagascar
The penguin super spies from Madagascar (AKA the best characters in the series) team up to stop an evil Doctor from destroying the world. Kids (and some adults!) will love it.
Men, Women and Children
Jason Reitman, the director of Juno, returns with this exploration of the internet, and how it's changed the ways we communicate with each other. It's funnier than it sounds.
St. Vincent
Two words: Bill Murray. Murray plays a lovable old grump who ends up becoming a mentor to a young boy whose parents have just divorced.
---
12th December
The Hobbit: The Battle of the Five Armies
The concluding chapter of The Hobbit sees Bilbo and the gang go to war against various nasties, including the terrifying dragon Smaug. It's your last chance to catch Ian McKellen as Gandalf too!
---
19th December
Dumb and Dumber To
Jeff Daniels and Jim Carrey return as Harry and Lloyd for another manic (and occasionally disgusting) road trip. This time, they're trying to find Harry's long-lost daughter.
Night at the Museum: The Secret Tomb
Ben Stiller spends another night at a museum as he tries to unite the world's historical figures in order to save the magic powers of the Tablet of Ahkmenrah. Ricky Gervais, Rebel Wilson and the late Robin Williams co-star.
---
Boxing Day
Exodus: Gods and Kings
Ridley Scott's biblical epic tells the story of Moses (played by Christian Bale) as he leads 600,000 slaves to freedom from Ancient Egypt (and some nasty plagues).
Annie
Jamie Foxx and Quvenzhané Wallis (try saying that after a Christmas sherry or two) star in this remake of the classic musical.
Unbroken
Angelina Jole's 2nd film as a director tells the tale of Louis Zamperini (played by Jack O' Connell), an Olympic runner who was taken prisoner during the Second World War.
---
Music
1st December
III – Take That
Take That Version 3 (minus Jason Orange) release their 7th studio album, but will it be any good without Orange? The fact they're currently top of the singles chart suggests that it will be…
Rock or Bust – AC/DC
Good old fashioned rock n' roll; no more and no less. Get your air guitar ready.
McBusted – McBusted
Pop supergroup McBusted's long-awaited debut album is finally here – time to party like its 2003!
---
8th December
Monuments to an Elegy – Smashing Pumpkins
The Smashing Pumpkins return with their 9th album, which is part of a trilogy titled Teargarden by Kaleidyscope. Corgan is the only original member, with guitarist Jeff Schroeder the only other member of the band (although Tommy Lee of Motley Crue fame plays drums).
You Got It All – Union J
It's a big month for people who scream at boybands, with Union J releasing their latest album just a week after McBusted.
---
Games
2nd December
The Crew
This online driving/RPG game sees you driving around the US trying to take down criminal gangs. It's like Need for Speed but slightly bigger, basically.
---
3rd December
Tales from the Borderlands (online only)
After taking home numerous Game of the Year awards for The Walking Dead (and impressing critics with The Wolf Among Us), Telltale Games are turning their hand to the Borderlands universe. Episode One is released on the 3rd.
---
9th December
Lara Croft and the Temple of Osiris
This Tomb Raider spin-off allows 4 players to explore tombs at the same time. It was released earlier this year online, but is finally getting a physical release.
---
Electronics

Most of the major manufacturers have shown their hand for the year, so there aren't many gadgets coming out this month. There's still plenty to choose from this Christmas though, including the new iPad Air, the Tesco Hudl and the iPhone 6. Check out our favourite tablets in this post, and sell your electronics by clicking here.
---
DVDs

1st: Planes, The Inbetweeners 2, One Direction: Where We Are, Hercules, Step Up 5.
8th: The Expendables 3
15th: Sin City 2: A Dame to Kill For
26th: Sex Tape, Let's Be Cops, As Above So Below
---
If you're planning to go and see – or buy – any of this month's new releases, why not sell some of your unwanted CDs, DVDs and Games with musicMagpie?