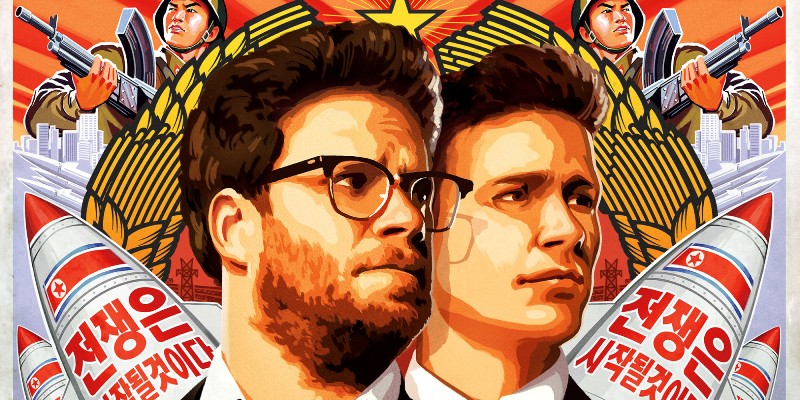 February's New Releases
February may be the shortest month of the year but its jam-packed with new releases, from lovey-dovey romcoms in time for Valentine's Day to zombies and dodgy lawyers. Here's what we've got to look forward to this month…
(If you need a bit of spare cash for this month's new releases, sell your CDs, DVDs, Games and Electronics with musicMagpie. Just click here to get an instant price!)
---
Movies
Friday 6th February
The Interview
Seth Rogen and James Franco's ultra-controversial North Korean comedy almost started a war towards the end of last year, with cinemas across the country refusing to show the film. As far as we know, it'll still be in cinemas over here…
Jupiter Ascending
This ambitious sci-fi from the Wachowskis (creators of The Matrix) sees Mila Kunis playing a cleaner with a deeper cosmic purpose. Channing Tatum is her intergalactic bodyguard.
Selma
The Oscar-nominated historical drama recounts the Selma to Montgomery Civil Rights marches of the 1950s, led by Martin Luther King.
Shaun The Sheep
Aardman's lovable farm animal gets his own movie. Lets hope its more like the brilliant Paddington rather than the slightly rubbish Postman Pat.
---
Friday 13th February
Fifty Shades of Grey
Everyone's favourite mucky book finally hits the big screen. Expect to see lots of flustered looking mums hanging around your local multiplex.
Love is Strange
John Lithgow and Alfred Molina play a same-sex couple forced to part after 39 years together, leading to one of them living with a young family and the other with a younger same-sex couple.
---
Friday 20th February
Project Almanac
A couple of teenagers build a time machine, but their meddling in the past has massive implications for the future. Did they never watch Back to the Future?!
Blackhat
Michael Mann of Heat and Chris Hemsworth of Thor team up for this hacker-themed thriller.
---
Thursday 26th February
The Second Best Exotic Marigold Hotel
Sonny, the hero of the surprise hit first movie, is expanding to a 2nd hotel. Unfortunately, he also has a lavish wedding to plan…
---
27th February
The Boy Next Door
Jennifer Lopez stars in this raunchy thriller about a teacher who sleeps with a young neighbour, only for the neighbour to develop a dangerous obsession. It looks cheesier than a cheddar factory, but it could be a guilty pleasure for some.
Focus
Will Smith and Margot Robbie star in this rom-com-dramedy (whatever you want to call it) about a conman and his wronged ex.
---
Music
9th February
Happy People – Peace
The Subways – The Subways
---
16th February
Let It Reign – Carl Barat and the Jackals
Non-Fiction – Ne-Yo
Everything Ever Written – Idlewild
---
Games
10th February
Evolve (Xbox One & PS4)
This co-op first-person shooter sees one player take on the role of an increasingly powerful monster, while the rest of the team try and hunt them down.
---
13th February
The Legend of Zelda: Majora's Mask 3D (Nintendo 3DS)
Finally: a chance to play the 2nd best Zelda game on the bus, train or toilet (depending on your approach to hygiene)!
---
20th February
The Order: 1886 (PS4)
The Order: 1886, an action-adventure following a historic gang of monster hunters, has been in the works since 2010. Let's hope it was worth the wait.
---
TV
8th February
Better Call Saul
The long-awaited prequel (and kind-of sequel, apparently) to Breaking Bad finally airs on the 8th, although we'll have to wait until 7am on the 9th when the show is added to Netflix.
The Walking Dead: Season 5, Part 2
After a long mid-season break, Rick and the gang return to bash some zombie brains in. Don't expect many laughs though, especially after the events of the previous episode…