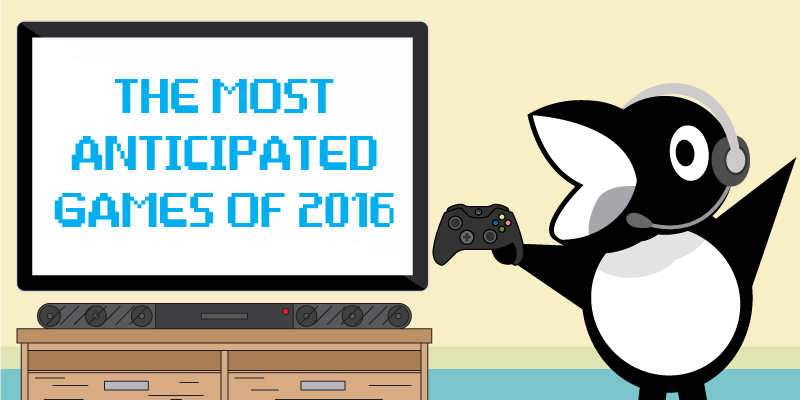 17 Of The Most Anticipated Games of 2016
2015 was a good year for gaming, with Fallout 4, Metal Gear Solid V and Bloodborne among the awesome titles released.
But could 2016 be even better? Here are 17 games that suggest it might…
---
Tom Clancy's The Division
Release date: 8th March 2016
This open-world third person shooter has been in the works for a long time, with the first announcement made at E3 2013. It should definitely come out in March though. Hopefully.
The game follows the Strategic Homeland Division as they try to save the US from a pandemic released on Friday, while also trying to figure out who released it. Sounds like a fun day in the office!
With cover-focused gunplay, squads and multiplayer, it looks like Gears of War mixed with Rainbow Six, which can only be a good thing.
---
Hitman

Release date: 11th March 2016
Who remembers that Hitman movie from last year? Anyone?
Yeah, it didn't do great. The games are better than ever, though, with Hitman Absolution getting the series back to form.
Hitman retains the same structure as previous games – find a target, decide how to kill him – but with huge open levels, tons of non-player characters and multiple ways to take down your target.
---
Uncharted 4: A Thief's End
Release date: 29th April 2016
This is the end, my sweetest friend. Uncharted 4 is the final part of the series, with Nathan Drake teaming up with his long lost brother to hunt down pirate treasure one last time.
Every Uncharted game to date has been nothing short of incredible, and Uncharted 4 looks no different. Plus, pretty much anything Naughty Dog touches turns into gold, so we're very confident about this one.
---
Quantum Break
Release date: 5th April 2016
Quantum Break is an intriguing mix between a game and a TV show, with the story of a time travel experiment gone wrong running through both.
The game part is a third person shooter, which puts you in the shows of a chap who can freeze time. It's by the same team as the underrated Alan Wake, so we've got high hopes.
The TV show element takes the form of 4 episodes, the events of which are affected by your actions in game. These aren't glorified cut scenes either; they're proper TV episodes with actors you'll recognise and everything!
---
Dark Souls III
Release date: 12th April 2016
The hardest game series ever returns and it promises to be just as punishing as before.
You know the drill by now: you're a poor sap who gets handed a sword and thrown out into a world full of nasty monsters who can kill you with their little finger. You'll die a lot, but that's part of the fun.
In even better news, director Hidetaka Miyazaki is back at the helm after skipping Dark Souls 2 in favour of Bloodborne, and he's brought a few tricks back with him: the combat in Dark Souls 3looks slicker than ever.
---
EA Sports UFC 2
Release date: 17th March 2016

UFC took off big time in 2015, with the success of Conor McGregor and Ronda Rousey (well, until her last fight) capturing the imaginations of thousands of new fans.
As such, the next game in EA's UFC series should be the best yet. The last game was quite difficult for non-fight fans to get into, but a new grappling system and 5 new game modes promise to make this one more accessible while also appealing to MMA fanatics.
---
Star Fox Zero
Release date: 21st April 2016

The Wii U release schedule looks sparse this year, which might be because Nintendo plan to release a new console (possibly).
Star Fox Zero is the big highlight at the moment, with the classic spaceship dogfight gameplay of Star Fox 64 combined with fancy new graphics and a Wii U Touchpad control system.
---
Mirror's Edge Catalyst
Release date: 26th May 2016

Mirror's Edge Catalyst is the most unlikely sequel of 2016: the original came out 7 years ago, got fairly decent reviews and didn't sell that well.
Still, EA and DICE were definitely onto something with the parkour theme. This is a big budget reboot that addresses the flaws of the original and gives DICE a chance to fully realise the vision they couldn't quite make reality back in 2009. It's looking good already!
---
No Man's Sky
Release date: June 2016

No Man's Sky is a space exploration game that you'll never complete. It takes place in a procedurally generated galaxy of 18 quintillion planets, no two of which are the same. The 'goal' is to journey to the centre of the universe while collecting resources, but really it's about exploration.
All players will 'exist' within the same universe, with players able to chronicle the planets they find. If enough people play it, it's possible that every planet will be found – although it'll take a lot of work.
---
Deus Ex: Mankind Divided
Release date: 23rd August 2016
The long-awaited sequel to Human Revolution throws players back into the shoes of souped-up half-man half-machine Adam Jensen as he protects the globe from augmented terrorists and uncovers the odd global conspiracy.
The game looks fairly similar to Human Revolution, although many of the issues that plagued the first game (i.e. the boss fights) seem to have been addressed. Bring it on!
---
TBC
These are the games without confirmed release dates which should be released.
Final Fantasy XV
The 15th edition of the franchise that will never die has been overshadowed by the Final Fantasy VII remake somewhat, but it looks brilliant, with a darker tone and a new combat system bringing FF into the next gen.
The Last Guardian
The Last Guardian, in which a young boy teams up with a mysterious creature to escape a castle, finally reappeared at last year's E3 after years in the wilderness. It was originally planned for release in 2011, so we're taking that 2016 release date with a pinch of salt.
Horizon Zero Dawn
You're the last human on a world full of robot dinosaurs. You might as well pre-order this now.
Gears of War 4
The next part of the Gears series is the first without Epic Games, and it could be the first without series hero Marcus Fenix too. There are very few details at the moment, but a beta is expected in the Spring with more details at E3.
Zelda Wii U
First unveiled at E3 2014, The Legend of Zelda Wii U should arrive this year. There are rumblings it may be one of the first games on the Nintendo NX too.
Untitled Call of Duty
Infinity Ward are back on Call of Duty …erm, duty this year, which means we might be getting Modern Warfare 4. Fingers crossed.
Batman: A Telltale Games Series
The brilliant Arkham series came to a close last year, which means there's a Batman-shaped hole in the gaming calendar. Telltale Games, who made the brilliantc Walking Dead games, are the brave souls taking up the cowl.
Which games are you looking forward to most this year? Let us know in the comments.
And if you need some extra cash to buy all these great games, sell games with musicMagpie! It's quick, easy and we'll give you an instant price too. Click below to get started.