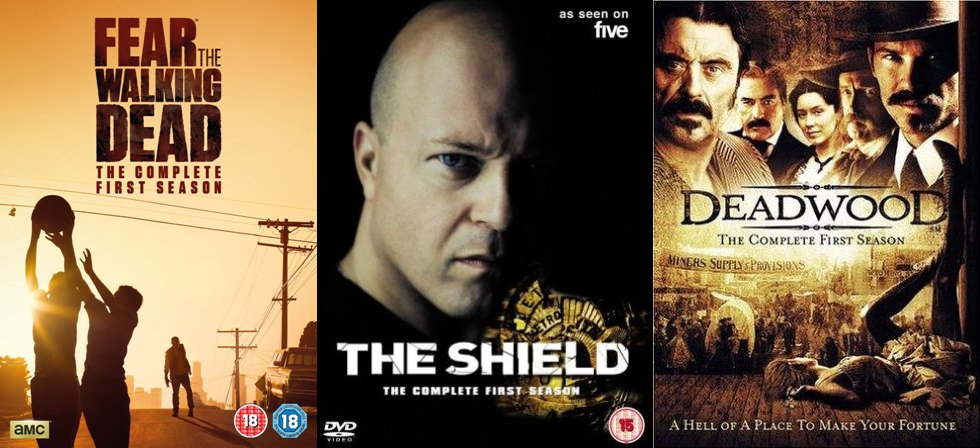 5 US TV shows to binge-watch next
We've all felt it: that empty hollow feeling after you've finished a TV series, that huge hole in your schedule where tales of bikers, meth cooks and advertising execs used to reside.
Luckily, great TV shows are as common as air these days. There is always something new to watch. In fact, it's pretty daunting finding something new to watch in your pants for days on end.
That's why, starting this month, we're going to recommend 5 new TV shows for you to watch. We'll include new and classics shows, some of which you'll know and others you might know, from all genres. You're guaranteed to find something you'll love.
Here are May's recommendations!
---
Fear The Walking Dead
The little brother of the global zombie mega-smash, Fear The Walking Dead is set before the adventures of Rick Grimes and co.
Fear… is set in Los Angeles and follows a family as society begins to collapse around them due to people beginning to munch on each other's brains.
It's definitely more of a slow-burner than the main series, so it might not be your cup of tea if you only watch TWD for the occasional Daryl Dixon zombie slaughter fest. If you enjoy the tense human drama and you want to know just how zombies destroyed civilisation, though, you'll probably enjoy this.
Buy Fear The Walking Dead on the musicMagpie Store
---
Better Call Saul
Saul Goodman was one of the best characters in Breaking Bad, so we were delighted when he got his own prequel spin-off series.
Better Call Saul follows Jimmy McGill, the man destined to become everyone's favourite criminal lawyer. As this point, though, Jimmy is a hard-working but slightly dodgy lawyer determined to get the top.
Prequels don't usually work that well because you already know what's going to happen. But Better Call Saul does such a good job of charting Jimmy's heartbreaking journey to becoming Saul that it doesn't matter that you know the outcome.
It's just as compelling as Breaking Bad, albeit in a different way.
The show also follows Mike Ehrmantraut, hitman and world's best grandpa, as he gets drawn into the criminal underworld of New Mexico. Other Breaking Bad characters crop up too, although we won't spoil the surprise for you.
BCS has received amazing reviews across the board and deserves to be as popular as the show that spawned it. You might enjoy it even if you haven't watched Breaking Bad!
Buy Better Call Saul on the musicMagpie Store
---
Fringe
Created by J.J Abrams, who created LOST and directed some movie about space, Fringe is a science-fiction drama influenced by The X-Files and The Twilight Zone.
The series follows the Fringe division, who work with the FBI to investigate 'fringe science' cases, like the possibility of robots taking over the world or parallel universes colliding. It's fairly heavy sci-fi, although not so heavy that it feels like a science lesson – it's a lot more fun than that.
Fringe follows a case of the week format, so imagine CSI with more complex scientific ideas and you aren't too far off. Later series begin to explore the mythology of the series, which is where things start to get really interesting/weird.
It won't be for everyone, but if you miss LOST and love shows like The X-Files, this'll be right up your street.
Buy Fringe on the musicMagpie Store
---
The Shield
Antiheroes are ten-a-penny on TV these days, and you probably have The Shield to thank for that.
This crime drama follows the Strike Team, an anti-gang unit of the LAPD led by a Vic Mackey. They aren't conventional cops, however, using illegal and immoral techniques to secure results. Oh, and they profit from drug protection schemes and robbery too. Like we said: not conventional.
Over the course of 7 seasons, the Strike Team face threats from all sides; criminals who want them dead, police who want them imprisoned and…well, let's just say they aren't that popular. Throughout, though, Mackey remains one of the most gloriously immoral yet weirdly likable characters ever created.
Fans of The Wire and The Sopranos will love this, as will fans of Sons of Anarchy; SOA creator Kurt Sutter got his big break writing episodes for The Shield.
Buy The Shield on the musicMagpie Store
---
Deadwood
Widely considered to be one of the best American TV shows ever made, Deadwood is an ultra-violent, ultra-sweary Western that follows the residents of a small camp that grows into a town.
Along the way, they shoot, kill, swear and are generally horrible to each other. At the centre of it all is Ian McShane's Al Swearengen, an appropriately named saloon owner who may just be the greatest TV character ever.
Unfortunately, Deadwood was cancelled after just 3 seasons. However, two follow-up films to conclude the show once and all are currently in the works. Get watching now and you should be ready for them!
Buy Deadwood on the musicMagpie Store
---
You can find 100s more fantastic US boxsets and TV DVDs at amazing prices on the musicMagpie Store. Just click below to start browsing!