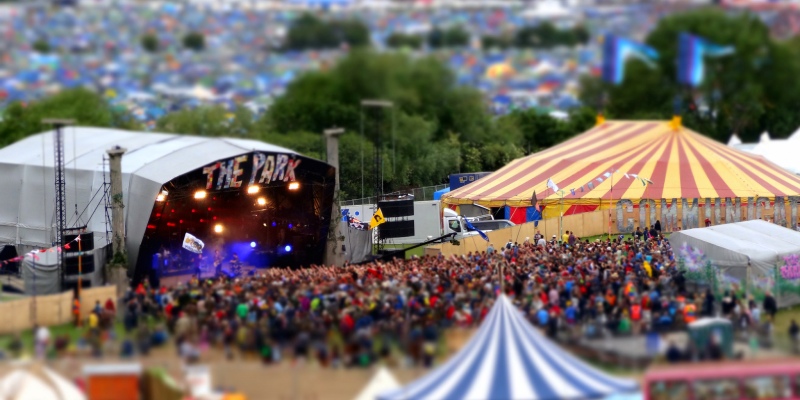 How to have your own Glastonbury Festival at home
This week, hundreds of thousands of people will descend on a small farm in Somerset for 5 days of music, mud and the odd transcendental experience.
Yep, it's Glastonbury time again.
If you're one of the many, many people unfortunate enough to have missed out on tickets, all is not lost. Here's a handy guide to having your own Glasto at home…
---
Drive an hour away from your house and walk back carrying half your wardrobe and the contents of your fridge
It wouldn't be Glasto without the horrific trek from the car to the campsite. The epic Glasto pilgrimage takes between 45 minutes to an hour and a half, so an hour's walk is about right.
For the full experience, pack a bag full of camping equipment and beer and lament bringing so much stuff every five minutes.
---
Pitch a tent in the back garden
Standard.
---
Pitch a million other tents around it
And don't mark out your tent. Then try finding it at 4 in the morning after a few too many beverages.
---
Move the TV outside
There's no point watching a festival indoors, is there? Move your TV outside and enjoy it as if you were there, rain and all. Just make sure the TV is properly covered from the elements…
If you can't get your TV outside, for either practical reasons or because everyone you live with thinks you're insane, you can also use a tablet or a smartphone.
---
Wear wellies at all times
You can't be at the festival, but you can stand in the same shoes as the people there. Kind of.
---
Stand in the shower at random intervals
What would Glasto be without apocalyptic downpours? At random intervals over the weekend, jump into the shower fully clothed. Roll around in the garden afterwards for full effect.
Make sure you don't actually wash in the shower though, because that's cheating. Instead…
---
Wash only with wet wipes
It's just not a festival if you're not cleaning yourself with a baby wipe every morning.
Just a word of warning: your friends and family will not appreciate your odour, even if you explain you're holding a faux-Glastonbury.
---
Play a recording of Brian Blessed while on the toilet
This is actually happening at this year's festival. Blessed's booming tones will remind toiletgoers that millions of people don't have access to a toilet.
There will also be a toilet with a mirror on the outside and a one-way screen on the inside. So people will be doing their hair while you…y'know. We wouldn't recommend recreating this one at home.
---
Only watch some of the coverage
You can watch pretty much every minute of Glastonbury on TV, but that wouldn't be an accurate recreation of the Glasto experience. Instead, watch a couple of sets then spend a couple of hours wandering around lost.
Don't forget to turn off the headliner's set five minutes before the end so you can beat the crowds to Shangri-La. Admittedly, this isn't much of a problem when you're holding a festival on your own.
---
Form a prayer circle with your next door neighbours
Glasto isn't all about the music, of course. Recreate the hippy vibe by forming your own prayer circle, or by partaking in some yoga in the back garden. Invite your neighbours too, although anyone will do really because we're all neighbours, man.
---
Alternatively…
If you'd prefer to stay warm, dry and not risk the wrath of your friends and family, check out the awesome festival collection on the musicMagpie Store! We've got cheap CDs at amazing prices from all the major acts at this year's Glastonbury, including Adele, Muse, Coldplay, Tame Impala and more. Just click below to start shopping.
Image credit: ae.edge on Flickr via Creative Commons