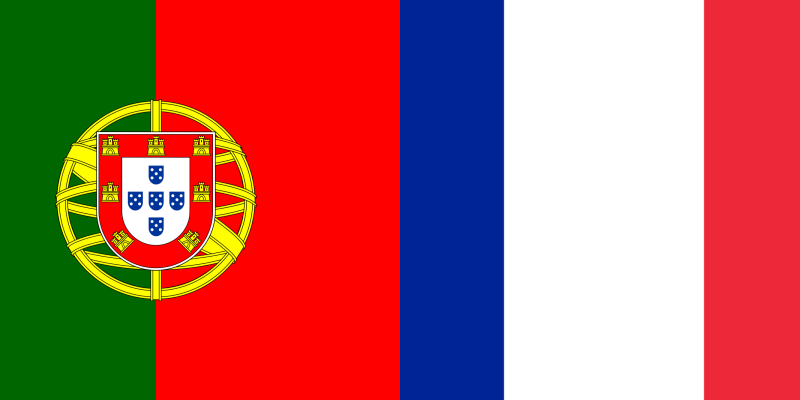 Portugal vs. France: who will win our Euro 2016 music face-off?
After 4 weeks of footballing fun, Euro 2016 concludes this Sunday with Portugal vs. France.
It's been a funny old tournament. Wales reached the semi-finals, Northern Ireland's Will Grigg became the star of the tournament without playing a single minute of football and England lost to a supermarket.
But here we are, at the end. And as is tradition on the musicMagpie Blog (well, since the last World Cup), we're going to predict the winner by pitting some of the finest French and Portuguese artists against each other. Starting with…
---
Round 1: Buraka Som Sistema (POR) vs Daft Punk (FRA)
Buraka Som Sistema are an electronic music outfit that combines techno with zouk music, and one of Portugal's most popular artists. Kalemba (Wegue Wegue) is a funky little number with a great beat; we're hearing definite hints of Major Lazer in this one. We're surprised it hasn't been a hit over here, to be honest.
It's a strong start by the Portuguese.
Score: 8/10
But wait! Here come the superstars of our face-off: Daft Punk. France's premier robot techno duo needs no introduction, with countless hits under their belt. Get Lucky is one of their best tracks, an unbelievably catchy track with top vocals from Pharrell. It loses a point for being on all the time a couple of years ago though.
Score: 9/10
Winners: Daft Punk (FRA)
---
Round 2: Moonspell (POR) vs Gojira (FRA)
Moonspell are Portugal's premier metal band, combining gothic influences with some good old fashioned black metal. Their earlier material is ever so slightly cheesy but Finisterra is a brutal, epic beast of a track that any metal band would be proud of.
Score: 8/10
But once again, France brings out the big guns. Gojira are one of the biggest metal bands in the world, with their most recent release Magma receiving critical acclaim and a series of major festival slots lined up. Stranded is a brilliant slice of mainstream metal, with crushing riffs and an awesome chorus.
Score: 9/10
Winner: Gojira (FRA)
---
Round 3: Da Weasel (POR) vs Booba (FRA)
Da Weasel are a rap collective from Almada, fronted by two chaps named Pacman and Virgul. They're renowned for using a full band instead of samples, as evidenced on this track, which menacing pulsing bass and a pretty guitar line underpinning the vocals.
Score: 8/10
Booba (stop giggling) is one of France's biggest hip hop artists, selling over 10 million records. This track is heavily influenced by American hip hop, with a distinct Drake vibe to proceedings. It's got a great beat although it's a smidge too heavy on the autotune.
Score: 7/10
Winner: Da Weasel (POR)
---
Round 4: Xutos & Pontapes (POR) vs Yelle (FRA)
Xuto & Pontapes are Portugal's biggest rock band, with over 30 years of music under their belts. Contentores is one of their biggest hits and it sounds like a mix of U2 and Duran Duran, which is kind of a good thing. It would have almost certainly been on the soundtrack to a cheesy 80s comedy (like Twins) if it was American. Extra points for the sax too (sax always gets extra points).
Score: 8/10
Facing off against the veterans is Yelle, an electropop artist who is massively popular in France. We're big fans of this track: it's bouncy, upbeats and a lot of fun. It makes us want to jump around like goofs and sing along, even though we can't speak French. The final minute or so with the intense beat and the sweet synth line is awesome too.
Score: 9/10
Winner: Yelle (FRA)
---
Round 5: Blasted Mechanism (POR) vs M83 (FRA)
Blasted Mechanism are an electro-rock band who throw in some world music influences for good measure. Start To Move takes a little while to get going but when it does, it's a menacing track that sounds quite similar to The Prodigy, which is obviously a good thing.
Score: 8/10
M83, on the other hand, is one of pop's biggest upcoming artists. Midnight City is one of M83's most popular tracks, with a gloriously retro verse leading into an anthemic upbeat chorus. You might also recognise it as the theme song from Made in Chelsea…
Score: 8/10
Winner: Draw!
---
It's been a tough face-off, with great tracks from each side. But there can only be one winner. Here are the overall scores…
Portugal: 40
France: 42
France wins!
It was a valiant effort from Portugal but in the end, France's sheer star power won out. Daft Punk, Gojira and Yelle were the stars of the show.
If you've enjoyed the bands in the post, check out the musicMagpie Store for some of their albums – prices start from just £1.19.
Don't forget that you can also sell CDs with musicMagpie. We'll give you an instant price, a FREE courier and fast same day payment. Click below to start selling!