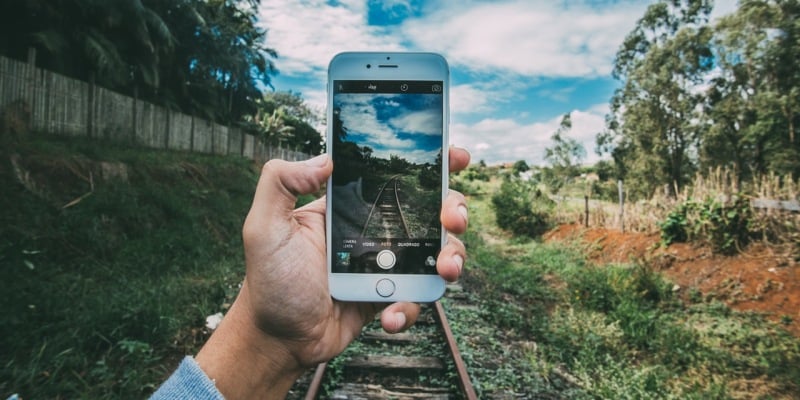 The craziest iPhone 8 rumours so far
The new iPhone is quite a way off but the rumours are already flying. Some of them are pretty plausible; a faster chip, better battery life, new colours. Others are so far out of the box that they don't even know the box exists.
Here are some of the craziest rumours we've heard so far.
---
What's your name?
Usually, it's easy to guess the next iPhone's name. Apple release a new numbered device every 2 years, then release an "˜S' device in the years in between.
This year is a little different, though. It's the iPhone's 10th birthday and analysts are predicting Apple are planning something special to celebrate their golden goose's big day – including changing the name.
The most likely rumour at the moment is that the new device will be called the iPhone 8, even though 2017 is technically an "˜S' year. The rumoured features suggest this year's device will be a total overhaul rather than a slight evolution, so a new numbered device would sense.
However, others suggest Apple will name this year's device the iPhone X, which sounds like an awesome piece of technology from an 80s sci-fi (as well as the roman numeral for 10, of course). Where they'd go after that is up for debate: they might jump back to 8, go to 9 or make like Spinal Tap and go straight to 11.
The naming rumours don't end there though. In an almighty twist, Apple may drop their numbering system altogether and just call the new iPhone"¦ "˜iPhone'.
It sounds weird, but they've already done it with the iPad and MacBook Pro. Plus, the numbering system is going to get awkward once Apple hit double digits. Can you imagine using the iPhone 22, or the iPhone 37?
---
Apple will release 4 iPhones
You read that correctly. Apple are allegedly planning to release four different iPhones this year; the line-up will include the usual 4.7 inch and 5.5 inch Plus models, with a 5 inch model and a massive high-end 5.8 inch device joining the party.
If Apple are feeling conservative, they may only release three devices. This is what respected Apple analyst Ming-Chi Kuo has suggested and he's rarely wrong (he's the chap who predicted that masssive iPhone too).
To confuse matters even more, the 4.7" standard device and the Plus model may be called the iPhone 7s and 7s Plus, with the bigger device assuming the iPhone 8 or iPhone X mantle (it might also be called the iPhone Pro"¦ still with us?).
Whatever the case, the third model sounds pretty special"¦
---
The iPhone Super Ultra Pro Deluxe Edition
According to numerous sources, the usual iPhone line-up will be joined by an ultra-powerful device that looks like it came from the future.
This device – which could be the iPhone 8, X, Pro or just iPhone – will boast an edge-to-edge OLED display with either little or no bezels. The Home button will be built into the screen, as will the cameras and, amazingly, Touch ID.
The OLED screen won't just stretch across the front panel, though; it may curve around the sides too, providing a MacBook-esque Touch Bar. The back, meanwhile, could also be made of glass, which would allow for wireless charging.
In a twist M Night Shyamalan would be proud of, the main basis for the OLED rumour is Apple ordering a shedload of plastic OLED screens from their arch rivals Samsung. It's a bit like Batman ordering new tyres for the Batmobile from the Joker.
Given a landmark anniversary for the iPhone and that Apple haven't made any significant changes to its design since 2014 (headphone jack aside…), the iPhone Whatever-You-Want-to-Call-It seems likely.
All that tech will cost a lot of money though, especially as Apple have hiked their prices after Brexit. You might want to sell your iPhone now to start saving…
---
Augmented reality
Augmented reality hit the mainstream last year with the success of Pokemon Go, which used a rudimentary version of the technology to overlay Pokemon in real life locations.
Apple are apparently planning to push the concept much further with the next iPhone. Thanks to the dual cameras introduced on this year's iPhone 7 Plus, Apple may be able to produce technology that scans the world and overlays 3D objects onto it. It may also be able to project directions, call out landmarks or even recognise your friend's faces in a crowd.
There are a few rumours that Apple will combine the new iPhone's capabilities with a pair of AR glasses, similar to Microsoft's HoloLens. This seems unlikely, although not impossible seeing as both Samsung and HTC are pushing VR headsets.
---
Lasers
Not a death ray, obviously. Apple can get away with a lot, but that would be a step too far.
Instead, the iPhone 8's lasers will scan your face and recognise gestures. You could smile to unlock your device, frown to relock it or raise your eyebrows to make a call. We're not entirely sure how popular this will be on our more reserved shores (imagine gurning into your phone on a crowded bus) but it's a pretty cool idea"¦ if it's true.
---
Looking forward to the new iPhone? Start saving now with fast cash for your unwanted stuff! Head on over to the sell my phone page to sell a phone, Sell iPhones if you have an iPhone, CDs, DVDs, Games, Book and Tech and we'll pay you the same day it arrives.
Plus, you can upgrade with the cash you get from your trade in to one of our refurbished phones on the musicMagpie Store!