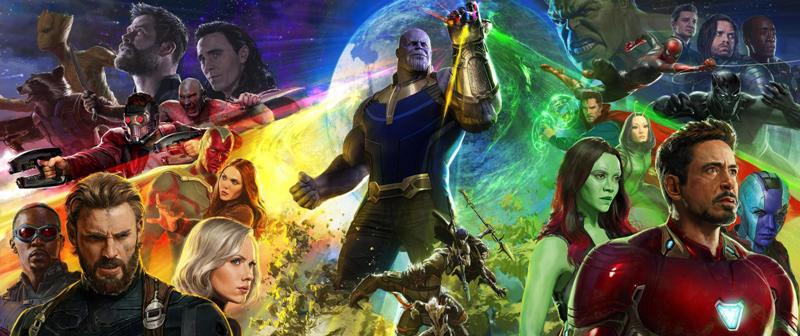 The best films coming out in 2018
It's a new year, which means a fresh batch of films to look forward to! Here are the movies we're most excited about this year.
---
Black Panther
Release date: 12th February
Set shortly after the events of Captain America: Civil War, Black Panther sees T'Challa (Chadwick Boseman) return to his kingdom of Wakanda to take over from his recently deceased father.
His arrival is met with some resistance, however, and T'Challa is soon drawn into a battle with rivals Erik Killmonger (Michael B. Jordan) and M'Baku (Winston Duke) to prevent a major war.
---
Red Sparrow
Release date: 2nd March
Based on the book of the same name, Red Sparrow is a spy thriller starring Jennifer Lawrence as a ballerina-turned-Russian spy who is assigned to seduce an undercover CIA agent (played by Joel Edgerton).
Unsurprisingly, the two develop real feelings for each other. Their relationship puts their lives in danger, as well as the security of their respective nations.
---
Tomb Raider
Release date: 16th March
After the hugely successful video game reboot in 2013, in which players controlled a younger, grittier Lara Croft, a new Tomb Raider movie was inevitable.
Like the newer games, Tomb Raider follows Lara (Alicia Vikander) as she abandons her life as a London bike courier (yes, really) to find out the truth about her father's disappearance in a mythical tomb near Japan.
---
A Wrinkle in Time
Release date: 23rd March
One of Disney's biggest releases this year, A Wrinkle in Time tells the story of a young woman named Meg who, after the discovery of a new form of space travel, sets off on an adventure to find her missing father on the other side of the universe.
Joining her are her brother, her friend and three magical women: Mrs. Who (no relation to the doctor and played by Mindy Kaling), Mrs. Which (played by Oprah Winfrey) and Mrs. Whatsit (played by Reese Witherspoon).
---
Pacific Rim Uprising
Release date: 23rd March
Set ten years after the original, the sequel to Pacific Rim (which has been in the works for seemingly forever) takes place in a world free of the monstrous Kaiju from the original film.
With peace seemingly restored, there's little use for the Jaeger's – until the Kaiju return of course. It's up to John Boyega's Jake Pentecost, the son of the original's Stacker Pentecost, and a hotshot crew of Jaeger pilots (including Mako Mori from the first film) to save the day.
If you love nothing more than watching huge things beat the living daylights out of each other, this is the movie for you.
---
Ready Player One
Release date: 30th March
Stephen Spielberg's long-awaited sci-fi fantasy follows a gamer named Wade Watts who is offered the opportunity of a lifetime when the creator of his favourite game, a vast virtual reality MMO called The Oasis, dies and leaves clues to the location of his fortune within the game.
However, Watts isn't the only one who wants to get his hands on that sweet dolla dolla and what starts out as a fun adventure soon turns into a tense conflict with some seriously powerful corporate interests.
---
The New Mutants
Release date: 11th April
With more and more superhero movies hitting the big screen (count the number of superhero films in this post), filmmakers are coming up with all kinds of weird and wonderful twists on the genre to stand out from the crowd.
Case in point: The New Mutants, a horror movie set in the X-Men universe. The film follows five young mutants coming to terms with their powers as they fight to escape from a secret facility and could well be a breath of fresh (but scary) air.
---
Avengers: Infinity War
Release date: 27th April
After ten years and 18 films, the moment we've all been waiting for has arrived. Avengers: Infinity War will see the majority of the characters in the Marvel Cinematic Universe – including the Guardians of the Galaxy – team up to take on the mighty Thanos (Josh Brolin), a cosmic baddie on a mission to collect all six Infinity Stones.
The first trailer, released late last year, suggests this will be the most epic Marvel movie to date. There's almost no doubt it'll be the biggest movie of the year. Unless…
---
Solo: A Star Wars Story
Release date: 25th May
Breaking with a tradition started… erm, just under three years ago, 2018's Star Wars installment will arrive in May rather than at Christmas. We're not complaining though; it means we get two Star Wars movies in under six months!
Solo is the long-awaited Han Solo prequel teased since Disney acquired the franchise, with Alden Ehrenreich stepping into Harrison Ford's formidable shoes. We know precious little about the plot yet (despite the relatively-soon release date), although Lando Calrissian (Donald Glover) and Chewie will feature.
Despite a troubled production in which directors Phil Lord and Christopher Miller were replaced by Ron Howard, we're hopeful that Solo will continue Disney's streak of great Star Wars movies.
---
Deadpool 2
Release date: 1st June
Ryan Reynolds returns as everyone's foul-mouthed superhero. If the film is anywhere near as entertaining as its promotional campaign, which has seen Deadpool playing Bob Ross and guest editing an edition of Good Housekeeping, we're in for a treat.
My secret to a proper stuffing? Gentle hands, heavy eye contact, and bundles of thyme. #DeadHouseKeeping #Deadpool pic.twitter.com/WOhhmkJJe3

— Ryan Reynolds (@VancityReynolds) November 9, 2017
The film itself will see Wade Wilson team up with Negasonic Teenage Warhead once again to take on a new villian, Cable (Josh Brolin, playing his second Marvel villain of 2018).
---
Jurassic World: Fallen Kingdom
Release date: 7th June
The much-anticipated sequel to the mega-smash Jurassic World sees Owen Grady and Claire Dearing (Chris Pratt and Bryce Dallas-Howard) return to the doomed theme park four years later to save the remaining dinosaurs from an extinction-level volcano eruption. However, they soon uncover a vast conspiracy with potentially global consequences.
The real headline, however, is the return of Jeff Goldblum as the iconic Ian Malcolm.
---
Ocean's 8
Release date: 8th June
After a 11 year hiatus, the Ocean's series returns. However, George Clooney and co have been replaced with an all star, all-female heist crew, including Sandra Bullock as Danny Ocean's sister, Rihanna, Anne Hathaway, Cate Blanchett, Mindy Kaling and Helena Bonham-Carter.
Together, the gang try to pull off the heist of the century at the Met Gala (which definitely isn't a thinly-veiled excuse to include loads of celebrity cameos).
---
Sicario 2: Soldado
Release date: 29th June
Despite the title, Soldado is actually more of a spin-off than a sequel to Denis Villeneuve's brilliant CIA thriller. It focuses on Benecio Del Toro's character, Alejandro Gillick, as he sent to Mexico with a new partner (it's that man Josh Brolin again!) to stop the cartel smuggling terrorists into the US.
Of course, things aren't that simple and Gillick is soon using the assignment as an opportunity to settle scores with some of the cartel members he met while working undercover…
---
Incredibles 2
Release date: 13th July
It's taken 14 years but Pixar are finally giving us a sequel to The Incredibles!
Written and directed by Brad Bird, Incredibles 2 picks up where the original left off with Helen AKA Elastigirl out fighting crime while Bob AKA Mr. Incredible is at home looking after the kids.
However, a new villain soon emerges and it's going to take the whole family to take him down…
---
Ant-Man and The Wasp
Release date: 3rd August
Paul Rudd shrinks down for a third time and this time he's got company in the form of The Wasp (played by Evangeline Lilly), who was introduced at the end of the original film.
Ant-Man and the Wasp picks up shortly after Captain America: Civil War and follows Scott Lang as he tries to balance his home life with his career as the world's smallest superhero; a balance that is thrown into peril when Hank Pym contacts him with a new mission.
---
Venom
Release date: 5th October
Venom is one of Spider-Man's best villains yet his only big-screen appearance was a half-baked cameo in the final third of Spider-Man 3.
Luckily, the success of Deadpool has inspired Sony to press ahead with an R-rated take on the character and they've landed a proper star for the main role too: Tom Hardy.
Despite some rumours to the contrary, the film won't be a part of the Marvel Cinematic Universe; instead, Sony are planning to build their own universe based on Spider-Man villains.
---
First Man
Release date: 2nd November
Although First Man isn't a superhero movie, Neil Armstrong is about as close as we have to a real-life superhero.
First Man chronicles Armstrong's life from 1961 up to the moment he set foot onto the moon. Ryan Gosling is set to play Armstrong, with Claire Foy as Janet Armstrong and Corey Stoll as Buzz Aldrin.
---
X-Men: Dark Phoenix
Release date: 2nd November
The second X-Men movie of the year is based on the critically acclaimed Dark Phoenix storyline from the comics, which was also the basis for the widely criticised X-Men: The Last Stand.
Set in the 1990s, Dark Phoenix sees the X-Men experiencing widespread fame for their exploits. However, a mission to space goes horribly wrong and Jean Grey becomes more powerful than ever… at the expense of her self-control.
---
Fantastic Beasts: The Crimes of Grindelwald
Release date: 16th November
The latest installment in J.K. Rowling's Wizarding World series is set shortly after the events of the first film, with dark wizard Grindelwald (Johnny Depp) escaping custody and recruiting followers for his grand scheme to rule the world alongside powerful wizards.
It's up to Dumbledore (Jude Law) and Newt Scamander (Eddie Redmayne) to stop him.
---
Mary Poppins Returns
Release date: 21st December
With Cinderella, Beauty and the Beast and The Jungle Book doing massive business at the box office, Disney seems to be slowly but surely updating its entire back catalogue.
Next up is Mary Poppins, although Returns is actually a sequel rather than a standard remake. Emily Blunt picks up the famous umbrella from Julie Andrews, with Poppins revisiting a now-adult Jane and Michael Banks after a personal loss.
---
Bohemian Rhapsody
Release date: 28th December
This Freddie Mercury biopic has been in the works for what seems like forever, with Sacha Baron-Cohen long rumoured to be portraying the mustachioed legend.
Instead, it's Mr. Robot's Rami Malek who'll be belting out the Queen hits, with Bohemian Rhapsody focusing on Mercury's life from joining Queen to the legendary 1985 Live Aid gig.
---
Love movies? Then buy Blu-Rays and DVDs from the musicMagpie Store! We've got thousands of titles to choose from and all orders come with FREE delivery. Why wouldn't you?