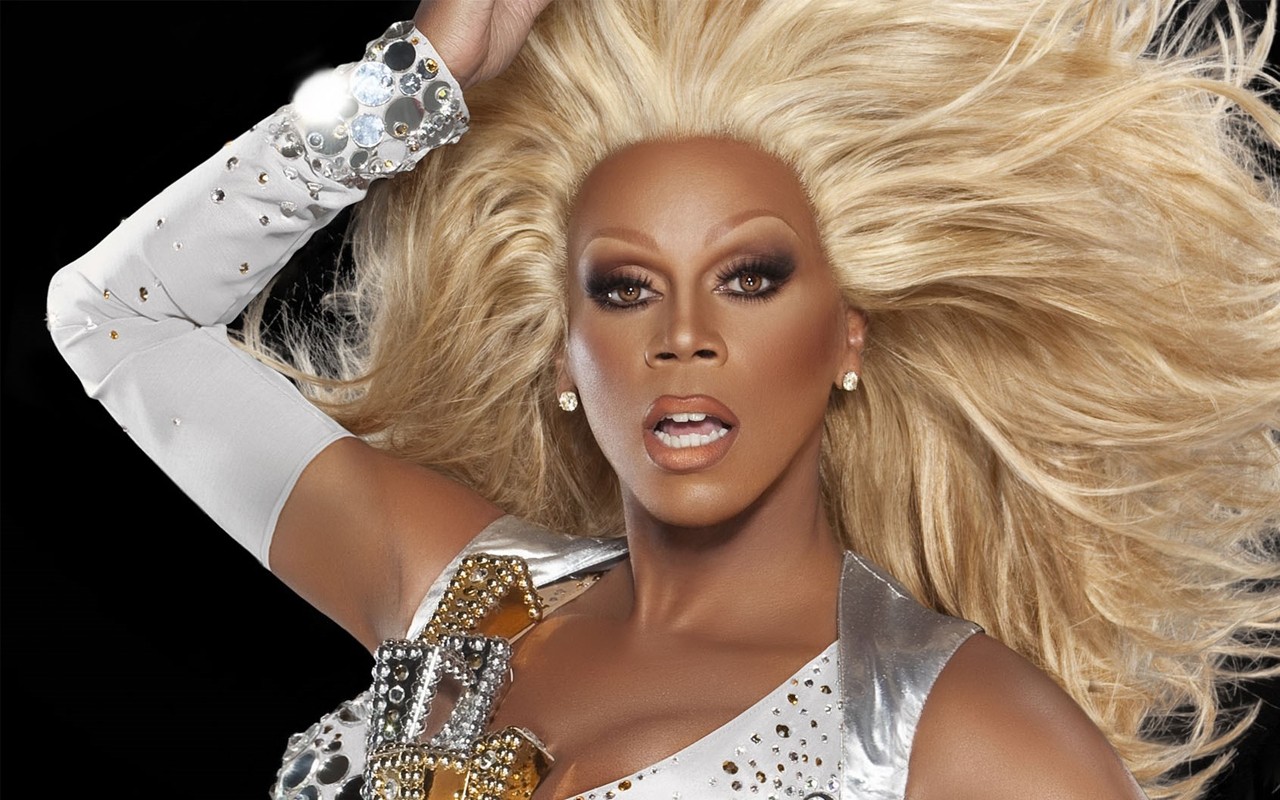 Everything you need to know about RuPaul's Drag Race
Ladies, start your engines – because we are going to break down the reality TV phenomenon that is RuPaul's Drag Race! For starters, if you aren't familiar with RuPaul Charles, he is considered to be the most commercially successful drag queen of all time. He has gained popularity for his club tracks too, like Cover Girl, Jealous of My Boogie and Main Event.
What is RuPaul's Drag Race?
So, the show sees glamazon drag royalty RuPaul judging a batch of drag hopefuls as they seek to be America's Next Drag Superstar. They'll be judged on their creativity skills, their comedy, how polished their look is and each week presents a new challenge. It's kind of like Project Runway, a comedy roast and a make-up challenge all rolled into one beautiful package.
The contestants have access to a workroom where they can perfect their art. Ru will give out advice and will check in to see what his girls are planning on showcasing. When it comes to the runway, RuPaul judges the execution of looks alongside Michelle Visage, Carson Kressley, Ross Mathews and a special guest in the most recent seasons of the show. Previous guest judges have included Debbie Harry of Blondie, Khloe Kardashian and La Toya Jackson.
---
View this post on Instagram
How are the contestants judged?
The show is split between a mini challenge – a quick little challenge that doesn't require too much effort in the grand scheme of things – and a maxi challenge which could see these queens having to pull together a number of outfits, completely change their look and be pulled out of their comfort zone.
A mini challenge could be as simple as a dancing competition or a photoshoot with a twist (like being underwater) and it usually has some kind of time restriction. Winning the mini challenge will put you in good stead for the maxi; you may have an advantage in the maxi or you could win a prize.
The maxi challenge can also see acting, singing or dancing challenges. As the weeks go on, it only gets more difficult as Ru tries to whittle down the weakest girls.
View this post on Instagram
The maxi challenge outfits need often have to be made by hand but Ru will provide a lot of material. Can all of these ladies sew? Of course not. Even after 10 seasons, queens come and go every year who decide to hot glue their outfit together as they've never had to thread a needle before!
It's not just as simple as who can pull together the best make up because if your face is all you've got, you won't last long in this competition! It's the same with your figure – if you're relying on your body by flaunting it in bikinis, Michelle Visage will see right through you. You need to consider the challenge itself and your take on it. Famously, season four's Sharon Needles took a RuPocalypse Challenge and pulled an incredibly spooky look together, not just your run of the mill white face paint and eye bags.
When each lady has done her thing on the catwalk, they will be judged by the panel. One will be crowed the winner of the challenge, a number will be safe and the bottom two will battle it out to stay in the competition.
The two weakest contestants of the week will have to lip sync for their lives. They are told which song they need to prepare in the event of falling short in the challenge, and give their best performance of their song. It's not unheard of that some girls overestimate their abilities, and don't know the song when they are in the bottom. HUGE no-no. Not knowing the words is a cardinal sin and you'll be packing your bags quicker than you can say "Oh no she better don't".
---
What are some of the key phrases from the show?
Aside from the running order of the show, there's some terminology you need to be aware of before you dive in.
Herstory – if Ru is referring to herstory, it's usually a key moment in drag.
Okurrrrr – a quirk you'll hear the likes of Laganja Estranja exclaiming, literally an elongated version of 'okay'. Contestants are often known for their phrases or quirks and Miss Alyssa Edwards is the queen of the quirk. She's best known for making popping noises with her mouth.
View this post on Instagram
Reading is fundamental – when the library is opened, this usually means we've reached a point in the season when the deadwood has been knocked off. Opening the library allows the contestants of the show to throw shade at each other, all while wearing some pretty outrageous glasses.
Throwing shade is essentially making fun of each other, but it's all about what you choose to say and how you deliver it. The funniest takes tend to win the queen with the sharpest tongue the challenge.
There is a difference between throwing shade and just being mean. You have to be quick witted to get the gals to giggle at your remarks.
You've got she-mail or She done already done have herses! – this noise is made when a message is coming through from Mama Ru. It leads to what the challenge will be before Ru pops his head round and says "Hello! Hello! Hello!" to his girls. It'll be packed with hints to the type of challenge they'll face.
View this post on Instagram
Lip-sync for your life – following the maxi challenge and the runway looks, the queens will be judged on their overall performance. One queen will be crowned for the week and can receive immunity from elimination the following week (this is series dependent). They will be whittled down to who is safe then finally, to the two queens who fell short of the mark. In order to fight for their place to compete for another week, they have to lip-sync a prepared track and give the performance of a lifetime.
Of course, there are a few queens that assume their safety before the judging takes place. Lip-sync rules are fundamental to follow – always learn the words, dance your heart out, try to pull out a death drop and do not take your clothes off unless absolutely necessary.
Also, don't try and pick up your opponent as it's the quickest way to get kicked off the show. Drag is not a contact sport.
Shante, you stay. – if you do manage to knock your lip-sync out of the park and Mama Ru is impressed, you'll hear this phrase. You've done what you can and you live to fight another day but boy, do you need to up your game for the following week.
There aren't many queens who survive multiple lip-syncs and those who do are absolute pros. We tip our cap to you, Kameron Michaels.
Sashay away – oh man. If Ru tells you this, your time in the competition is done. Time to collect your little drag race statue, write a heartfelt note on the workroom mirror in lipstick and say your goodbyes. Or, you can call out you fellow contestants for being dudes, à la Gia Gunn.
Giving you ___ realness – the types of realness can vary across the board, but generally, if a queen is giving or serving you some kind of realness, she thinks she has absolutely nailed her look.
Also see, sickening, which sounds negative but it's far from. If you've pulled off a sickening look, you should be in the running to hear those magic words: "Con-drag-ulations, you are the winner of this week's challenge."
Gagging – if you have the judges gagging over your look, you're one of the best that week. We promise you, you want RuPaul to be gagging on your Eleganza.
View this post on Instagram
The Snatch Game – The Snatch Game is the point that a lot of queens want to reach in the competition. It means you have been doing well so far and now you have the opportunity to really flex your shady and comedic muscles.
The biggest mistake a queen can make – and believe us, plenty have – is that you try to do a like-for-like look of someone who isn't funny. Beating your face to look like Kim Kardashian or Beyoncé will expose you in the Snatch Game.
Key moments have come from this game, a take on America's The Match Game, and queens have solidified their status in it. Look out for: BenDeLaCreme's Maggie Smith, Kennedy Davenport's Little Richard (it's not advised that you play a man, but Kennedy's performance was so good we have to allow it), Chad Michaels's take on Cher and Bianca Del Rio's version of the immense Judge Judy.
Sissy that walk – strut down that runway like you own it.
Spill the tea – dishing out the gossip on something.
---
SPOILER ALERT!
If you don't want to know which queens have taken the Drag Crown for each season, we advise you look away now. If you want a recap on each winning queen, please continue!
We'll also explain who was named Miss Congeniality.
Ru Paul's Drag Race Winners
View this post on Instagram
Season One
The first ever season of RPDR featured just nine girls – Victoria "Porkchop" Parker, Akashia, BeBe Zahara Benet, Jade, Shannel, Nina Flowers, Tammie Brown, Rebecca Glasscock and Ongina. Their ages ranged between 24 and 39, and they were judged by some certified legends throughout the season – including Destiny's Child member Michelle Williams, Robin Antin and fashion designer Bob Mackie.
Rebecca, BeBe and Nina were the last three standing, with their final challenge seeing them record a verse for RuPaul's track Covergirl (Put the Bass in Your Walk) as well as a dance routine.
Winner: BeBe Zahara Benet
Miss Congeniality: Nina Flowers
Season Two
In the second season, the prize money for the winner was upped from $20,000 to $25,000 – before we even think about the deals that come with the crown. The number of contestants increased too from nine to 12. The tradition of writing your goodbye message on the workroom mirror in lipstick began this season as the queens got fishier and drama reigned.
The final three were Jujubee, Raven and Tyra Sanchez – dubbed 'The Other Tyra'. Their last challenge included filming a scene with RuPaul in which the contestants are slapped by Mama Ru, and shooting the video for Jealous of My Boogie.
Winner: Tyra Sanchez
Miss Congeniality: Pandora Boxx
View this post on Instagram
Season Three
Season three is iconic as it began the reign of Michelle Visage as a judge, having replaced Merle Ginsberg. Michelle has remained a constant ever since. We saw a wildcard contestant, a queen making an unexpected return and the prize money went up a notch once again – to $75,000.
The last three standing were Alexis Matteo, Raja and Manila Luzon. Their final challenge is to appear in Ru's music video (you're getting the theme here) Champion. They each meet with Ru to talk about their season, and what got them to the finale.
Winner: Raja
Miss Congeniality: Yara Sofia
View this post on Instagram
Season Four
The season's fourth run saw two runner up contestants for the first time. Glee's Amber Riley appeared as a guest judge, as did Kelly Osbourne and Natalie Cole. One contestant was disqualified for breaking the rules, the only one to date!
The final three were Sharon Needles, Phi Phi O'Hara and Chad Michaels. For the first time, the finale was filmed in front of a live audience to avoid the winner leaking before the episode airing as it had done before. The top three shot the Glamazon video and had to lip-sync the track before the live finale.
Winner: Sharon Needles
Miss Congeniality: Latrice Royale
View this post on Instagram
Season Five
Season five had it all – the quirkiest characters on Snatch Game, family revelations and Sharon Needles's own boyfriend Alaska competing for the same crown. Mama Ru took didn't suffer fools as she shockingly made a double elimination in the fourth week of the competition.
The top three were Alaska, Roxxxy Andrews and Jinkx Monsoon. Their challenge was to shoot a courtroom scene as well as starring in the video for The Beginning by RuPaul.
Winner: Jinkx Monsoon
Miss Congeniality: Ivy Winters
View this post on Instagram
Season Six
Arguably the most iconic season yet. We were gifted with some of the fiercest queens the competition has seen, drama brought to the workroom from the get go and the fourteen queens were divided into two groups for the premiere.
The final three girls were Adore Delano, Bianca Del Rio and Courtney Act. They had to do two acting scenes alongside starring in the video for Sissy That Walk.
Winner: Bianca Del Rio
Miss Congeniality: BenDeLaCreme
View this post on Instagram
Season Seven
The viewers increased for the 7th season and we got some huge names judging the girls. Ariana Grande, Olivia Newton-John and Mel B all featured this season that gave us possibly the tiniest cinched waist the drag world has ever seen. We got a Russian contestant (well, sort of), a Hello Kitty Challenge and closure on the Merle Ginsberg situation.
The best of the best were Pearl, Violet Chachki and Ginger Minj. They starred in the video for Born Naked because we are all born naked and the rest is drag.
Winner: Violet Chachki
Miss Congeniality: Katya
View this post on Instagram
Season Eight
Season eight introduced the world to the best Britney impersonator ever. The previous winners came back for the premiere of this season for a photo opportunity, celebrating 100 episodes of RPDR. Tensions ran high throughout the season, especially in the fifth episode after a number of copycat runway looks.
Top three were Kim Chi, Bob the Drag Queen and Naomi Smalls. Their song was The Realness.
Winner: Bob the Drag Queen
Miss Congeniality: Cynthia Lee Fontaine
View this post on Instagram
Season Nine
Season eight's Miss Congeniality joined the season nine queens, and an accident in a dancing challenge would cut Eureka's time in the competition short. Fear not, she would be allowed to compete in season 10, no questions asked. In an awkward turn, in a lip sync battle, one contestant tried to compete with her mouth covered by a mask. Why? we hear you cry. She didn't learn the words and requested to keep the mask on.
In line for the crown was Shea Coulée, Peppermint, Trinity Taylor and Sasha Velour. A double lip sync battle meant only two would stand in the end, rather than the usual three.
Winner: Sasha Velour
Miss Congeniality: Valentina
View this post on Instagram
Season Ten
One episode in and we already had the catchphrase of the season. The first queen eliminated, Vanessa Vanjie Matteo, shuffled off the catwalk exclaiming "Vanjie… Vanjie… Miss Vanjie…" which would confuse and tickle Ru. Sure enough, as promised, Eureka made her return to the workroom and slayed.
The fab four were Kameron Michaels, Aquaria, Eureka and Asia O'Hara. They had to record their own verse for the track American.
Winner: Aquaria
Miss Congeniality: Monet X Change
Season Eleven
Another returning queen! This time, Vanessa Vanjie Matteo had the opportunity to show the world she is much more than just a meme. And show the world she did – she made it within touching distance of the crown. There was plenty of drama, fights, tears and even robberies right until the last episode.
Winner: Yvie Oddly
Miss Congeniality: Nina West
View this post on Instagram
All Stars Season One
The first edition of All Stars aired in 2012, between seasons four and five. It aired over six episodes, with the contestants teaming up to compete. Queens across all four seasons competed like Tammie Brown (S1), Jujubee (S2), Yara Sofia (S3) and Latrice Royale (S4).
Winner: Chad Michaels
Runner up: Raven
View this post on Instagram
All Stars Season Two
We had more fierce personalities in the second stint of All Stars. Alyssa Edwards came up against Coco Montrese once again and RoLaskaTox were back together (Alaska, Detox and Roxxxy Andrews). Instead of the bottom two lip syncing for their lives, the two best had to lip sync for their legacy – whoever won that won $10,000 and chose the queen to eliminate.
Winner: Alaska
Runners up: Katya and Detox
View this post on Instagram
All Stars Season Three
All Stars 3 had the original winner of RuPaul's Drag Race alongside some modern day drag icons. In one of the biggest twists in RPDR Her-story, BenDeLaCreme brings back Morgan McMichaels and eliminates herself.
Winner: Trixie Mattel
Runner up: Kennedy Davenport
All Stars Season Four
For the first time, All Stars contestants from the original series returned for another stab at becoming RuPaul's Drag Race Royalty. Manila Luzon (Season 3) and Latrice Royale (Season 4) were introduced as Team Latrila. We saw the Snatch Game with a twist – the contestants had to compete for the affections of bachelors Gus Kenworthy and Keiyan Lonsdale.
Winners: Monét X Change and Trinity The Tuck
Runners up: Monique Heart and Naomi Smalls
---
While the show may be fun for us to watch as we see incredible craft coming to life and a huge dash of drama alongside it, it has been key in raising the profiles of a heap of drag queens. It offers insight into LGBT history and issues, it has given queens a loving space to talk about problems they have faced and has helped bring awareness to the art of drag.
The reality powerhouse has lasted for 11 Drag Race seasons, as well as four All Star seasons. We were gifted with the Holi-Slay version for Christmas AND Mama Ru is bringing the show across the pond for a UK version! Each year, a huge drag convention called DragCon (fitting) takes place over three days in LA, with more than 50,000 people attending.
Has this post got you itching to binge watch the show? You'll need a phone or tablet to do so! Buy an iPhone at musicMapgie Store now with a 12 month warranty and FREE delivery!