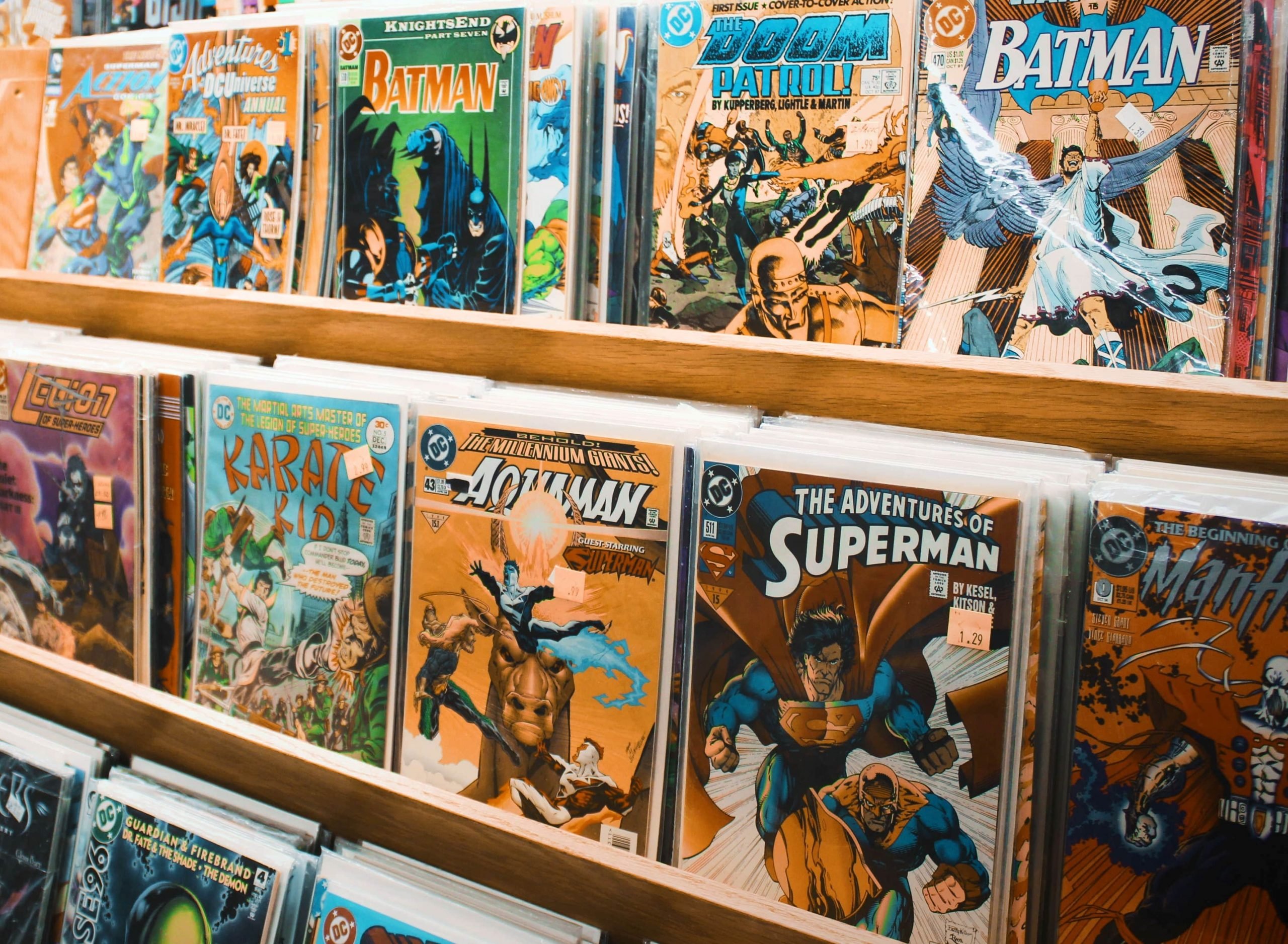 Top 10 Female Superheroes & Villains
Comic book movies focused on female leads have smashed it over the past few years. Kicking 2020 off is the highly-anticipated DC movie 'Birds of Prey'- a perfect combination of female superheroes and villains coming together to fight the bad guy.
With Birds of Prey in cinemas now, here are our favourite female superheroes and villains!
---
Wonder Woman
As a founding member of the Justice League, Wonder Woman made her first appearance in All Star Comics no.8 in 1941. William Moulton Marston, a psychologist and comic book writer, created the character – who was originally supposed to be named 'Suprema'.
The portrayal of Wonder Woman has changed over the decades. The original story depicted she was given life to live as an Amazon with superhuman powers. Over time, her story shifted to focus on characters and monsters from Greek Mythology. She gained a long line of enemies such as Cheetah, Doctor Poison, Circe and many more.
Being around since 1941 has given the character room to be introduced through TV and film. In 1975 the TV series Wonder Woman aired in the US and lasted three series. The Lego Movie (2014) and Batman v Superman: Dawn of Justice (2016) both featured our favourite female heroine too.
It all changed in 2017 with the movie Wonder Woman starring Gal Gadot and Chris Pine. Our leading female superhero film had a budget of over $100 million, grossing around $820 million worldwide!
It doesn't stop there. June 2020 sees the release of the sequel Wonder Woman 1984, which will see our favourite DC superhero square off with her enemy Cheetah. We can't wait!
Buy Wonder Woman (2017) with musicMagpie!
---
Harley Quinn
As a former psychologist turned rogue, Harley is one of our favourite DC villains. Making her first appearance in the 1992 Batman: The Animated Series episode 'Joker's Favour', she was originally the Joker's sidekick but has grown into many different roles since then.
Her feistiness and unpredictability make her an ultimate threat against her enemies, yet her devotion to the Joker means she will do anything no matter the cost to her or anyone else.
Harley Quinn has been adapted in a variety of animation, TV and video games. In her early comic book appearances, she wore her original black and red costume; in 2011 she got a revamped look. Following DC's rebirth in 2016, she debuted a look that many people will now know her for – blonde hair with blue dip dye on the left side and pink dip dye on the right.
Finally, Harley's got her own movie – Birds of Prey, a large female casting with major comic book characters such as Huntress, Black Canary and Renee Montoya, who have teamed up to defeat Black Mask. The plot focuses on Harley being on the run as she is a target due to her break up with the Joker.
---
Carol Danvers
One of the most popular Marvel female superheroes, Carol Danvers made her debut in Marvel Super-Heroes no.13 (1968) as an officer for the United States Air Force. In 1977 she became the first incarnation of Ms Marvel in Ms Marvel no.1, which played an important role in the character's development.
Originally created by Roy Thomas and artist Gene Colan, she has been associated with superhero teams Avengers and The X-Men. Carol Danvers has starred in television series, video games and films.
Marvel released Captain Marvel in 2019, with Brie Larson taking on the role of Carol Danvers, and it absolutely smashed it at the box office, grossing $455 million worldwide. Not bad for Marvel Studios' first female-led superhero movie!
From possessing superhuman strength to having resistance to toxins and poisons, Carol Danvers is unstoppable. It's no surprise she is labelled as Marvel's most notable female hero!
---
Mystique
A shapeshifter known to be over 100 years old, Mystique made her debut in 1978 in Ms.Marvel No.16. She is commonly associated with X-Men and was created by writer Chris Claremont and artist David Cockrum.
In 2009, Mystique was ranked as IGN's 18th Greatest Comic Book Villain of all time. As a mutant shapeshifter, she can change her voice and shift the formation of her biological cells to change her appearance.
Mystique has been involved in many X-Men films; Jennifer Lawrence portrayed a younger version of her in X-Men: First Class (2011). Since then she has reprised the role in movies such as:

X-Men: Days of the Future Past
X-Men: Apocalypse
Dark Phoenix
Trade in your X-Men DVDs or Blu-Rays with musicMagpie today!
---
Jean Grey
Created by Stan Lee and artist Jack Kirby, Jean Grey (also known as Marvel Girl, Phoenix and Dark Phoenix) was first introduced in The X-Men no.1 in 1963. As a human mutant, she was born with superhuman abilities such as telepathy and telekinetic powers.
She is an important figure in the lives of Marvel Universe characters such as Cyclops and Charles Xavier. Initially she was created as a nurturing and caring figure – however she has to deal with a cosmic force known as the Phoenix that takes over her body during a space mission goes wrong.
The Phoenix joins missions and helps save the universe, yet during The Dark Phoenix Saga, she becomes corrupted by evil and turns into a force of destruction.
Jean Grey has been involved in all three X-Men animated series, Famke Janssen portrayed her in five instalments of the X-Men Films. Sophie Turner took over the role in X-Men: Apocalypse (2016) and then The Dark Phoenix in 2019.
Jean Grey has been present for the majority of the X-Men series. She underwent a transformation in the late 1970s from the X-Men's weakest to most powerful member!
---
Black Widow
Black Widow was introduced as a Russian spy in the feature 'Iron Man' in Tales of Suspense no.62 in 1964. Born in Russia as Natasha Romanoff, she trained as a spy, martial artist and sniper at the Russian facility 'Red Room'.
In 1970 she was given a visual update. She was reintroduced in The Amazing Spider-Man as having shoulder-length red hair, a black costume and wristbands which fire spider threads – this is the look most people now associate with Black Widow.
Throughout the 1980s and 1990s, Black Widow appeared as an Avengers member and freelance agent of S.H.I.E.L.D.
The movie Black Widow is due for release 1st May 2020 and Scarlett Johansson reprises her role as Black Widow. The plot focuses on the origins of Black Widow. When the U.S.S.R breaks up, the government tries to kill her. We can't wait to see it!
Marvel movies that Scarlett Johansson has played Black Widow:

Iron Man 2 (2010)
The Avengers (2012)
Captain America: The Winter Soldier (2014)
Avengers: Age of Ultron (2015)
Captain America: Civil War (2016)
Avengers: Infinity War (2018
Captain Marvel (2019)
Avengers Endgame (2019)
Trade in Avengers DVDs or Blu-rays
---
Catwoman
Selina Kyle made her debut as Catwoman in Batman no.1 in 1940, created by Bill Finger and Bob Kane, who co-created Batman. As a burglar in Gotham City, she was originally characterised as a supervillain yet she has been portrayed as an anti-heroine.
In her first appearance she didn't wear a disguise and then gradually wore a mask and a catsuit with boots. In the 1960s her catsuit was green, which was the colour that Villains wore in that era, shifting to the 1990s she wore a purple catsuit. In 2018, DC revealed her revamped look; a new black costume with openings under her arms and shoulders for mobility and stylish boots.
Catwoman has been featured in a range of media adaptations. In the 1960s she was introduced in the Batman TV series and the 1966 Batman film.
In Batman Returns (1992) Michelle Pfeiffer portrayed the character. However, in 2004 the film Catwoman which starred Halle Berry didn't do very well and had a lot of criticism. It is known that Zoe Kravitz will portray Catwoman in the 2021 film The Batman.
Catwoman was ranked 11th on IGN's list of top 100 Comic Book Villains of All Time.
---
The Wasp
The Wasp was created by Stan Lee, Ernie Hart and Jack Kirby, appearing in Tales to Astonish no.44 in 1963. She is able to shrink to the height of several centimetres, fly and fire bioelectric energy blasts.
Her real name is Janet Van Dyne and is one of the founding members of the Avengers. When her scientist father is killed by an alien entity she turns to his colleague for help and undergoes a biochemical procedure, transforming her into The Wasp.
Even though she isn't present in the core Avengers book, she appears in Marvel Feature issues 6-10 and made guest appearances in books such as Captain America, Iron Man and Fantastic Four.
Wasp has appeared in TV series and 2015 film Ant-Man. Michelle Pfeiffer portrays Janet Van Dyne in Ant-Man and the Wasp (2018), she also reprises her role as the superhero in Avengers: Endgame (2019).
In May 2011, the Wasp placed 99th on IGN's Top 100 Comic Book Heroes of All Time! As a founding member of the Avengers we think she deserves it.
---
Storm
Storm was created by writer Len Wein and artist Dave Cockrum, first appearing in Giant-Size X-Men no.1 in 1975. She is a member of humans born with superhuman abilities and can control weather and the atmosphere, no doubt the reason why she is classed as one of the most powerful mutants.
Created during the Bronze Age of Comic Books (1970-1984), she is the first major character of African descent in comics. Born Ororo Munroe to a tribal princess in Kenya, she was raised in New York and made an orphan when her parents were killed. She became a pickpocket where she then met Professor X and was introduced to the X-Men. Storm has also been a member of the Avengers and the Fantastic Four.
Storm is a main character in X-Men, portraying an expert thief and skilled fighter as she was trained by Professor X, Wolverine and the Black Panther. In 2011 she was ranked 42nd on IGN's Top 100 Comic Book Heroes list.
Halle Berry portrayed Storm in X-Men (2000) which was the characters first live action. She reprised the role in X2, X-Men: The Last Stand and X-Men: Days of Future Past.
Buy X-Men DVDs & Blu-rays at musicMagpie!
---
Poison Ivy
A regular villain in Batman stories and portrayed as a love interest, Poison Ivy, who is called Pamela Isley made her debut in Batman no.181 in 1966.
As a Gotham City biochemist who is infatuated with plants and ecological extinction, she uses plant toxins and mind controlling for her criminal activities. Some versions of Poison Ivy present her as more plant than human due to her breathing carbon dioxide and having chlorophyll skin.
Within DC she has teamed up with other female super villains such as Harley Quinn and Catwoman where the three formed an alliance in Gotham City Sirens.
Poison Ivy has been part of video games, Lego DC series and live action TV series Gotham (2014). In 1997 Uma Thurman played the character in Batman & Robin.
Like what you see on our list? Buy DVDs and Blu-rays from the musicMagpie store or Trade in DVDs today! Get paid the same day your items arrive in our warehouse
---