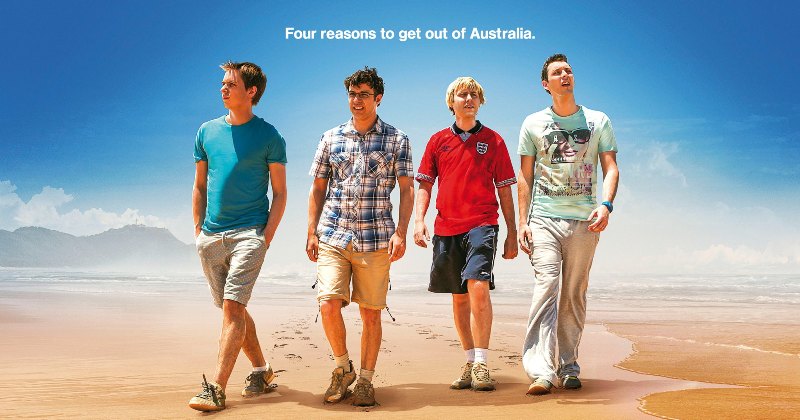 August's New Releases
Good news: after last month's relatively barren release schedule, things have picked up again! Check out these movies, albums and games this August…
---
Movies
Step Up: All In (1st August)

You know the score by now: a bunch of fancy-dancing take on other fancy-dancing kids in a fancy-dancing competition, which will a) give them enough money to save the youth centre or b) help two ridiculously good-looking people get together. The dancing's good though.
---
The Nut Job (1st August)

Gritty Liam Neeson stars as a gritty raccoon (who is actually called Raccoon) in this animated thriller, which sees some squirrels attempt an audacious nut heist. We'll just leave it at that.
---
The Inbetweeners 2 (6th August)

Everyone's favourite high school losers are all grown-up and in Australia, where Jay has gone on a gap year. Early trailers suggest it'll be as gleefully immature as the series – in short, it'll be brilliant.
---
The Expendables 3 (14th August)

Sly Stallone and his rag-tag bunch of muscle-bound old people hit the road for more explosions and gun fights with people half their age. Interestingly, the big bad guy this time is Mel Gibson, in his biggest role since…well, you know…
---
Lucy (22nd August)

Scarlett Johansson is exposed to a drug which helps her unlock the other 90% of her brain (we only use 10% apparently). It turns out this extra 90% includes the ability to knock people out with a single hand gesture, which would be incredibly useful now we think about it. Wise old Morgan Freeman plays a wise old man who helps Scarlett come to terms with her new powers.
---
Sin City: A Dame To Kill For (29th August)

The original Sin City was more noir than drinking a cup of black coffee during a blackout, and A Dame To Kill For looks like it'll continue in that vein. Joining series favourites Bruce Willis, Jessica Alba and Mickey Rourke this time are Joseph Gordon-Levitt, Eva Green and Ray Liotta.
---
Music
Pixie Lott – Pixie Lott (4th August)

Pixie Lott is such a good dry shampoo saleswoman that we almost forget she's got quite the voice on her too. Pixie's 3rd album is heavily influenced by soul, Motown and the 2010 Cher-flop Burlesque.
---
Great Divide – Twin Atlantic (18th August)

Fans of Scottish accents, rejoice! Shortly after blowing the roof off T in the Park (which is quite a feat, as T in the Park doesn't have a roof), Twin Atlantic are back with another set of top rockers.
---
Concrete Love – Courteeners (18th August)

Manchester's biggest band (until the Gallaghers kiss and make up, at least) are back with a 4th album, the appropriately-titled Concrete Love.
---
My Everything – Ariana Grande (25th August)

It's impossible to talk about Ariana Grande without getting 'Problem' stuck in your head. See?
---
Royal Blood – Royal Blood (26th August)

Royal Blood only formed in 2013, yet they've already supported Arctic Monkeys at Finsbury Park, performed at Glastonbury and been nominated for the BBC's Sound of 2014. With their debut album due out in August, hopefully they'll have time for a well-deserved sit down and a cup of tea soon.
---
Junto – Basement Jaxx (26th August)

We're still haven't decided whether we're going to buy Basement Jaxx's new album yet. We'll wait until the end of the month and see where our heads are at (nudgenudgewinkwink).
---
Pale Communion – Opeth (26th August)

The Swedish metal giants adventures in prog continue, much to the dismay of anyone who wishes they were still a death metal band.
---
Games
Diablo III: Ultimate Evil Edition (19th August)

Ultimate Evil is approximately the 10,000,000,000,000,000,000th version of Diablo III, but we'll probably still end up buying it anyway.
---
Madden NFL 15 (29th August)

All the fun of American football, without the broken bones and adverts every 10 minutes.
---
DVDs
Take your pick from these beauties:
Rio 2 | Divergent | The Raid 2 | Calvary | Muppets: Most Wanted | Captain America: The Winter Soldier | Transcendence.
---
Need some cash for this month's releases? Sell your CDs, DVDs and Games with musicMagpie!