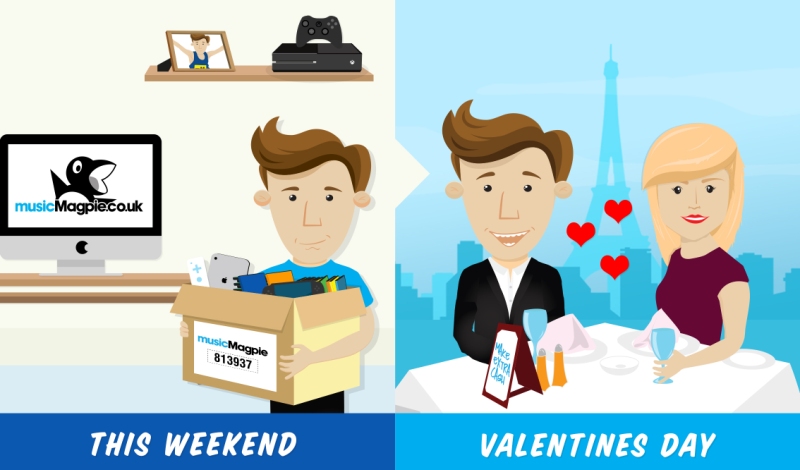 The Best Films, Music and Games for Valentine's Day
Valentine's Day is this Friday and, let's face it, most of us probably haven't even given it a second thought.
Lucky for you, we have. In this post, you'll find 15 films, songs and games guaranteed to make your Valentine's Day extra special. You can thank us later.
---
Films
5 crowd-pleasers suitable for any date. Pop 'em on after dinner and await smooching time afterwards.
Dirty Dancing
It's a love story as old as time: the good girl loves the dude from the wrong side of the tracks and love (and some sweet dance moves) eventually conquers all. D'aww.
Titanic
Heart-printed tissues at the ready. The doomed romance between Jack and Rose made Titanic one of the highest-grossing movies of all time, and it bagged an Oscar for Best Picture too. Get on it.
Notting Hill
How could we leave out Hugh Grant, the king of the romcom? Notting Hill is probably the best film in his back catalogue, hitting a fine balance between chuckles and bumbling schmaltz. Lovely stuff.
Casablanca
Casablanca's tale of love in wartorn Europe is timeless and is guaranteed to leave at least one of you weeping.
You could also adapt one of the film's most famous lines and tell your date that you'll 'always have Valentine's Day 2015'. It doesn't quite have the same ring to it, admittedly.
Walk The Line
The story of John and June Carter Cash is heart-warming, heart-breaking and life-affirming all at once. Plus, it has some top tunes in it.
---
Music
Stick these on the stereo and watch your attractiveness level go through the roof.
Just The Way You Are – Barry White
What's Valentine's Day without the Walrus of Love? Half as sexy, that's what. This ode to beauty has been making people weak at the knees for 36 years. Just don't try and do a Barry White impression – it never goes well.
I Want to Hold your Hand – The Beatles
Need we say more? To be honest, you can pick any of The Beatles' love songs because they're all lovely.
Thinking Out Loud – Ed Sheeran
The current flavour of the month. It'll make you look romantic and hip!
I Want To Know What Love Is – Foreigner
Nothing says love quite like belting out the chorus to I Want To Know What Love Is after a lovely dinner. And yes, ladies, that includes you.
I'll Make Love To You – Boys II Men
If you can't muster up the courage to make the move, let the smooth tones of Boys II Men do it for you. Don't worry; we've all done it at some point.
---
Games
Gaming might not strike you as romantic but a good co-op game could well cement your relationship for years to come. Or give you something to do for a couple of hours, at least.
New Super Mario Bros for Wii U

A plump Italian plumber risks his life fighting fire-breathing dinosaurs to save his beloved girlfriend – numerous times! Co-op mode is a perfect way to spend the evening, although you'll probably have to let your date play as Mario to avoid an almighty bust-up.
Mario Kart 8

Mario Kart 8 is a great co-op game that could provide hours of fun. It could also ruin your relationship if you decide to throw a red shell at your other half on the last lap and condemn them to last place.
Portal 2

What's more romantic than using portals to escape from a murderous AI?
Also, the companion cube is quite sweet.
Left 4 Dead 2
You know what they say: you can never truly love someone until you've fought off waves of zombies together.
Just Dance

Great fun for two players. If you're a terrible dancer, it's a good way to break the bad news without embarrassing yourself in public.
---
Share your Valentine's Day recommendations with us in the comments!
And if Valentine's Day is going to cost you a fortune, make some money back and sell your CDs, DVDs, Games and Electronics with musicMagpie. Just click below to get started.