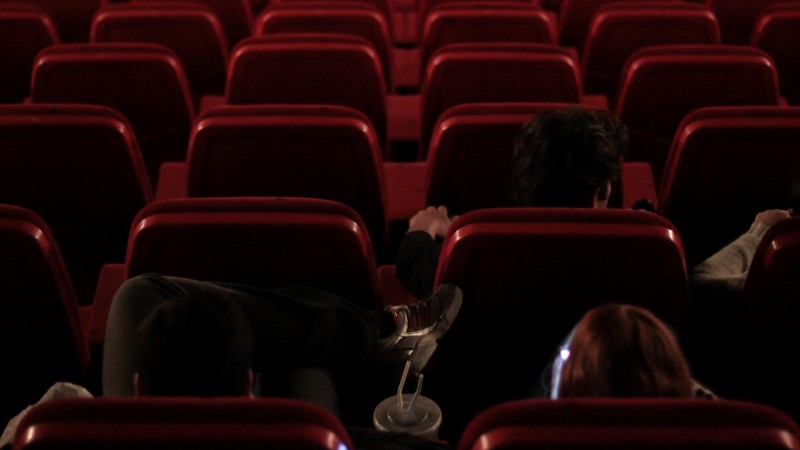 December's New Cinema Releases
When writing this post, we were tempted to type Star Wars 800 times and leave it at that. But believe it or not, there are actually other films coming out this month, including lots of Christmas flicks and a film about an angry whale.
---
Tuesday 1st December
Christmas With The Coopers
First out of the blocks in this year's race for 'future Christmas classic' status is Christmas With The Coopers, in which four generations of a family come together on Christmas Eve and have their lives turned upside down by a series of events.
Despite being marketed as a family comedy, it's actually a dramedy so expect a few weepy moments and plenty of warm-hearted Christmas spirit. The all star cast includes Diane Keaton, Jon Goodman, Ed Helms, Olivia Wilde and Anthony Mackie.
---
Thursday 3rd December
Victor Frankenstein
James McAvoy and Daniel Radcliffe star in this prequel to Frankenstein, AKA Victor Frankenstein Begins. It's the latest edition in Universal's Monsters cinematic universe, with the plan presumably to team up Big Frank, Dracula and the Mummy in an Avengers-type movie.
Unfortunately, we might not get that movie because Victor Frankenstein has bombed in the US. So if you want to see Dracula and Frankenstein having a scrap in a few years time, make sure you go and see this!
---
Friday 4th December
Krampus
The second big Christmas movie of the year, Krampus sees a young boy accidentally unleash a festive demon by turning his back on Christmas. Think Father Christmas, but with bigger claws and an appetite for flesh rather than mince pies. Or Dracula, except he can be warded off with Christmas jumpers and Slade rather than garlic and crosses.
Despite the scary premise, this is actually a horror comedy with Adam Scott (Parks and Recreation, Step Brothers) and Toni Collette (Little Miss Sunshine) among the main stars.
The Night Before
Seth Rogen, Joseph Gordon-Levitt and Anthony Mackie star in this (you guessed it!) Christmas caper. Three friends spend the night looking for the best Christmas party in New York, their last Christmas party before they decide to grow up once and for all.
If you love Seth Rogen films, then you're probably going to love this. Anyone else will probably appreciate the short break from Christmas schmaltz.
---
Friday 11th December
By The Sea
There's no Christmas in this one, although we're sure some people would consider any film with both Angelina Jolie (Pitt) and Brad Pitt (Pitt) in it a gift.
Written and directed by Jolie Pitt, By The Sea sees Hollywood's best looking couple portraying a former dancer and a writer travelling through 1970s France. Unfortunately, their relationship isn't going swimmingly (pun absolutely fully intended)…
---
Saturday 12th December
Sisters
Amy Poehler and Tina Fey star as a pair of sisters who decide to throw a massive party before their family home is sold. Cue lots of bad behaviour, lots of laughs and an appearance by none other than wrestler/2015's best meme John Cena.
---
Thursday 17th December
Star Wars: The Force Awakens
The big one. We really don't need to describe this one, do we?
Ah, alright then. The first Star Wars film in 10 years sees new characters and old favourites return to take on another galactic threat, this time from a Darth Vader-looking chap called Kylo Ren. Details are fairly murky at the moment, but who cares? It's going to be great (fingers, toes and eyes crossed).
Numerous cinema websites crashed when tickets were released for The Force Awakens in October, so we'd recommend calling ahead before heading out to a showing.
---
Monday 21st December
Snoopy and Charlie Brown: The Peanuts Movie
The legendary cartoon dog and his best mate return for more hi-jinks as Snoopy pursues a baddie in the skies and Charlie Brown embarks on his own quest back home.
This has received good reviews Stateside and is the first 3D Snoopy movie, so it could well be the pick of the family movies released this Christmas.
---
Boxing Day
Daddy's Home
Will Ferrell is a mild-mannered step father who is forced to compete with the affections of his wife's children after their much-cooler biker father (played by Mark Wahlberg) returns.
The last time Ferrell and Wahlberg worked together was The Other Guys, so we've got high hopes for this one!
In the Heart of the Sea
This monster movie tells the real-life story that inspired Moby Dick, with a giant whale hunting down a whaling ship, smashing it to bits and leaving the crew (which includes Chris Hemsworth and Cillian Murphy) stranded in the middle of nowhere.
Hopefully In the Heart of the Sea will focus more on the 'big whale smashing stuff' angle rather than painfully detailed descriptions of whale anatomy and the Victorian oil industry, unlike the book inspired by the event…
---
DVD releases
Monday 7th December: Pixels, Mission Impossible: Rogue Nation, The Man from U.N.C.L.E, Fear The Walking Dead, Trainwreck, Absolutely Anything, The Gift
Monday 14th December: Paper Towns, Fantastic 4, The Bad Education Movie, The Last Kingdom, Vacation
Boxing Day: Hitman: Agent 47