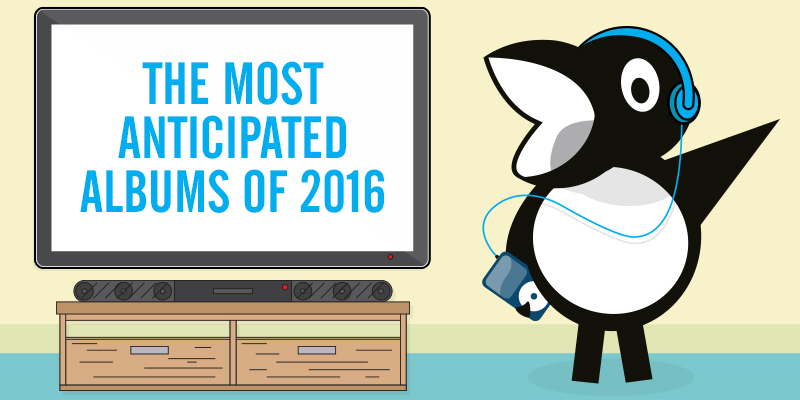 The most anticipated albums of 2016
2016 is here, which means it's time to put 25 back on the shelf and sink your teeth into some new tunes. Here's what's heading your way this year.
(P.S. musicians are notoriously unreliable, so please don't be mad at us if some of these albums don't actually come out this year…)
---
Blackstar – David Bowie
Having sealed his status as a legend, David Bowie has decided to go full-on gonzo and release an album of experimental jazz.
The 10 minute title track, with an accompanying video that will haunt your dreams forever, should help you decide whether this one is for you or not.
There's not too long to wait for this one: it's out this Friday.
---
Swish – Kanye West
You'd be forgiven for thinking that Kanye has been so busy making babies and designing clothes that he's forgotten to release Swish, his long-awaited new album.
It definitely exists, because he apparently performed it as far back as 2014's Paris Fashion Week and rapped the entire thing to Seth Rogen in the back of a van.
Kanye himself has described it as a 'sonic painting' that 'get better and better' every week, which should mean it's the greatest album ever made by the time it arrives.
---
New Blink 182
Blink 182 fell apart in 2015 after co-founder Tom DeLonge left/was fired (depending on who you ask) to focus on other projects, including writing 15 novels – nothing like a bit of ambition, eh?
Luckily, Mark and Travis found a more than suitable replacement in Alkaline Trio's Matt Skiba. With darker tones that should suit grown up Blink perfectly, the band's now-confirmed new album could be a blinder.
---
New Guns N Roses (?!)
It's official: hell has frozen over and the sky is full of pork. Guns N' Roses are reuniting for Coachella 2016, with Axl, Slash, Duff and others TBC putting aside their many, many differences for a big fat cheque.
If they can make it to April 2016 without falling out, there's a possibility they might be able to make an album too. Don't count on it though.
---
New Haim
The Californian trio have bubbled just under the mainstream for a couple of years now, but 2016 could well be the year they explode in popularity.
Since releasing Days Are Gone in 2013, the sisters have collaborated with artists including Calvin Harris, Major Lazer and Tame Impala. They've also toured with Taylor Swift. With friends like that, how could they fail?
---
New The Last Shadow Puppets
In the 8 years since The Age of the Understatement was released, Alex Turner has transformed from lovable indie scamp to slick rock n' roller and Miles Kane has become a solo star in his own right.
That's why we're ridiculously excited to see how this one turns out. Apparently, it's all done (according to drummer James Ford) so we should get to hear it fairly soon.
---
New Radiohead
In a classic case of mistranslation, Jonny Greenwood apparently told a Russian radio station that the record was done and the band were touring in 2016. Hooray!
Sadly, it turns out he actually said that the band had recorded lots of material but needed to go through it all, which probably means that mid 2016 is the very, very earliest any album will arrive.
In the meantime, console yourself with the band's very pretty but rejected theme for SPECTRE.
---
This is Acting – Sia
Even though Sia has only recently come into the spotlight, she's been churning out songs for other artists, including Rihanna and Beyonce, for years.
This is Acting consists solely of songs Sia wrote with other artists in mind but ended up performing herself. And it could be the album that catapults her to arena-filling status too!
---
Views from the 6 – Drake
No-one would argue if the man who spawned a million memes in 2015 took a nice long break in 2016. After all, he released two albums last year and they both topped the charts in the US.
But no. Instead, the artist otherwise known as Aubrey is releasing another new album, and it could be with us as early as today. Hopefully he busts out more dance moves too.
---
Songs of Experience – U2
The freshly announced sequel to Songs of Innocence will be released before the year is out. Hopefully that experience includes not dumping the album on everyone's iPhones…
---
You'll find all the latest music releases, as well as 1000s of classic CDs, DVDs and games, on the musicMagpie Store. Click below to start shopping!
And if you need to clear some space for new exciting stuff, you can sell CDs with us too! Just click below to get started!