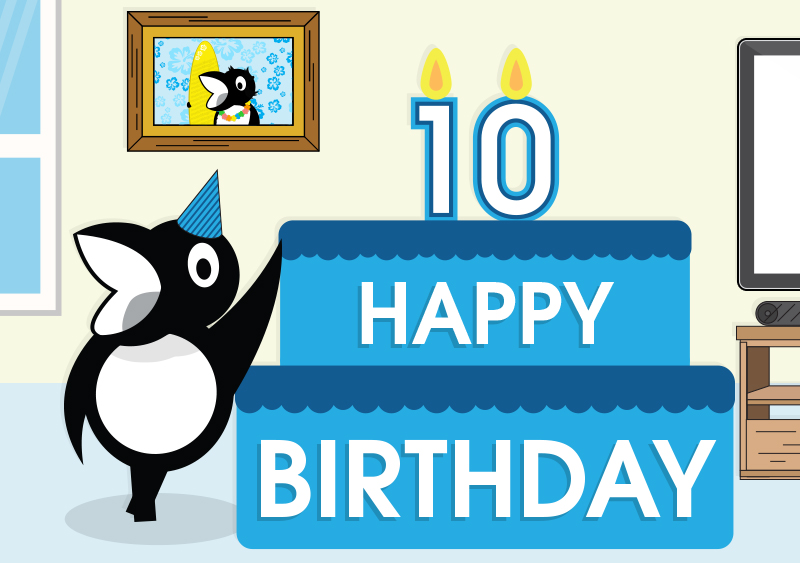 10 films that are 10 this year. Prepare to feel old…
2006: a time before iPhones, Twitter and Netflix. Everyone was worried about bird flu, Leona Lewis won The X Factor and England crashed out of the World Cup in Germany on penalties (which, to be fair, is a lot better than they did last time).
These 10 classic movies also hit the silver screen. Grab a zimmer frame and prepare to feel super old…
---
Casino Royale
Remember when everyone thought Daniel Craig was going to be a rubbish Bond? It was such a national crisis that national newspapers splashed their outrage on the front page.
Fortunately, he turned out to be the best Bond since Connery (IMO and all that) and he's still in the role 10 years later. Hopefully someone gives him a cake that turns into a car or something.
---
300
Yep, it's been 10 glorious years since King Leonidas first kicked that bloke into that pit and sparked one of the greatest memes of the 21st century: THIS. IS. SPARTA!
Since then, Gerard Butler has become a housewive's favourite (occasionally dipping his toe back into action films), director Zack Synder has been given the daunting task of not messing up Batman vs. Superman and the word Spartan has become synonymous with anyone who's a bit 'ard.
---
Borat: Cultural Learnings of America for Make Benefit Glorious Nation of Kazakhstan
JAGSHEMASH! Its 10 years since Sacha Baron Cohen donned the 'tache and silly accent for his weird and wonderful tour of the States, yet you'll still hear people breaking out Borat quotes on a Saturday night down the pub and wearing mankinis on holiday for bantz. I like!
---
Cars
The 13th best Pixar movie revved onto our screens 10 years ago, sparking a merchandise avalanche and encouraging children to try and talk to rusty old tow trucks.
It's also the first and last time Jeremy Clarkson appeared in a feature film.
---
Snakes on a Plane
A decade ago, Samuel L Jackson uttered 11 immortal words (2 of which are too rude to repeat on a family blog) and inadvertently created a new subgenre of terrible films about creatures attacking public transport, big cities and themselves.
Without Snakes on a Plane, there'd be no Sharknado, no Jurassic Shark and no Snakes on a Train. That's quite a legacy.
---
Rocky Balboa
Rocky is back on our screens right now with Creed, 10 years after his first comeback. Remarkably, Rocky has been getting the living daylights knocked out of him for 40 years this year yet still seems in pretty good shape.
---
The Wicker Man
The Wicker Man remake came and went with little fanfare in 2006. Little did we know the power of the internet. Thanks to YouTube, Nicolas Cage's performance – which involves shouting a lot and punching people while dressed as a bear – has become the stuff of legend and The Wicker Man is now rightfully recognised as one of the most important cultural artefacts in human history (by some people, at least).
---
This Is England
Shane Meadows' gritty drama about a young boy who falls in with skinheads has spawned 3 TV series set in different eras, although they're all pretty miserable. In retrospect, time has made this film more depressing that it was in 2006 🙁
Oh, by the way: little Thomas Turgoose is 23 years old now.
---
Little Miss Sunshine
This adorable tale of a family taking their young daughter to a beauty pageant was one of the best films of 2006, and has more than stood the test of time. Abigail Breslin is 20 this year and recently starred in Scream Queens, while moody goth Paul Dano is 31 but still looks about 16.
---
X-Men: The Last Stand
Believe or not, superhero movies were fairly rare 10 years ago. Like, maybe one a year. And rather than everyone getting excited about crossovers and sequels, people got excited about Vinnie Jones calling someone the B word while dressed a bit like a rhino. 2006: a crazy time.
---
If your shelves are full of relics from 2006, sell them with musicMagpie and make some fast cash! We'll pay you on the same day we recieve your items.

Alternatively, if you'd like to revisit the classics of 2006, visit the fantastic musicMagpie Store by clicking below!