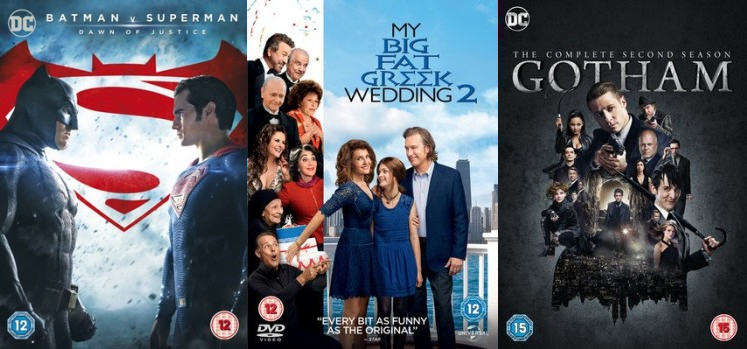 This week's new DVD releases: Batman v Superman, My Big Fat Greek Wedding 2 and more!
We've got a bumper crop of new DVDs on the musicMagpie Store this week, from epic superhero battles to big fat Greek weddings. Oh, and Dolph Lundgren fighting a shark.
---
Batman V Superman: Dawn of Justice
Although he saved the world from General Zod, a lot of people aren't happy with Superman destroying half of Metropolis in the process "" including billionaire Bruce Wayne, who moonlights as a crime-fighting bat.
With quirky billionaire Lex Luthor (Jesse Eisenberg) pulling strings behind the scenes and Wonder Woman (Gal Gadot) popping up too, the stage is set for Batfleck and SuperCavill to go mano-a-mano.
Buy Batman v Superman: Dawn of Justice on DVD
---
My Big Fat Greek Wedding 2
14 years after the original big fat Greek wedding, Toula's marriage to Ian is on the rocks, their daughter is off to college and Toula's parents discover they were never officially married after an admin error.
Fortunately, the pair has another big fat Greek wedding to look forward to. Will it help them get their marriage back on track?
Buy My Big Fat Greek Wedding 2 on DVD
Buy My Big Fat Greek Wedding 2 on Blu-Ray
---
Gotham: The Complete Second Season
The second series of the hit Batman prequel sees not-Commissioner Jim Gordon and his partner Harvey Bullock tackling some of Batman's biggest villains, including Hugo Strange, Mr Freeze and The Penguin.
Also appearing is a young Bruce Wayne in the midst of those difficult teenage years, when you're torn between girls and dressing up as a bat and punching people in the face.
Buy Gotham: Season 2 on Blu-Ray
---
Shark Lake
Dolph Lundgren fights a shark. Do we need to say any more?
Just in case the prospect of Ivan Drago taking on a bull shark doesn't immediately have you reaching for your wallet, here's a quick synopsis: Dolph plays an ex-animal trafficker terrorised by a shark he abandoned before he was sent to prison.
Unfortunately, the shark isn't just after Dolph and starts chowing his way through the entire town. When all hope looks lost, the town turns to Dolph because…well, he's Dolph Lundgren.  If anyone can take down a killer shark, it's him.
---
Agatha Raisin and the Quiche of Death
Ashley Jensen plays PR executive Agatha in this comedic parody of the rural murder dramas popularised by Agatha Christie.
Agatha decides to move to the country after having her fill of city life. However, she soon discovers she's moved into an episode of Midsomer Murders after a slaying at a quiche-making competition. To make matters worse, she's the prime suspect.
Buy Agatha Raisin and the Quiche of Death on DVD
---
Kidnapped
The classic 1971 adaptation of Robert Louis Stevenson's novel of the same name (and half of its sequel, Catriona) gets a new DVD release.
In Kidnapped, a young Scottish heir is targeted for assassination but is saved by a rebel fighting for independence (played by Michael Caine).
---
A Kind of Loving
This brilliant kitchen sink drama, set in an industrial Lancashire town, receives a digital restoration on DVD and Blu-Ray.
A Kind of Loving follows an affair between draftsman Vic (Alan Bates) and typist Ingird (June Ritchie) that leads to an unexpected pregnancy and Vic grappling with new responsibilities and a relationship he isn't totally invested in…
Buy A Kind of Loving on Blu-Ray
---
Interstellar Wars
If you like watching aliens blow up stuff, you'll love Interstellar Wars.
A group of aliens emerge from a giant portal behind the dark side of the moon and, as evil aliens usually do, make a beeline for Earth with an eye on enslaving us all. It's down to a group of scientists in a secret base to stop them.
---
My Best Friend
If dogs are a man's best friend, horses are a close second. My Best Friend follows a young girl called Kristen who moves from the city to her grandma's ranch in the country. There, she meets a talking horse named Stanford who provides her with wise advice and a horsey shoulder to rely on.
---
Bing: Cat… and Other Episodes
This collection features 10 episodes of lovable bunny Bing's adventures with his friends Flop (voiced by Oscar winner Mark Rylance), Sula and Pando.
Perfect for keeping the kids quiet for a couple of hours, and a nice change from endless Peppa Pig marathons too.
Buy Bing: Cat… and Other Episodes on DVD
---
The Unfolding
In this British horror, a researcher named Tam and his girlfriend Rose travel to a spooky old house in Dartmoor to investigate some paranormal goings-on.
After some creepy occurrences, Tam calls two spiritual mediums to help "" and promptly unleashes the full fury of some angry ghouls and ghosts.
---
David Cronenberg's Early Works
Delve deeper into the mind of the twisted genius behind Videodrome, The Fly and Eastern Promises with this collection of his early work, including two short films and two feature length films.
The first short film, Transfer (1966), follows a doctor and a patient, while the second, From the Drain (1967), features a conversation between two war veterans.
Stereo (1969) is a feature length movies about seven young people who undergo brain surgery to give them telepathic powers, while Crimes of the Future (1970) follows a dermatologist searching for his mentor after a plague wipes out all women.
Buy David Cronenberg's Early Works on DVD
Buy David Cronenberg's Early Works on Blu-Ray
---
Wolfblood: Season 2
This teen drama follows a group of young people from Northumbria who happen to be werewolves, and their struggle to balance a normal teen life with their wolfy urges and impulses.
Buy Wolfsblood: Season 2 on DVD
---
You'll find all of these new releases, as well as 1000s more DVDs and Blu-Rays on the musicMagpie Store! Prices start from just £1.19 and you'll get FREE delivery with every order too!