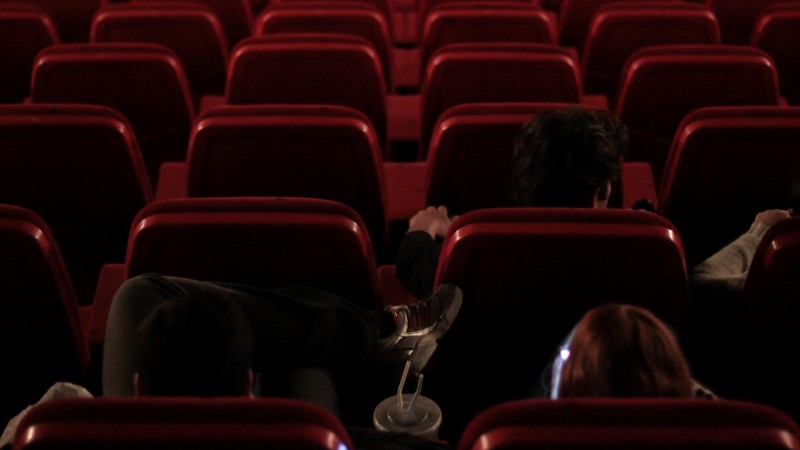 February's New Cinema Releases
This month's batch of new movies includes a remake of a beloved British classic, a sweary superhero and lots of really, really ridiculously good looking people.
---
Friday 5th

Dad's Army
This star-studded remake of the classic British comedy sees the home guard dealing with spies and a female journalist.
Goosebumps
Everyone's favourite scary kids' books hit the big screen in a super-meta twist, with Jack Black playing author R.L Stein as he battles the demons he creates after they're accidentally unleashed on a town. Imagine Jumanji but with more monsters.
Point Break
Prepare to get super radical dude with this all-action remake of the classic surfing spies-and-robbers flick. Because this is the 21st century, the spies and robbers now do motocross, sky-diving and all kinds of other dangerous stuff too.
Trumbo
Bryan Cranston's performance as Dalton Trumbo, the screenwriter behind Spartacus who was blacklisted for his political beliefs, in this biopic has seen him nominated for an Oscar.
---
Wednesday 10th

Deadpool
Oh great, another superhero movie. Except this one has swearing, violence and all kinds of other stuff your mum would disapprove of. Ryan Reynolds plays the motor-mouthed mercenary who is given accelerated healing powers after an experiment. Count us in!
---
Thursday 11th
Pride and Prejudice and Zombies
As the title suggests, this is an adaptation of the Jane Austen classic except with more brainmunchers and presumably more violence. Once again, count us in.
---
Friday 12th
Alvin and the Chipmunks: The Road Chip
Say what you want about the Alvin and the Chipmunks films: they've been responsible for some brilliant/awful puns. The Road Chip sees Alvin and his squeaky buddies hit the road to stop their mate Dave from marrying his fiancée – and sing popular songs at deafeningly high pitches, of course.
Concussion
Will Smith stars in this drama about a doctor attempting to prove that football players (that's the hands-and-armour version) suffer from brain damage as a result of repeated concussions while playing.
Jem and the Holograms
This remake of a reasonably obscure 80s cartoon see a young girl and her 3 sisters rise to fame off the back of a video. Things aren't rosy at the top, though (although they're still pretty good to be honest).
Zoolander 2
Derek and Hansel return with their best blue steel as an opposing modelling agency tries to force them to retire for good. Will Ferrell is back as Mugatu, with Kristen Wiig and Penelope Cruz among the many, many new characters.
---
Friday 19th
The Boy
A nanny joins an English family, only to find out that the boy she's looking after is actually a life-sized doll. If that wasn't weird enough, the doll might actually be alive too. Some jobs just aren't worth the hassle.
The Finest Hours
Continuing the 'oh my word, the sea is terrifying' theme set up by At The Heart of the Sea, The Finest Hours sees an oil tanker ripped in half by a storm. 4 brave chaps head out on a tiny lifeboat to try and save the 30 sailors stuck on board.
How to Be Single
This isn't, as we believed, a guide to life for everyone who forgot it was Valentine's Day 3 days earlier. Instead, it's about a group of good-looking New Yorkers dealing with love in the Big Apple.
Triple 9
Fans of 90s BBC television will be disappointed to learn this isn't a big screen adaptation of the legendary Michael Buerk documentary series 999, but rather a high-action crime thriller about a group of crooks and corrupt cops planning a huge heist.
---
Wednesday 24th
Grimsby
Sacha Baron Cohen is back with this action comedy, which sees super spy Mark Strong team up with his brother, who happens to be a football hooligan and a bit of an idiot, to save the world.
---
Friday 26th
The Forest
Game of Thrones' Natalie Dormer plays a woman who visits Japan's infamous 'suicide forest' to find her sister. Unfortunately, she also stumbles on some supernatural nasties.
Secret in their Eyes
A crack team of investigators is torn apart after one of their daughters is murdered. Years later, one of the investigators returns with new evidence that could solve the case.
---
If you need cash for a cinema trip, sell your stuff with musicMagpie! We pay on the same day we receive your stuff. Click below to get started.

Main image credit: Leo Hidalgo on Flickr via Creative Commons License