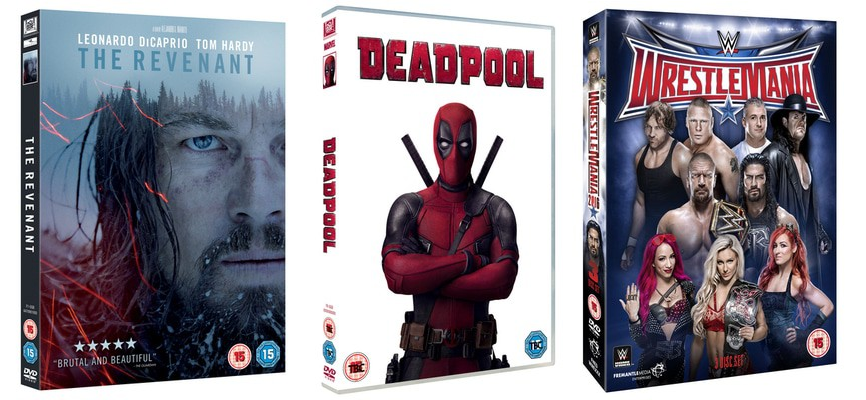 June's New DVD Releases: The Revenant, Deadpool and more! Pre-order them now from the musicMagpie Store
It's summer! Although let's be honest: it's probably going to rain. A lot.
Luckily, there are loads of great DVDs coming out this month, including The Revenant, Deadpool and Trumbo. You probably won't even miss the sun.
---
The Revenant (6th June)
AKA the one Leonardo DiCaprio finally won an Oscar for.
Alejandro Gonzalez Inarrito, no stranger to Oscar success himself after Birdman, directs this epic tale of a wilderness guide, Hugh Glass (DiCaprio), who is left for dead by trapper John Fitzgerald (Tom Hardy) after a vicious bear attack.
What follows is an epic tale of survival and bloodlust, with Glass attempting to make his way across an absolutely beautiful landscape (it's honestly one of the best looking films we've ever seen) to reunite with his son and exact revenge on the man who left him to die.
Although DiCaprio's Oscar winning performance steals the show, Inarrito's incredible direction and Tom Hardy's slightly terrifying performance help make this one of the best films of the past five years.
Pre-order The Revenant on the musicMagpie Store
---
The Shannara Chronicles: Season 1 (6th June)
Ten years ago, TV shows about goblins and trolls were confined to the darkest reaches of the TV guide, or shunted to an ungodly hour when only night-shift workers and insomniacs could watch it.
Then Game of Thrones happened.
The Shannara Chronicles is one of the many fantasy-themed shows produced in the wake of HBO's smash hit, although it's directed at a much younger audience (i.e. there's less nudity and violence).
Based on the novels by Terry Brooks, The Shannara Chronicles takes place in a world where an ancient tree keeps evil demons from wreaking havoc on the general populace. Unfortunately, that tree is now dying. It's up to a group of young elves and humans to keep the tree alive and stop the banished demons from enacting whatever mayhem they have in mind.
Fans of Lord of the Rings, Games of Thrones and…well, pretty much anything involving elves should give this a watch.
Pre-order The Shannara Chronicles: Season 1 on the musicMagpie Store
---
Wrestlemania 32 (6th June)
In April, everyone's favourite angry muscled men and women descended on Texas to grapple, scrap and smack each other in the face with steel chairs for honour, glory and big gold belts.
The Wrestlemania 32 DVD features every match from the show, including match-ups between Chris Jericho and AJ Styles, Roman Reigns and Triple H, and Dean Ambrose and Brock Lesnar. The real highlight, though, is the utterly insane Hell in a Cell match between Shane McMahon and The Undertaker, who is apparently literally immortal (we always thought it was a gimmick!).
The DVD also includes pre-show matches and the 2016 Hall of Fame ceremony, which saw Sting, The Godfather, Big Boss Man, Jacqueline and…erm, Snoop Dogg inducted.
Pre-order Wrestlemania 32 on the musicMagpie Store
You can also pre-order a special Collector's Edition here!
---
Dad's Army (13th June)
We'll be honest: we were a little bit worried about this remake of the legendary British sitcom. Some shows should just not be touched, especially one as beloved as Dad's Army.
Fortunately, thanks to a great cast and a script that doesn't deviate too far from the classic formula (this definitely isn't a gritty reboot), Dad's Army is an enjoyable take on the antics of The Home Guard.
This time, the Guard are set to be the subject of a magazine article written by journalist Rose Winters (Catherine Zeta Jones). However, there is also a Nazi spy in their midst…
Toby Jones takes on the role of Captain Mainwaring, with Bill Nighy, Michael Gambon and Blake Harrison in supporting roles.
Pre-order Dad's Army on the musicMagpie Store
---
Bone Tomahawk (13th June)
The Hateful Eight wasn't the only Western Kurt Russell starred in last year. In Bone Tomahawk, he plays a grizzled sherriff (is there any other kind?) who sets out to save two drifts from the ravenous clutches of some cannibalistic cave dwellers.
Bone Tomahawk combines Western tropes and settings with some pretty hardcore horror. Imagine a Cormac McCarthy novel with less of the ambiguity and weird lack of punctuation and you're pretty much there. It definitely isn't for the faint of heart, but Western and Horror fans will find plenty to love.
Pre-order Bone Tomahawk on the musicMagpie Store
---
Deadpool (13th June)
Forget Batman, Superman and Captain America: the biggest superhero of the year is a foul-mouthed pansexual mercenary with a habit of breaking the fourth wall and making inappropriate jokes while inflicting horrific violence.
Deadpool follows Wade Wilson, a mercenary diagnosed with cancer, as he is transformed into an disfigured immortal mutant with a quick wit and quicker reflexes, a mix of Van Wilder and Iron Man. With his new powers, Deadpool hunts down the man who inflicted his disfigurement upon him.
It sounds ripe for a gritty Nolan-esque tale of revenge and morality, but Deadpool goes in completely the opposite direction; it laughs at the absurdity of it all and packs in a boatload of crude jokes and pop culture references instead. It's a breath of fresh air and incredibly funny too.   
Pre-order Deadpool on the musicMagpie Store
---
Trumbo (20th June)
Back in the 60s, being a communist in America was akin to being a murderer as Dalton Trumbo, a screenwriter responsible for classics like Spartacus and Roman Holiday, found out. He was blacklisted by Hollywood, with his films – some of which won Oscars – credited to other writers.
This biopic, with Bryan Cranston as Trumbo, details his blacklisting from the movie industry, his attempts to escape the blacklist and his eventual ghost-writing of classic movies. Cranston was nominated for the Best Actor Oscar for his work.
---
Pride and Prejudice and Zombies (27th June)
To paraphrase an overly quoted advert, Pride and Prejudice and Zombies does exactly what it says on the front cover. It's a literal adaptation of Jane Austen's classic novel with a shambling horde of brain-munchers thrown in for good measure.
As in Austen's original, Elizabeth Bennett and Mr. Darcy are courting. However, rather than worrying about miscommunication and the intricacies of high society, the two are now pitted against the undead, who don't really care for decorum and prefer eating brains. Luckily, they both enjoy a bit of the ol' skull smashing as much as they enjoy garden parties and frilly clothing.
If you've ever thought Austen could be improved by zombies and ninjas, this is almost certainly the film for you. Lily James stars as Elizabeth, with Sam Riley as Mr. Darcy. Lena Heady, Matt Smith and Jack Huston co-star.
Pre-order Pride and Prejudice and Zombies on the musicMagpie Store
---
A Bigger Splash (27th June)
If zombies aren't your thing, you might enjoy this sexy Sicilian-set thriller about attractive rockstars instead.
Tilda Swinton plays an impossibly cool musician who is on a lovely holiday with her handsome boyfriend (Matthias Schoenarts). Life is peachy until her old flame, an ultra cool Ralph Fiennes, crops up with his beautiful daughter (Dakota Johnson) in tow. Things naturally get a little bit steamy.
A Bigger Splash received great reviews from critics, with most praising the extremely talented cast and the absorbing adult drama. One for a good night in with a glass of red, we think.
Pre-order A Bigger Splash on the musicMagpie Store
---
Truth (27th June)
Journalism movies are in vogue at the moment, with Spotlight taking home the Best Picture prize at this year's Oscars.
Truth is another entry in the burgeoning genre, recounting the scandal that arose when a reporting team from CBS ran a report casting doubt on George W. Bush's military record, only to find that the documents the report was based on were falsified.
The film deals with the fallout of the reports, with Robert Redford starring as legendary newsreader Dan Rather and Cate Blanchett as producer Mary Mapes. It's a must-see for anyone interested in the news and how it works.
---
Attack on Titan: Complete Season 1 (27th June)
From broadcast news to giant cannibals, Attack on Titan is an anime based off a hugely popular manga series.
In Attack on Titan, the world is terrorised by Titans, human-like giants with a taste for human flesh. Cities are surrounded by walls to keep the Titans out, although they don't always work, as three young people find out when their hometown is attacked and their loved ones become Titan chow.
With a thirst for revenge, the three join the military and aid the fight back against the Titans. However, things may not be as they seem.
Attack on Titan has received a lot of critical praise in anime circles, although any fan of sci-fi and fantasy will find a lot to love here.
Pre-order Attack on Titan: Complete Season 1 on the musicMagpie Store
---
Triple 9 (27th June)
You can't beat a good old fashioned crime drama and Triple 9 is as back to basics as it gets.
A group of armed thieves and corrupt cops carry out a heist, only for their boss (Kate Winslet) to disregard their efforts and blackmail them into an even more audacious caper that sets the corrupt cops on a crash course with their colleagues.
Triple 9 has been positively compared to movies like Michael Mann's Heat and features an all-star cast including Casey Affleck, Chiwetel Ejiofor, Kate Winslet, Aaron Paul, Woody Harrellson and The Walking Dead's Norman Reedus.
---
As well as new releases, you can buy DVDs from across genres and decades on the musicMagpie Store. There's 1000s to choose from, with prices starting from just £1.19. You'll get FREE delivery on all orders too!