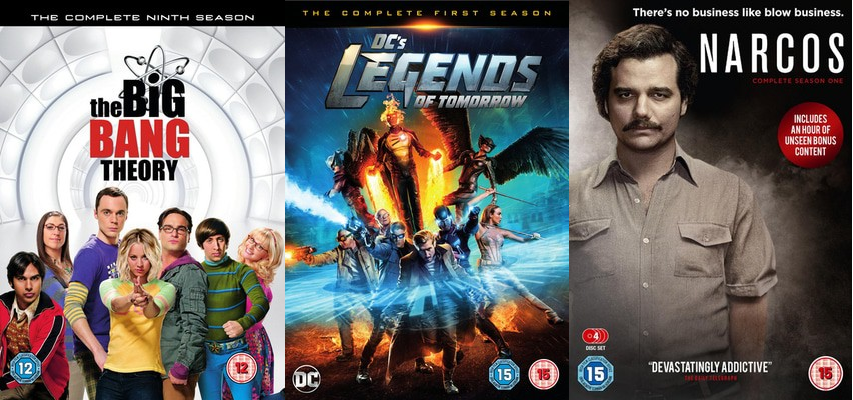 This week's new DVDs: The Big Bang Theory, Legends of Tomorrow, Narcos and more!
Another week, another new crop of DVDs on the musicMagpie Store! Here's what's new…
---

The Big Bang Theory: The Complete Ninth Season
Season 9 of the ridiculously popular US sitcom sees everyone's favourite science nerds (although the Stranger Things kids are strong challengers) dealing with marriage, pregnancy and family issues, although there's still more geek references and science jokes than a San Diego hotel during Comic-Con.
Buy The Big Bang Theory: Season Nine on DVD
Buy The Big Bang Theory: Season Nine on Blu-Ray
If you want to enjoy the complete adventures of Sheldon, Leonard and co, check out the new seasons 1 – 9 boxset released this week too!
Buy The Big Bang Theory: Seasons 1 – 9 on DVD
Buy The Big Bang Theory: Seasons 1 – 9 on Blu-Ray
---

DC's Legends of Tomorrow: The Complete First Season
Although the DC Cinematic Universe isn't panning out quite as well as expected (critically, at least), DC's TV output is fantastic, with The Flash, Arrow and now, Legends of Tomorrow all winning critical praise.
Legends of Tomorrow follows time traveller Rip Hunter, who sees Earth practically destroyed by an evil dictator in the year 2166. Determined to stop him, Rip travels back to 2016 and the world's best superheroes (and villains) to protect the world from apocalyptic threats.
Buy DC's Legends of Tomorrow on DVD
Buy DC's Legends of Tomorrow on Blu-Ray
---

Ratchet and Clank
It's remarkable that no-one has adapted Ratchet and Clank into a movie sooner. The tale of Lombax mechanic Ratchet and his robot sidekick Clank's mission to stop the evil Chairman Drek from taking over the galaxy with an army of evil robots is perfect big screen animation fodder, and a rare videogame movie that's actually pretty good.
---

Narcos: The Complete Season One
Netflix's critically adored series, which follows drugs kingpin Pablo Escobar (Wagner Moura) as he rises from lackey to international cartel leader, finally arrives on DVD and Blu-Ray. Hunting Escobar is DEA agent Steve Murphy, who soon finds that trying to take down one of the world's most powerful men is no easy task. A must-watch for fans of Breaking Bad.
---
Sid & Nancy
Alex Cox's brilliant biopic of the volatile Sex Pistols bassist Sid Vicious (played by Gary Oldman) and girlfriend Nancy Spungen (played by Chloe Webb) turns 30 this year. To celebrate, the film is being re-released on DVD and Blu-Ray; the perfect excuse to relive the life and times of one of punk's most controversial and iconic figures.
---
Punch Line: Complete Season 1
If you like your anime slightly insane, Punch Line is definitely for you. It follows a chap named Yuta, whose soul is ejected from his body following a bus jacking.
This incident grants him some unique powers: when he sees a pair of girl's pants, he gains super strength. But if he sees two pairs of pants in succession, a meteor will destroy Earth. Yuta must use these powers to protect his roommates and find his way back to his body. Told you it was crazy.
Buy Punch Line: Complete Season 1 on DVD
Buy Punch Line: Complete Season 1 on Blu-Ray
---
The Dark Forest
The Dark Forest is a documentary-style horror which sees two hunting enthusiasts, Jake and Stevie, travel into the woods to film a pilot for a hunting TV show (the brilliantly named The Tree Hugger).
Unfortunately, they forgot rule 101 of horror movies: forests are always evil. The hunters eventually become the hunted, with a supernatural force out to get them and presumably mount them on the wall of their spooky lair. Imagine The Blair Witch Project with more crossbows and you're almost there.
---
HaNaYaMaTa: Complete Collection
This anime series is a bit like a Studio Ghibli film, with an unconfident 14 year old girl, Naru, discovering a fairy tale land of princesses, fairies and magic dances – as well as her own identity and personality.  Fun fact: the title is made up on the first two letters of each main character's first name.
---

God's Not Dead 2
The sequel to the unexpected mega-smash God's Not Dead, which made $62 million off a $2 million budget, sees a school teacher named Grace (played by Melissa Joan Hart – yep, that one) defending her belief in the big guy in the sky in court after she's suspended from her teaching job for quoting scripture in class. The case attracts national attention.
---
Alleycats
In this action thriller, London bike courier Chris witnesses the murder of an MP and decides to do some digging, which is obviously a terrible idea. Sure enough, a shady bunch of ne'erdowells soon wants to shut Chris up for good. It's up to  Chris' sister and the rest of his bike racing gang to get him out of dodge.
---
Hangmen Also Die!
Fritz Lang's classic WWII drama receives a Blu-Ray re-release. After the assassination of a high ranking Nazi, a Czech doctor pursued by the Germans takes refuge with a young woman. She soon learns of the doctor's actions and involvement with the resistance – as well as the involvement of her father and fiancé.
Buy Hangmen Also Die! On Blu-Ray
---
Fate Stay Night: Unlimited Blade Works Part 2
This collection includes the final 13 episodes of Fate Stay Night, an anime series set during the Holy Grail War, a fighting tournament in which seven masters fight to the death to win a artefact that will grant them any wish they like.
Buy Fate Stay Night: Unlimited Blade Works Part 2 on DVD
Buy Fate Stay Night: Unlimited Blade Works Part 2 on Blu-Ray
---
We've got thousands more movies, TV shows and anime (as well as wrestling, football and just about anything else you can think of) on the musicMagpie Store. Click below to buy Blu-Rays and DVDs!