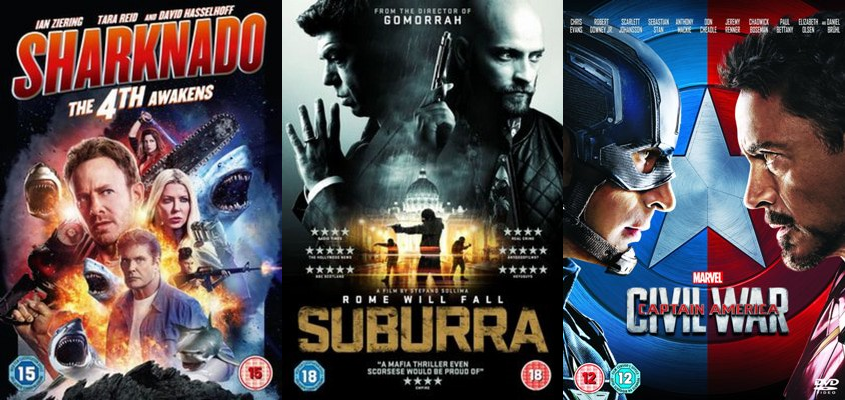 This week's new DVDs: Sharknado 4, Captain America: Civil War and much more!
It's that time of the week again: a brand new batch of DVDs to sink your teeth into (well, place into your DVD player carefully and enjoy).
This week's collection features flying sharks of death, superheroes having a right old dust-up and mafia dramas, topped off with some terrifying horror and some Barbie and Ninja Turtles action for the kids.
---

Sharknado 4: The 4th Awakens
Everyone's favourite aquatic natural disaster series returns for a fourth round of flying sharks, chainsaws and ridiculous celebrity cameos. Sharknado 4 picks up five years after Fin and April (Ian Ziering and Tara Reid) battle sharks in space, with a potent combination of a sandstorm and a Las Vegas hotel pool full of sharks unleashing shark-ma-geddon once again.
Buy Sharknado 4: The 4th Awakens on DVD
If you haven't seen the entire Sharknado saga yet (or you'd just like to own them all in one pretty boxset) we'd recommend checking out the Sharknado 1 – 4 boxset instead – it includes the entire 'Jawsome Foursome'!
Buy Sharknado 1 – 4: The Complete Collection on DVD
---
Captain America: Civil War
The biggest superhero battle of the year (sorry, Batman and Superman) sees Captain America duke it out with Iron Man over new rules designed to limit the amount of catastrophic battles between the Avengers and their enemies. Ant-Man, Black Widow and some bloke dressed as a spider get in on the action too.
Civil War is up there with the best Marvel movies, and pretty much essential viewing for any fan of comic book movies.
Buy Captain America: Civil War on DVD
Buy Captain America: Civil War on Blu-Ray
---

Suburra
This Italian crime drama from the director of the Gommorah TV series follows a corrupt politician and an amoral career criminal attempting to turn a Rome waterfront into a Vegas-style strip, delving into a mire of corruption and violence. Empire Magazine described Suburra 'a Mafia thriller of which even Scorsese would be proud.'
---
Limitless: Season One
Based on the 2011 movie starring Bradley Cooper, Limitless sees struggling musician Brian take a mind-boosting drug that unlocks the full capacity of his brain. With his new powers, Finch joins forces with an FBI agent to solve extremely complex crimes.
Buy Limitless: Season One on DVD
---
Guy Martin's Wall of Death
In this documentary, professional speed freak Guy Martin hops on his bike to try and break the Wall of Death speed record. To prepare, he helps construct the world's biggest Wall of Death, builds his own motorbike and undergoes training to deal with the G-force exerted from riding a motorbike round a small wooden cylinder at 70mph.
Buy Guy Martin's Wall of Death on DVD
---
Capsule
Move aside, Tim Peake; in this sci-fi drama, Guy Taylor (Edmund Kingsley) is the first British man in space.
Unlike Major Peake, however, Guy has a terrible time in space. Soon after beginning an orbit of the Earth, his capsule goes kaput and his oxygen starts depleting. It's up to brainy science types on earth to save him.
---
Barbie: Star Light Adventure
The school holidays may be over, but the kids still need entertaining at weekends.
Fortunately, toy icon Barbie has arrived to save the day. In her latest adventure, the multi-talented plastic doll heads to space and teams up with her dog Pupcorn and a galactic hoverboard champion to save the universe after the stars begin to dim. Think Sunshine but more cheerful.
Buy Barbie: Star Light Adventure on DVD
---
Teenage Mutant Ninja Turtles: Season 3 Complete Collection
If your kids aren't into Barbie, they may prefer 26 episodes of Leonardo, Donatello, Raphael and Michelangelo kicking baddies' butts and eating tons of pizza. To be honest, this one is pretty good for big kids too…
Buy Teenage Mutant Ninja Turtles: Season 3 Complete Collection on DVD
---
Afterimages
After a few barren years, we've been spoiled with horror anthology movies recently. Afterimages is the latest addition to the cult genre, with a group of teens presented with three movies about Chinese superstitions, a woman who witnesses a death and a missing bride. A must watch for fans of good old fashioned horror!
---
Worst Fears.
Worst Fears is a anthology of short films from cult horror producer David McGillivray, collecting films about witchcraft, evil spirits and demons. This one is well worth a watch if you like your horror low-budget and raw.
---
The Unspoken
More scares, this time from Shallow Ground director Sheldon Wilson and the executive producers of Insidious and Paranormal Activity.  The Unspoken sees a single mum, her son and a new childminder terrorised by a paranormal force which may been responsible for a family abandoning the house 17 years ago…
---
The Landlord
Seriously, horror fans are spoiled for choice this week. The Landlord is, unsurprisingly, about a nasty landlord. But rather than charging unreasonable rent and being useless at repairs, this landlord spies on his tenants with hidden cameras. Things take a turn for the worse when he discovers one of his tenants is cheating on his wife, however…
---
No, My Darling Daughter
It's time for a blast to the past now, with the classic 60s comedy No, My Darling Daughter remastered and re-released on DVD. When teenager Tansy runs off with an American, her father Sir Michael Carr initiates a huge manhunt for her – until he realises said American is massively wealthy. Unfortunately, Tansy soon falls for the bloke sent to find her, Thomas Barclay.
Buy No, My Darling Daughter on DVD
---
The Seven Minutes
Russ Meyer directs this classic court drama from 1971, in which a novel is blamed for inspiring a teenager to commit rape. A prosecutor attempts to get the book banned, starting a nationwide debate on censorship before a shocking twist turns the case on its head.
---

Beyond The Valley of the Dolls
Another classic from Russ Meyer, Beyond the Valley of the Dolls gets a long-awaited Blu-Ray release. The film follows three girls who move to Hollywood to start a rock band but, in classic Hollywood fashion, get dragged into the alluring and dangerous world of fame and fortune.
Buy Beyond the Valley of the Dolls on Blu-Ray
---
Precious Cargo
Mark-Paul Gosselaar stars as master thief Jack, who is forced into carrying out a dangerous heist after his pregnant ex-girlfriend runs into some trouble with local crime boss Eddie, played by Bruce Willis – you can see why she's scared. He enlists the help of his crew to pull off the robbery and hopefully pay off Eddie.
---
You'll find 1000s more films and movies on the musicMagpie Store, with prices starting from just £1.19. Click below to buy DVDs and Blu-Rays!