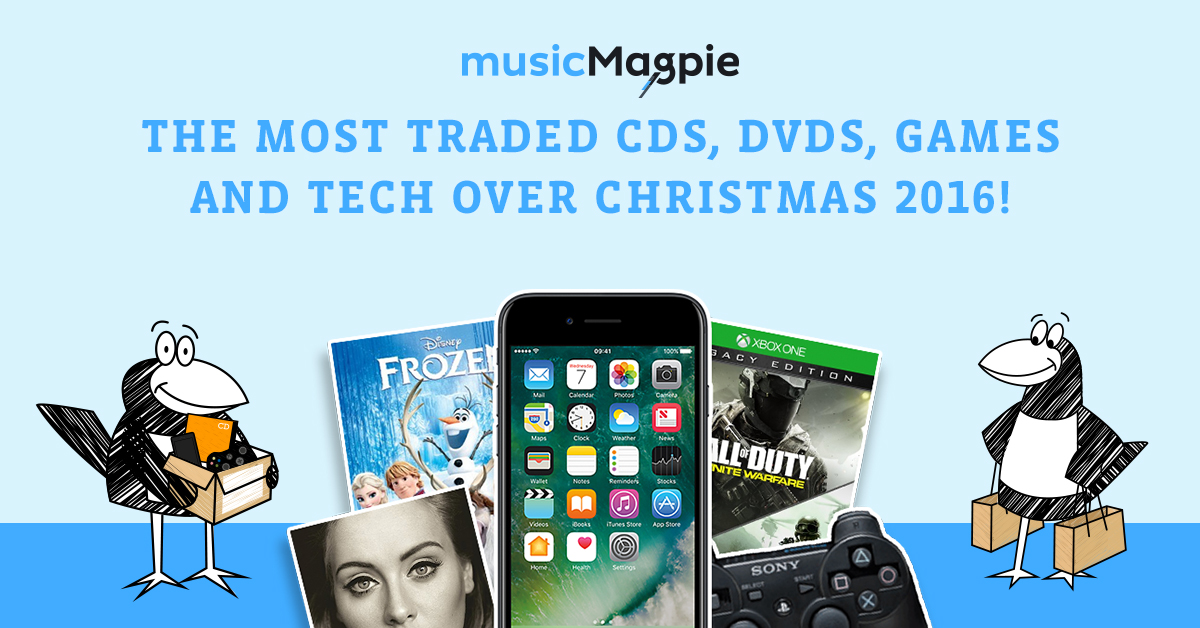 The most traded CDs, DVDs, Games and Tech over Christmas 2016!
We've had a very busy Christmas, with people selling over 2.5 million CDs, DVDs, Games and Tech items with us over Christmas Day and Boxing Day – a record high!
So, what did people sell to us most?
---
Christmas 2016's Most Traded CDs
The most traded CD by some distance was 25 by Adele, with over 32,000 copies traded in just 48 hours.  That's yet another chart it's topped!
In second place was Justin Bieber's Purpose, with 25,016 copies traded. We guess telling fans to be quiet and showing up late didn't go down that well with some people…
Rounding our top five were Now! 93, Made in the AM by One Direction and A Head Full of Dreams by Coldplay.
---
Christmas 2016's Most Traded DVDs
Frozen was our most traded DVD over Christmas, with 25,840 people deciding to let it go (sorry…).
Spectre was a close second, with 24,563 copies traded over the festive period, while Star Wars: The Force Awakens was a surprise third with 19,269 copies sold. Maybe people just need ticket money for Rogue One?
Jurassic World was 4th with 15,888 copies (because no-one wants to think about being eaten by a dinosaur over Christmas… probably) while Fast & Furious 7 finished in 5th with 14,239.
---
Christmas 2016's Most Traded Games
Infinite Warfare AKA Call of Duty in Space topped our most traded games chart, with gamers selling 19,528 copies to us.
Battlefield Hardline came second, presumably because everyone's playing Battlefield 1 now, with GTA V and Fallout 4 following close behind.
Occupying the final slot was FIFA 16, sold after Santa left a fresh new copy of FIFA 17 in 11,060 people's stockings.
---
Christmas 2016's Most Traded Tech
The iPhone 7 was at the top of a lot of Christmas wish lists this year, so it's no surprise that the iPhone 6s and the iPhone 6 were our most sold tech items.
The PS3 came third, with the Samsung Galaxy S6 and iPhone 5S taking the final slots.
---
Need some extra CASH after Christmas? Sell your unwanted CDs, DVDs, Games, Books and Tech today with musicMagpie!
Just get an instant price using our website or FREE app, send your stuff for FREE and we'll pay you the same day it arrives!