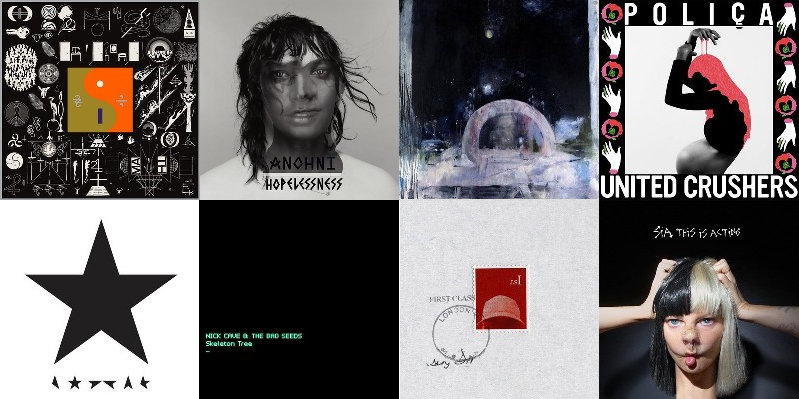 The 20 best albums of 2016
I think it's safe to say we're all grateful that 2016 is coming to a close. This year has taken many victims, celebrity and sadly, civilian too. It has left us with fingers-crossed that 2017 restores some order politically, socially and artistically.
What cannot be said, however, is that 2016 underperformed musically. In the last twelve months, so much flawless music has been produced that it almost balances the scale. Almost. To draw the year to a close, and end it on a brighter note, here are the 20 top albums we can't just leave behind in 2016…
---
Hopelessness – Anohni
If you haven't heard of Anohni, this success story might reaffirm your faith in humanity.
Anhoni is an English singer, composer, and artist that received a Mercury Prize nomination for this debut solo album, Hopelessness. It is her first album to be released under her new name after moving on from her previous band Anthony and the Johnsons, but also her birth-assigned gender.
Anohni became only the second openly transgender person nominated for an Academy Award this year, and has achieved so much not just for herself, but for the representation of the LGBTQ+ community in music and the arts.
In terms of her musical style, I can sum it up no better than Pitchfork's review; "Poignant political realities have always grounded Anohni's work, but now they are at the forefront, articulated with an incisiveness that stares you in the eye."
---
Lemonade – Beyoncé
As far as pop music goes you don't get much better than Bey. But this year has shown her to be more than a beloved celebrity; her Super Bowl performance and powerful music videos have seen her named 2016's most charitable celebrity for her work in support of the social justice movement Black Lives Matter and for gender equality.
Lemonade shows Beyoncé using her platform to bring light to a variety of causes including representation of black women in popular culture, the water crisis in Flint, Michigan, and gender equality. Lyrically powerful songs such as Formation and Pretty Hurts show fiery, melodic pop in a new light.
---
Freetown Sound – Blood Orange
There is nothing Devonté Hynes cannot do. Now known as Blood Orange, Hynes' isn't only a successful singer/songwriter, but a composer, producer, and even author. He has produced music under many names, and written for artists such as The Chemical Brothers, FKA twigs, Florence and the Machine.
Freetown Sound, released on the 28th of June, has been deemed "his best songwriting and production yet, to powerful, purposeful effect." With an alternative RnB sound, and appearances from the likes of Debbie Harry and Nelly Furtado, it would be a disaster to let this album pass you by.
---
22, A Million – Bon Iver
22, a Million was released on the 30th of September, and is more experimental and abstract than anything the artists that comprise Bon Iver have produced before. It was an unexpected move, but has turned heads and brought deserved attention to the musical fruits of what had been a five year drought.
For those who became fans after For Emma, Forever Ago, Justin Vernon's voice is still as beautiful and emotional but is made even more 'otherworldly' and ethereal with some electronic instrumentation and warped, layered vocals. A little different to the usual folky guitars.
---
Not to Disappear – Daughter
If there is one track you must hear from this year, it has to be Mothers. It is a perfectly wintery song, and part of a delicate, melancholy album full of angelic guitar melody and subtly assertive lyricism. Daughter have followed the success of If You Leave with ease and grace.
---
Blackstar – David Bowie
An album that has been placed at number one on several year-end lists by critics, and rightly so. Blackstar is the final studio album by the late David Bowie. Released two days before his death, it is a beautiful culmination of an incredible career. The title track Blackstar is the swan song of a man with undeniable talent who made an inconceivable contribution to music, the arts and British culture.
---
Bottomless Pit – Death Grips
Cited as an influence on Bowie's Blackstar, Canadian duo Death Grips bring together punk and hip-hop to make more of the fearless alchemy that fans have been hooked on since their first studio album The Money Store.
MC Ride's bleak, cryptic lyrics and dynamic rapping style feels almost like spoken word. When added to the unique synthesized hip-hop backing and Zach Hill's unconventional drumming, it is a recipe for music so exciting it is frightening.
Bottomless Pit won't be everyone's cup of tea, but after seeing one of their intense live performances at Manchester's Academy in October this year, I can personally vouch for how much they deserve to be on this list. So can Bjork, Nine Inch Nails and Tyler the Creator, who are all massive fans of the trio and Bottomless Pit.
---
Simplicity – Jaws
Jaws are an English indie pop band from Birmingham, England. Their first album Be Slowly had a youthful first-love feel, and showed great potential. The band's progression and new maturity is clear from tracks like Just A Boy and 17, that certainly live up to the aspirations fans and critics alike had for Jaws. It is a bittersweet, hazy shoegaze album from a smaller band that shouldn't be side-stepped this year.
---
99.9% – Kaytranada
Released on the 6th of May this year, 99.9% is the debut studio album from Haitian-Canadian DJ and record producer Kaytranada. The 15-track album features guest contributions from the likes of Craig David, AlunaGeorge and BadBadNotGood amongst others, and was named as the winner of the 2016 Polaris Music Prize four months after it's release. Kaytranada himself has described his style as "abstract-feeling" and "uptempo, neo-soul," but above all, "as funky as possible.".
---
You Want It Darker – Leonard Cohen
You Want It Darker is the fourteenth and final studio album by Canadian singer-songwriter Leonard Cohen. Released on 21 October by Columbia Records, the album was produced by his son Adam Cohen but created while Cohen was dying and focuses on death, God, and humour.
In the final years of his life, due to Cohen's limited mobility, You Want It Darker was recorded in the living room of his LA home and then e-mailed to collaborators for editing and input. It is "a little bit more sparse and acoustic" than his earlier albums, but made spot number three on the Independent's Best Albums 2016. More acoustic is never a bad thing.
---
Skeleton Tree – Nick Cave and the Bad Seeds
An album more poignant than anything we have seen from Cave, Harvey and the gang before. After taking a break from music, Cave sought solace from losing his son in late 2015 in the making of this album. The Guardian writes that "Nick Cave gently counsels against linking the contents of the former too closely with the latter.".
Lyrics that were written by Cave before the trauma become his own exploration into the grief and the afterlife. The final lyric "It's all right now", may be the end of a heart-wrenching album but not closure to his painful soul searching. Musically, the album is heavy yet soothing like a serenade, with the track I Need You at its heart.
---
United Crushers – Poliça
From an album shadowed by death to one shaped by motherhood. Channy Leaneagh fronts this Minneapolis synth-pop five-piece, and was pregnant with her first child while creating Poliça's third LP.
Her feelings of self-doubt are clear, and the band's usual lyrical focus on politics and social injustice shifts to a message of building strong relationships with people and finding love in the midst of it all. If, to use Leaneagh's words, this is the group's "final paper", then it is a beautiful and befitting celebration of a tumultuous under-the-radar career, with the most personal and empowering album ever.
---
A Moon Shaped Pool – Radiohead
Starting with Burn The Witch and ending with True Love Waits, this album is another of Radiohead's beautiful musical explorations into the dehumanizing effects of technology. But their intricate narrative is tackled this time around with a more 'unplugged' approach, added emotion, soul and instrumental.
This is a move that has paid off, earning A Moon Shaped Pool chart-topping success in several countries. It  was Radiohead's sixth number one album in the UK and a bestseller on vinyl too. It was also nominated for the Mercury Prize, and Best Alternative Music Album and Best Rock Song at the 59th Annual Grammy Awards. The awards speak for themselves.
---
The Getaway – Red Hot Chili Peppers
It's the Chillies! You can't have missed this album this year, but in case you did, here's a short summary: It's the first RHCP album in five long years and it kicks butt. The finest psych-rock around.'Nuff said.
---
This Is Acting – Sia
If the only Sia tracks you heard in 2016 were Cheap Thrills and The Greatest, you're doing it wrong. This Is Acting is the seventh studio album by Australian singer-songwriter and pop-culture myth, and it's lush.
Co-written with Adele, Alive is the album's lead single, and like many other songs on the tracklisting it wasn't originally written by Sia for herself. All of the tracks are shaped by and for other artists, hence the name This Is Acting. But in true Sia style, after working her magic you can't imagine the hits ever being anyone else's. Unlike other pop artists today, she brings a much grittier and more authentic honesty to what are still undeniable pop chart-toppers.
---
Konnichiwa – Skepta
Deemed 'The architect of grime', Skepta is back with some bona fide anthems that have helped bring the genre from the underground to the mainstream. He is the curator of a continually changing genre that will no doubt characterise 2016 in the future.
There's a bit more beef to his music now, shown by the fact he has released an album in a raw genre built on singles and mixtapes. Surface level, these anti-authority rap beats are about distrust and independence and there's no coded double-meaning. The single from the album That's Not Me, where the self-critical rapper laughs off the "self-aggrandizing swagger" that grime is known for. Without the psycho-analysis, it really is just an intense album that will continue to 'get the people going' way into 2017 and beyond.
---
Human Ceremony – Sunflower Bean
Nick, Jacob and Julia started out as a basement band, until they were signed in 2015 by Fat Possum Records. Last year, they toured both the US and the UK on their own and as support act for some pretty big names on the indie scene, such as Wolf Alice, DIIV and The Vaccines.
Human Ceremony is true to the alternative genre; it was recorded in eleven days, after of course a long time planning, practicing and experimenting. If Sunflower Bean passed you by in 2016, I have no doubt that their big-rise-to-fame is in store for next year. Get ahead of the game and give them a listen now.
---
Dissociation – The Dillinger Escape Plan
Announcing your impending break-up before releasing another album is a pretty bold move, but nothing else can be expected of this erratic mathcore band. Their sound fuses metal energy and technical skill, while their live performances take spontaneity and danger to another level.
Dissociation is 50 minutes worth of dark musical brilliance, not just for the metal-heads and guitar-lovers but for fans of any music with bite. For a more in-depth look into Dillinger, check out my previous post which looks back on their career and how it lead to Dissociation.
---
Everything You've Come To Expect – The Last Shadow Puppets
Miles Kane and Alex Turner collide on a second album, with James Ford, Zach Dawes and Owen Pallett as The Last Shadow Puppets on the road to completing their planned trilogy. The album art shows 1969 Tina Turner dancing her heart out, which is hands-down how the album's title track Bad Habits makes you feel.
That, or like you are the getaway driver in a Tarantino western. All in all, it is just what we would expect to come from two musical legends – chaotic, groovy and irresistibly sexy.
---
Heads Up – Warpaint
Last on my list but by no means least is one of my favourite musical discoveries of 2016. If you're a lover of glittery guitar riffs and pensive lyricism, Warpaint are definitely for you. The band have been likened to the Cocteau Twins and Siouxsie and the Banshees, but delicately brought into the 21st century.
The most recent album from the Californian girl-band flaunts their music to a wider fan base, as they have garnered a little more fame over here in the UK in the recent years. It is an impressive collection of ethereal musical talent, by a group who do not limit themselves with 'roles' but constantly change the dynamic by alternating lead singers and guitarists for whatever feels good.
Read more about Warpaint in my live show review, and resist the urge to play Heads Up on repeat all the way into 2017.
---
What was your favourite album of 2016? Let us know in the comments!
If you're looking for something new to listen to, check out our huge range of CDs and Vinyl from just £1.19 plus FREE delivery too.