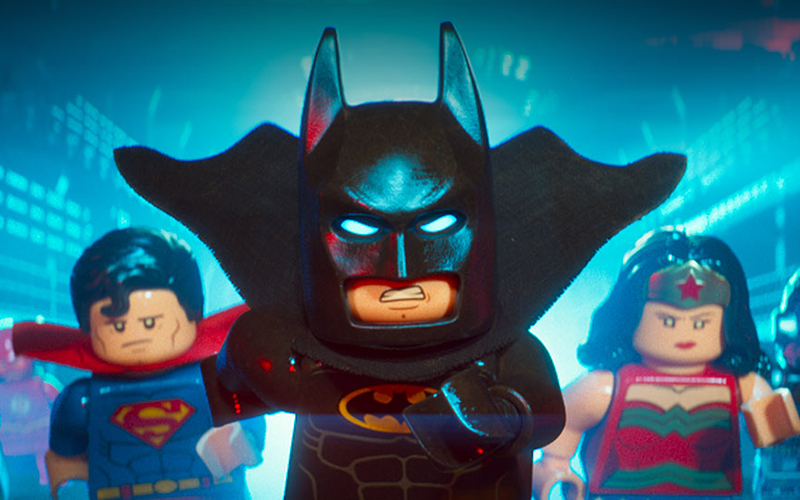 Who is the best movie Batman?
Since 1989, a burning question has divided people across the globe: who is the best Batman?
Well… we may finally have the answer. Using data from Rotten Tomatoes and Metacritic, we've worked out an average critic and audience score for each movie Batman and ranked them below.
It's not an exact science, of course, as the ratings are for the films rather than actors. But it should go some way to settling the great Batman debate. Maybe.
(Please note: because they're ancient, we couldn't find many reviews for the Lewis G Wilson and Robert Lowery Batman movies. We haven't forgotten about them!)
---
8. George Clooney (Batman & Robin)
Overall score: 28.25%
George Clooney is the least popular Batman based on review scores alone, although that may have more to do with the film he starred in than his performance.
Batman & Robin is basically a modern remake of the 60s series, plonking Batman and Robin in the midst of a day-glo Gotham City and pitting them against a pun-addicted Mr. Freeze (played by Arnie) and Poison Ivy (played by Uma Thurman).
Batman & Robin received a critical mauling, with fans decrying ridiculous elements like Batman's credit card (presumably he had to reveal his true identity to get that) and the infamous Bat-nipples. It very nearly killed the Batman franchise for good.
Clooney has actually apologised for Batman & Robin, although we think he's being a little harsh on himself. It'd certainly be interesting to see how he'd perform if he had slightly better material to work with.
---
7. Val Kilmer (Batman Forever)
Overall score: 47.7%
AKA The Batman most people forget about. You'd be hard pressed to find anyone who'd argue Val Kilmer was the best big screen Batman, although he did have one very important fan: Batman creator Bob Kane, who claimed Kilmer was the best Batman he'd seen.
Kilmer donned the cowl in Batman Forever after Michael Keaton dropped out. Director Joel Schumacher picked him personally after seeing his performance in Tombstone, although relations between the two on set were so strained that Schumacher later described Kilmer as "…the most psychologically troubled human being I've ever worked with".
Time seemed to heal their relationship though, as Schumacher went on to call Kilmer "the best Batman". Nevertheless, Batman Forever was Kilmer's only film under the cowl.
---
6. Ben Affleck (Batman vs Superman: Dawn of Justice, Suicide Squad)
Overall score: 49.6%
There was uproar when Ben Affleck was announced as the next Batman, despite his obvious talent as both an actor and director. The resulting Twitterstorm was so bad that even the reigning king of Twitterstorms stepped in to say his piece…
Affleck's time in the cowl has been hugely divisive so far. Batman v Superman is loved by some and hated by others, with some enjoying its grandeur and pitch black tone and others finding it overserious and overblown.
Affleck's performance as Batman is generally seen as one of the film's high points though, with noted Batman superfan Kevin Smith (who named his daughter Harley Quinn) describing Affleck as the best Batman he'd seen.
There's still time for Affleck to improve his Bat legacy too. The first Justice League movie hits cinemas later this year, with Affleck's first standalone movie, The Batman, scheduled for 2018.
Sadly, The Batman is going through quite a rough production. Affleck was originally due to write, direct and star in the film but dropped out of directing duties earlier this year. Matt Reeves, who directed Cloverfield and the hugely popular Planet of the Apes reboots, was due to replace him but soon dropped out of negotiations.
And now, there are rumours Affleck wants to hand in the keys to the Batmobile entirely. According to John Campea, who hosts the Collider Movie Talk podcast, three people at Warner Bros have claimed Affleck is going to quit the role imminently.
It'd be a massive shame given the potential Affleck has shown so far, but he'll still go down as one of the better big screen Batmen.
---
5. Kevin Conroy (Batman: Gotham Knight, The Killing Joke)
Overall score: 67.2%
Kevin Conroy has played Batman more than anyone in the world, yet most people don't even know what he looks like.
Conroy has voiced Batman countless times, most notably in the critically acclaimed Batman: The Animated Series and in all four Arkham video games.
His score in this post is limited to his big screen voice work though, which includes Batman Gotham Knight and Batman: The Killing Joke.
Gotham Knight, released the same year as The Dark Knight, was hugely popular although The Killing Joke, an animated version of Alan Moore's legendary one-shot comic, received decidedly mixed reviews.
Regardless, Conroy is the ultimate Batman for many Batfans.
---
4. Adam West (Batman: The Movie, Return of the Caped Crusaders)
Overall score: 75.7%
The man, the myth, the legend.
West was cast in the Batman television series off the back of an appearance in an advert, bringing a comedic earnestness to the show's surreal and often ludicrous storylines.
We haven't consider West's small screen appearances in our overall score, instead focusing on reviews for the infamous 1966 movie spin-off and 2016's animated revival, Return of the Caped Crusaders.
The 1966 movie features West's defining moment in the Bat cowl, the infamous bomb scene. After discovering a comedy fizzing bomb, West holds it above his head and tries to find somewhere safe to dispose of it, only to be thwarted by a group of nuns and a family of ducks.
Sadly, West's time as Batman was fairly short. The series was cancelled in 1968 and, at one point, West had to resort to making public appearances as the Caped Crusader. The show has since become a bona-fide cult classic though, mainly due to West's and co-star Burt Ward's masterful comedic performances.
---
3. Michael Keaton (Batman, Batman Returns)
Overall score: 76%
The role of Batman wasn't as prestigious in the late 80s as it is now. Adam West was the last actor to play Bruce Wayne and he hadn't appeared on screen for 20 years.
Yet people still got really, really angry when Michael Keaton was cast as the Dark Knight. Fans feared that Keaton, best known for his comedy work, would follow in the footsteps of West, and 50,000 of them wrote to Warner Bros to voice their disapproval (the 1980s equivalent of a Twitterstorm).
They needn't have worried. Keaton reinvented Batman for a new generation, turning Bruce Wayne into a serious, brooding character. The fact Keaton didn't boast the traditional physique or looks of a superhero only made his performance better, adding a vulnerability and everyman quality to the character.
Keaton was set to play Batman for a third time in Batman Forever, although he dropped out after deciding that the script "" in his own words "" "sucked".
He did reveal in a Twitter Q&A that he still says "I'm Batman" at least 17 to 18 times a day though. We really hope he isn't joking.
---
2. Will Arnett (The Lego Movie, The Lego Batman Movie)
Overall score: 85.1%
Will Arnett holds the distinct honour of being the first Batman not to lead a movie, instead appearing as a supporting character in The LEGO Movie.
Arnett's Batman plays up the Dark Knight's grumpy teen tendencies to hilarious effect. "˜Untitled Self Portrait', Batman's theme song, may just be the best parody of Batman ever (sample lyrics: "Darkness, no parents, continued darkness").
The popularity of Batman in The LEGO Movie led to The LEGO Batman Movie, which takes the Batman pastiche to a whole new level. Arnett's Batman is arrogant, grumpy and hilariously brooding but also kind of lovable.
---
1. Christian Bale (The Dark Knight Trilogy)
Overall score: 85.9%
Just pipping Lego Batman to the top spot is Christian Bale, star of Christopher Nolan's Dark Knight Trilogy.
Bale played Bruce Wayne as a brooding, intense billionaire who pined for companionship but doomed himself to a life of solitude to protect the city he loves.
And yet, his portrayal behind the cowl is still hugely polarising for one reason: that voice. Speaking in a death metal growl designed to hide his true identity, it was equal parts funny, hard to understand and intimidating.
Still, there's no denying how important Bale's performance is to perhaps the best series of superhero movies ever made.  Although Christian Bale himself may not agree; in 2016, he told Yahoo! News that he "didn't quite nail" the role.
---
Love Batman? We've got a huge range of Batman goodies, including DVDs, Blu-Rays and soundtracks, at incredible prices over on the musicMagpie Store! Click below to check them out!
We're also giving away a fantastic bundle of Lego Batman prizes over on Facebook. Click here to enter!