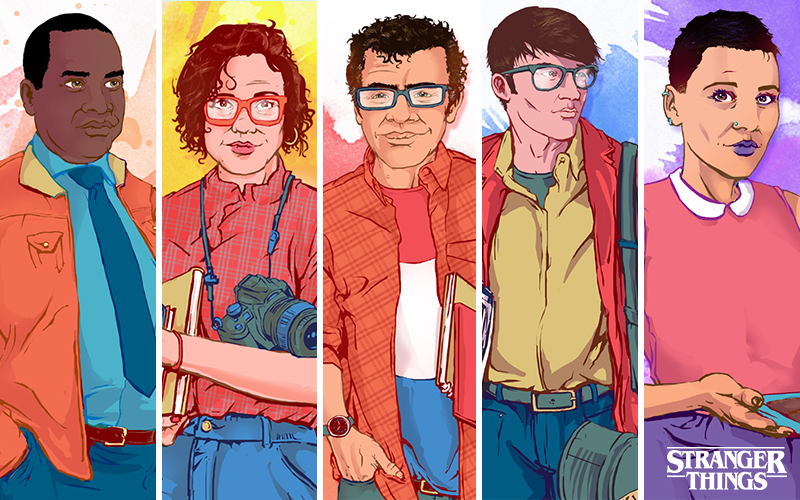 Stranger Things: Where are they now?
Our favourite retro sci-fi hit is back! Stranger Things series 2 has finally dropped, picking the action back up in the dazzling heydays of "˜84. And while the show's 33-years-ago setting is possibly our favourite thing about it, it did get us thinking…
An era on from the synth-soaked neon of the eighties, how might Mike, Dustin, Lucas and co be getting on today, in 2017? At the ripe old age of 46, where would they be and what might they be doing? By analysing their personalities, we matched future careers and hobbies to the show's six standout stars.
Here's where we think the Stranger Things crew would be today.
---
Lucas Sinclair
Age: 46
Profession: Accountant
Hobbies: Building computers and DIY
Sensible and sceptical Lucas was often around to keep the group grounded. Practical and pragmatic, he always got on with the job at hand, particularly when it came to finding his friend Will.
The cynicism and stubbornness we saw in his attitude towards Eleven grew with age, but serves him well in his rather dry career as an accountant.
Lucas's tendency to tantrum when things didn't go his way carried on too; coming to a head when Dustin beat him to become Class President in Junior year.
When he can be bothered to attend the group's dinner parties, he never brings wine and always leaves the earliest.
---
Eleven
Age: 46
Profession: Fundraiser
Hobbies: Vegan baking and Tarot card reading
Despite the horrors of her isolated, captive childhood, Eleven was able to overcome her demons.
After some very temperamental teenage years (and a short-lived punk phase), she opened up emotionally and blossomed, putting a stop to the unpredictable and occasionally dangerous unleashing of her abilities.
Today, she reserves her telekinetic powers for de-seeding avocados and rescuing the town's animals, for whom she is the designated patron.
---
Dustin Henderson
Age: 46
Profession: Teacher
Hobbies: Hosting dinner parties & mentoring
All-round good guy Dustin remains one of Hawkins' most popular residents.
After several spells as class president, he tried his hand on the stand-up comedy circuit before returning to the town and settling as a teacher.
As eccentric and goofy as ever, he spends way too much of his time trying to pull the group together "" listening to Lucas moan about work, pretending to like Will's garage band and positively reviewing Mike's distinctly average plays.
---
Mike Wheeler
Age: 46
Profession: Event planner
Hobbies: Amatuer theatre, Sudoku
Imaginative and sensitive Mike was always the optimist of the group.
His knack for leadership and outside-the-box thinking has seen him rise to prominence as Indiana's best event planner.
In his spare time, Mike is the only member of the group to (secretly) maintain an interest in Dungeons and Dragons, via a web forum he runs.
More publicly, he expresses his still-active imagination through leading Hawkins' amateur theatre group, whose recent productions include the all-singing, all-dancing "˜A Day in the Upside-Down'.
---
Will Byers
Age: 46
Profession: Project Manager
Hobbies: Band practise, political campaigner
Resilient Will's terrifying ordeal in the upside-down pushed him to the very limits of survival.
It's perhaps why he thrives in his role as a Project Manager, which he says is "˜pretty much a breeze actually, in comparison'.
He threw himself into the grunge scene in the early 90's and never did put the guitar down, still championing his garage rock band "˜Demogorgon' to this day.
---
Barbara Holland
Age: 51
Profession: Investigative journalist
Hobbies: Shopping with friends & book club
We've decided Barb somehow survived her ordeal in the upside-down, because we can't bring ourselves to accept the alternative.
With her penchant for justice, Barb's exposé on the disturbing activities taking place at Hawkins Laboratory elevated her to national prominence.
From there, her investigative reporting has taken her cross-country and spanned seven novels; but she always calls by her hometown if she's in the area.
And though the 80's are but a distant memory, go-getter Barb refuses to retire her oversized, bottle-top glasses.
---
If you're planning to make room for Stranger Things season 2 in your DVDs collection, or you just want to make some extra cash, sell DVDs and TV boxsets with musicMagpie. You can also trade in your phone – head over to our sell your mobile or sell my iPhone pages to find out more!
Don't worry if Stranger Things isn't your thing, though, because we have plenty more boxsets for you to sink your teeth into. Browse our second hand DVDs now, and make sure to check out our refurbished iPhone range if you're thinking of upgrading soon too!