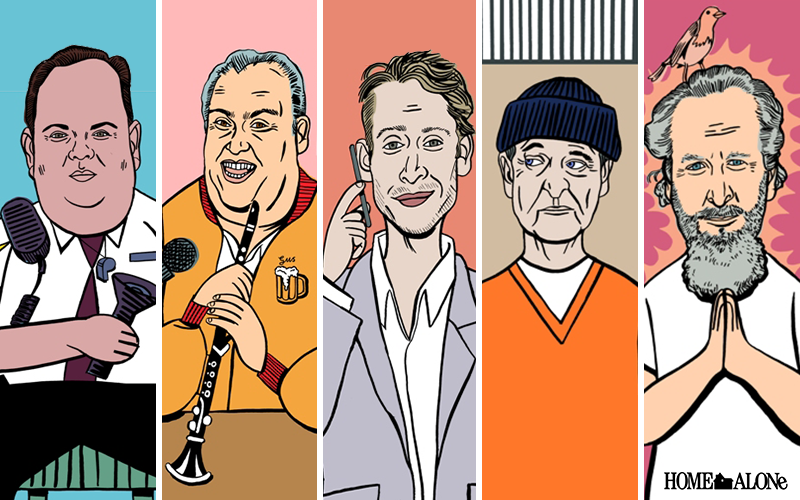 Home Alone: Where are they now?
Classic Christmas movies are filling our screens at the moment, and they don't get much better than 'Home Alone'.
With 27 years having passed since the original film's release, and 25 since we last caught up with the McCallisters (and we're not counting the franchise's third and fourth outings, for the record), we couldn't help but wonder: what would the movie's standout characters be up to today? What might Kevin have taken away from his occasionally traumatic childhood? Would bullying brother Buzz have ever grown up? And whatever happened to Harry & Marv?
We'll explain all.
---
Kevin McCallister
Now in his late 30s, Kevin's fast-thinking and problem-solving abilities have served him well.
Emboldened by his independent escapades as a kid, Kevin spent his teen years designing and building elaborate home security traps.
Despite a lawsuit or two along the way, his line of inventions have now hit the mass market, single-handedly reducing the number of home invasions across the U.S by 38% over the last decade – and making him a millionaire in the process.
---
Harry Lime & Marv Merchants
Things couldn't have turned out any more differently for former cronies Harry and Marv.
Well into his 60s, Harry remains incarcerated for crimes including forgery, petty theft and vandalism. Marv regularly writes to him urging him to change his ways, but it seems to have little impact.
Marv, on the other hand, has truly transformed. After finally having enough of Harry's abuse, Marv walked away from the Wet/Sticky Bandits and put his energy into making up for his mistakes.
Today, he's a kind and eccentric philanthropist, with a passion for the outdoors, animals and yoga.
---
Kate & Peter McCallister
Forgetful parents Kate and Peter managed to raise their five children with comparatively little trouble after the events of the second film.
Now retired and with all but one of their kids having flown the nest, they've moved out to the Florida Keys – where it would seem they do like the palm trees after all.
Kate mixes up her time through her book club, while Peter has taken up golf. They regularly host their grandchildren in the school holidays and have managed not to lose one… yet.
---
Buzz McCallister
Kevin's thoroughly unpleasant brother is the only McCallister sibling still living with Kate and Peter.
Usually found on the sofa, he's had a string of short-term jobs that are almost always granted to him as a favour to his dad. Rude and bad-mannered, he resents Kevin's success and the two talk little.
Currently employed as a security guard at his father's golf club, he's often caught sleeping on the job.
His only true passion in life remains his sizeable collection of arachnids.
---
Frank McCallister
Joyless Uncle Frank only grew more bitter and grumpy as he aged.
Greedy and materialistic, Kevin can see right through his uncle's new-found appreciation for him.
He lives alone and the family only visit him every other Christmas. He still won't pay for pizza.
---
Gus Polinski aka The Polka King of the Midwest
Things turned out pretty well for Gus Polinski. The Kenosha Kickers experienced late-career success after becoming a surprise Spotify hit.
Now on their 3rd U.S tour and 9th album, they've been recognised as pioneers of the 'Polka-revival' movement, which has seen the genre touted as the next big thing.
He's still in touch with Kate and always calls by when the band's performing locally.
---
If you're looking to make some space for some classic Christmas films in your DVD collection, or just want to make some extra cash, sell your DVDs to musicMagpie today.
Or if you're planning to upgrade soon, you can sell your phone too. Whether you want to sell an iPhone or a Samsung, we'll give you an instant price. You can sell tablets too, which is great if you're interested in iPad recycling!
You can also buy refurbished Phones and pre-owned DVDs, CDs and more at the musicMagpie Store!