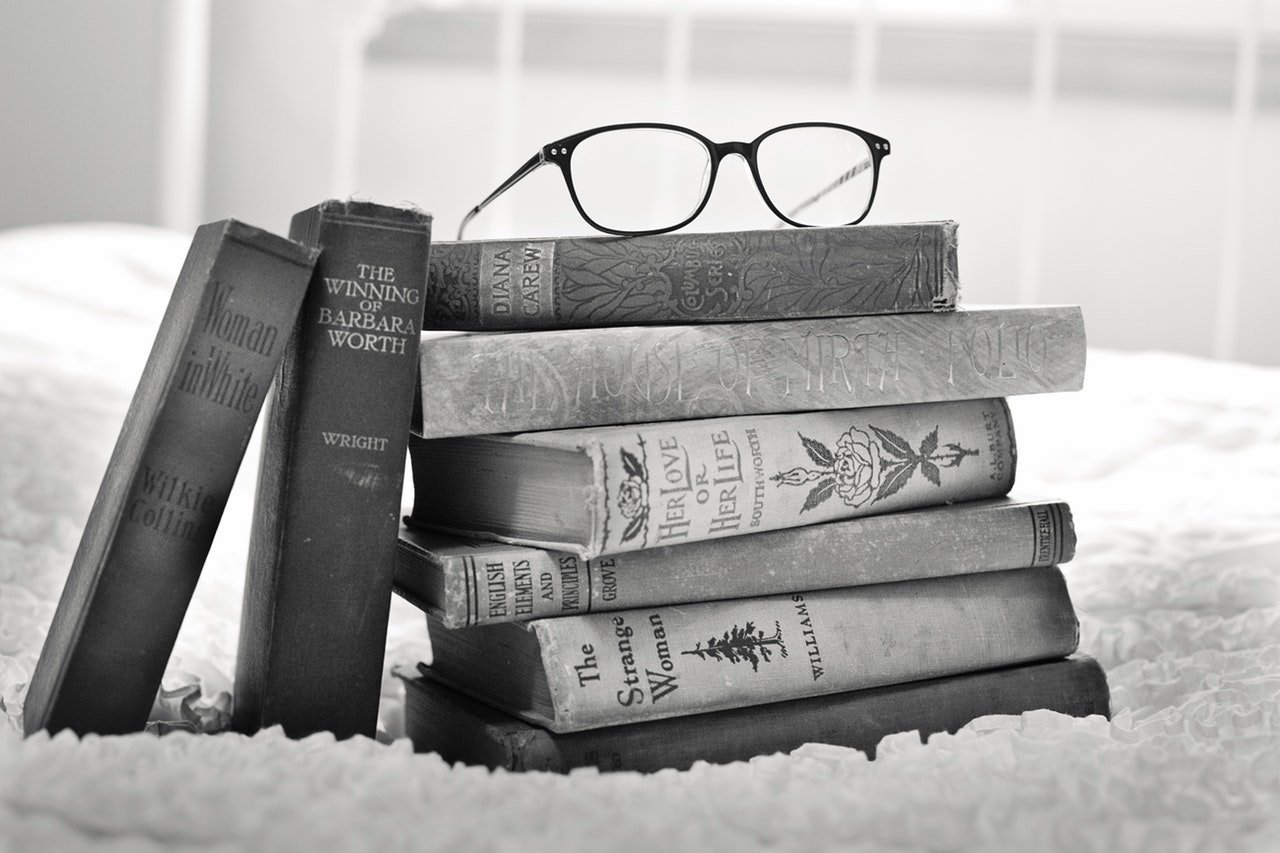 Murders, robots and Big Brother: how novels inspired your favourite songs
Musicians have been inspired by their favourite works of literature for decades. Whilst this isn't a new concept, you might be surprised how prominent this is in music! We've read books, put on CDs and pulled together a list of some of the best songs to be inspired by books!
---
The Police – Don't Stand So Close to Me
Sting is no stranger to a creepy ballad. The lead single from The Police's third album Zenyatta Mondatta, Don't Stand So Close to Me, openly references a schoolgirl's crush on her teacher. The song has been inspired by the controversial novel Lolita by Vladamir Nabokov – which you'll recognise from the lines 'Just like the old man in / That book by Nabokov'. Lolita centres around Humbert Humbert, a middle-aged literature professor with an attraction to young girls. He falls for 12 year old Dolores Haze, better known as Lolita, becoming obsessed with her and marries her mother in order to stay close to her. Every Breath You Take doesn't seem as creepy now…
---
Tubeway Army – Are Friends Electric?
The number one single Are Friends Electric? by Tubeway Army has been influenced by Philip K. Dick. The song was produced by the band's lead singer, new wave icon Gary Numan, taking inspiration from the novel Do Androids Dream of Electric Sheep? In the novel, John R. Isidore befriends the androids Rick Decker is trying to kill. Decker succeeds and Isidore's pain is felt through Numan's lyrics – "You know I hate to ask / But are 'friends' electric? / Mine's broke down / And now I've no one to love." Philip K. Dick's novel was also the basis for 1982 film Blade Runner.
---
The Smiths – How Soon Is Now?
Steven Patrick Morrissey loves literature as we all know. So many of the tracks he wrote for The Smiths are packed full of literature references and How Soon Is Now? is no exception. The 1985 single is one of the band's best-loved and takes inspiration from a novel published more than 100 years earlier. The opening lines "I am the son and the heir, of a shyness that is criminally vulgar / I am the son and the heir of nothing in particular" has been adapted from George Eliot's novel Middlemarch. The original line as it appeared in Eliot's work is "To be born the son of a Middlemarch manufacturer, and inevitable heir to nothing in particular."
---
T'Pau – China in Your Hand
T'Pau's flame-haired singer Carol Decker wrote their most famous song after she was inspired by author Mary Shelley. China in Your Hand's opening lines "It was a theme she had on a scheme he had / Told in a foreign land" was Decker's attempt to write Shelley's story within the wider Frankenstein tale, as she had been inspired by how talented Shelley was; and how her work had far surpassed that of her contemporaries at the time.
---
The Rolling Stones – Sympathy for the Devil
One of the band's most famous tracks, Sympathy for the Devil, is seeped in literary influence. Frontman Mick Jagger was given Mikhail Bulgakov's novel The Master and Margarita by then-girlfriend Marianne Faithfull. It tells the story of a visit by the Devil to the Soviet Union and the lyrics of the track details atrocities in the history of mankind from the point of view of Satan. A nod to the Russian revolution and 1918 shooting of the Romanov family is noted in the lines "I stuck around St. Petersburg / When I saw it was a time for a change / Killed the czar and his ministers / Anastasia screamed in vain".
---
Blur – Tender
Blur's track, describing Damon Albarn's breakup with Elastica lead singer Justine Frischmann, has a double literary background! Tender references F. Scott Fitzgerald's fourth novel, Tender is the Night. Fitzgerald's novel would be the final novel he would complete which he perceived to be his best work. It was written during the darkest times of Fitzgerald's life, with characters Dick Diver and his wife Nicole somewhat mirroring Fitzgerald's life with Zelda Sayre who struggled with mental health issues. The title Tender is the Night is a quotation from John Keats' poem Ode to a Nightingale.
---
John Lennon and Yoko Ono – You're the One
Lennon and Oko's relationship was well-documented following the end of The Beatles. The album Milk and Honey was the first posthumous release of new Lennon music, released in 1984. Final track, You're the One talks about famous pairings which Yoko and John could be compared to. They reference the renowned Emily Brontë album Wuthering Heights – which inspired Kate Bush too, bringing her considerable success. You'll see this in the lines "We were Heathcliff and Cathy / In a moment of wisdom", referencing the main character and her love interest.
---
Muse – Resistance
Taken from Muse's fifth album The Resistance, third single Resistance reached number one in the UK Rock Chart as well as the US Billboard Alternative Songs. The track was heavily influenced by the hugely cited George Orwell novel 1984, which has also had a hand in influencing the likes of David Bowie, Annie Lennox and The Jam. Muse lead singer Matt Bellamy has openly said the track is their retelling of the relationship between Winston and Julia.
---
Metallica – For Whom the Bell Tolls
Metal giants Metallica are pretty open on their influence with their track, taken from the album Ride the Lightning. For Whom the Bell Tolls was inspired by the 1940 novel of the same name by Ernest Hemingway. The novel draws from Hemingway's own experiences in the Spanish Civil War as a reporter, told through protagonist Robert Jordan. Jordan is a young American in the International Brigades attached to an antifascist guerrilla unit during the Spanish Civil War. "For whom the bell tolls / Time marches on"
---
Arcade Fire – Sprawl II (Mountains Beyond Mountains)
Régine Chassange lead single, Sprawl II (Mountains Beyond Mountains) came from their Grammy winning album The Suburbs. The title has taken inspiration from Tracy Kidder's book, Mountains Beyond Mountains: The Quest of Dr. Paul Farmer, A Man Who Would Cure the World. Kidder met Paul Farmer in Haiti, where Farmer would work with organisation Partners in Health. This has a huge tie to the Canadian band, who are supporters of PIH, as Régine is the daughter of Haitian immigrants.
---
Nirvana – Scentless Apprentice
Featured on Nirvana's 1993 album In Utero, Scentless Apprentice was inspired by a German novel, Das Parfum. Perfume: The Story of a Murderer was published eight years before the album, which explored the sense of smell and how there can be emotional meaning to scents. The novel's protagonist Jean-Baptise Grenouille has an incredible sense of smell, becoming accustomed to all of the smells within his town until he comes across one of a young girl. He kills her in order to preserve her scent; and she would not be his only victim. Jean-Baptiste did not have his own scent, which Kurt Cobain captures in the lyrics. "Like most babies smell like butter / His smell smelled like no other"
---
Radiohead – Paranoid Android
In 1997, Radiohead released Paranoid Android, the lead single of their album OK Computer. It debuted at number three in the UK Singles Chart and the title was intended to be funny! Paranoid Android comes from the character in Douglas Adams' novel The Hitchhikers Guide to the Galaxy, Marvin the Paranoid Android. Radiohead frontman Thom Yorke picked the title as a joke because he felt people thought Marvin's depressed demeanour was how he was viewed as a musician.
---
The Divine Comedy – The Booklovers
Before Northern Irish band The Divine Comedy released their transportation love-in track National Express, Neil Hannon wrote a song that wasn't just inspired by a singular work of literature but a whole array of authors. The Booklovers name checks a vast number of writers dating back centuries including Aphra Benn, Herman Melville, Henry James, Albert Camus and Roddy Doyle. It's a bit of a who's who of literature!
---
Do you want to dig into the literary classics that have shaped the charts? Check out musicMagpie Store and bag a bargain on books!