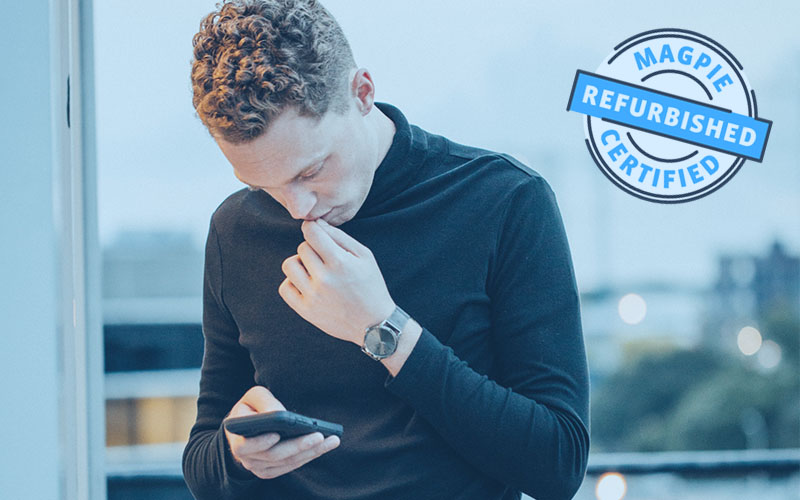 What do the refurbished grades mean?
Now that you're up to speed on what refurbished means and you know what kind of device you want to buy, it's time to think about the grades. The condition of the phones are split into different grades to help you understand what to expect when you buy refurbished phones.
---
What do the refurbished grades mean?
At musicMagpie, we have a clear grading system for the phones we sell. This gives our customers a clear indication of what the phone will look like more than anything, as all of the devices are in full working order. So, we sell devices in:
This can also be split into grade A for Pristine, grade B for Very Good and grade C for Good condition. All our devices work as they should, but the visual aspect will vary.
Pristine
A pristine device is the closest you can get to a new phone without paying the price!
Very Good
A very good condition device will only show light signs of wear and tear, but overall, it'll be in really good cosmetic condition. You'll hardly be able to tell it's refurbished!
Good
A good condition device will have moderate signs of wear and tear. There may be a scratch or two on the casing that would show it's a refurbished device, but this is usually something that can be hidden by a phone cover.
As the conditions improve, the price for the device will also increase. So, if you have a tighter budget and aren't fussed about a few scuffs on the body of the phone – opt for good condition and invest in a good cover. If you're into your tech and want the latest devices in the best possible condition, you'll want to go for pristine.
---
There you have it! You know all you need to know to buy a refurbished phone, switch to a SIM only contract and start saving a lot of money. All you need to do is buy a refurbished phone from musicMagpie and you're set!
Are you wondering "how do I sell my phone?". Sell your phone with musicMagpie and get cash towards an upgrade!