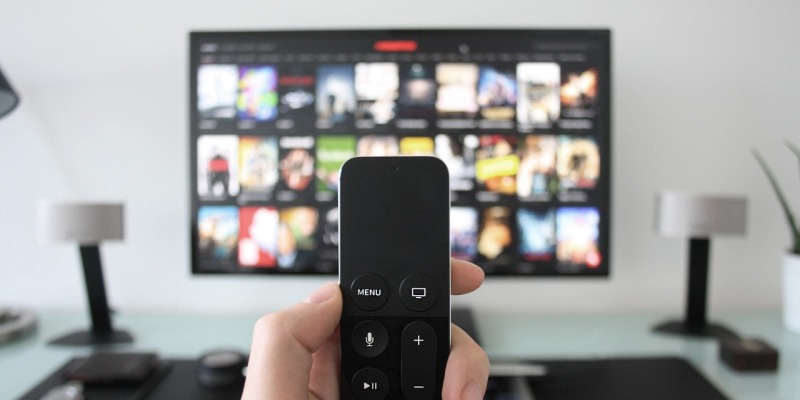 Are we obsessed with old TV shows?
Switching on the TV and watching an old episode of a show comes pretty naturally to most of us. Even though you know exactly when the punchlines are, it doesn't take away from your enjoyment of the show. Even with older shows on streaming services, there's a comfortable familiarity with long-ended shows that we keep flocking to.
Is our familiarity turning into something of an obsession? Considering the schedules of Britain's most loved channels as well as the likes of Netflix, we think it's clear to say we are too well acquainted with the ghosts of TV past.
The One That's as Popular as Ever
The cultural impact of the TV show Friends has stretched far beyond even the wildest imaginations and catapulted the careers of the six main members of the cast. Although viewing figures have not been unveiled by Netflix, who have had the rights to the show since 2018, a survey has shown that it is the most popular show amongst those who subscribe to the service.
Panic set in as users believed the show was due to end its run on Netflix on January 1st, 2019 which the company shot down as untrue. As Warner Bros are planning on bringing their own streaming service into the fold, the partnership between Friends and Netflix was doomed to end – not just yet, as again confirmed by the company.
Holding on to such a beloved show has not come cheap for Netflix. Reports state to secure the rights initially, Netflix paid $30 million which jumped up to an eye-watering $100 million to see them out to the end of this year.
Of course, it's not just Netflix that is fuelling the obsession with Friends – they've merely made it easier to binge-watch the show. Friends has been a mainstay on British TV in the 15 years since it finished, with repeats on Channel 4, E4, Comedy Central, Sky1 and Channel 5. The infamous final episode broadcast in 2004, attracting 10 million viewers and to this date is still one of Channel 4's most-watched shows.
Despite the considerable gap since original episodes have aired – the show has been off the air in this sense longer than it was actually on TV – fans can't get enough of the show on this side of the Atlantic. The annual event, FriendsFest, sees fans immersing themselves into remade parts of the set like Monica's apartment and Central Perk, the famous coffee shop where the gang hung out. FriendsFest launched in 2015 and this year they celebrate the 25th anniversary of the show.
For those who missed out on FriendsFest, they can instead buy merchandise in stores like Primark, emblazoned with famous phrases or even just the title. In Manchester, Primark is opening their own Central Perk instore too.
Whilst the UK's love for Friends refuses to wane, there's much more to it than this. Christmas 2019 will see a one-off special (as it stands) of the ever-popular BBC show Gavin and Stacey, created by Ruth Jones and James Corden. Their run was much shorter, with three seasons and a Christmas special – yet again, this show ended ten years ago. The public's appetite for a follow up has remained strong, and no doubt the Christmas special will be one of the most watched shows on Christmas Day.
The original broadcast is great news for fans and TV execs alike, as the BBC has come under scrutiny for their repetitive schedule. During peak-time of 6pm – 10.30pm, the number of repeats show grew from 4 percent in 2016/17 to 6.6 percent in 2017/8. This contradicts a pledge made a decade earlier, made by the then chairman Sir Michael Grade that the channel would be a repeat-free zone within 10 years.
Are TV schedules repetitive?
On a typical midweek morning (June 5th), the BBC's morning was made up of original shows, with the first repeat coming at 2.15pm. BBC Two is a different matter, with just thirty minutes of original programming between the hours of 6am and 10am.
It would be unfair to pinpoint this repetitive nature, fuelling our desire for the shows of yesteryear on just the BBC. Channel 4's morning schedule relies entirely on reruns of old shows – beginning with beloved sitcom Cheers at 6.25am, followed by Everybody Loves Raymond and into Frasier, a spin-off of Cheers. These shows ended in 1993, 2005 and 2004 respectively.
ITV's morning routine steers away from classic sitcoms, focusing on live content from Good Morning Britain, Lorraine and This Morning – however, a repeat episode of Dickinson's Real Deal is wedged in before Phil and Holly take to the sofa.
Much like Channel 4, Channel 5's morning routine is built on repeat episodes but the content is child—ren's TV shows including Peppa Pig, Thomas and Friends and Paw Patrol. Jeremy Vine's talk show breaks this up before slipping back into a repeat episode of Police Interceptors at 11.15.
What about peak-time, in the evening? Channel 5's ran two repeated shows, sandwiched by a brief news update. A further bulletin broke the monotony of a re-run before the first episode of a new show, Age Gap Love: 5 Years On, Did It Last? was aired at 10pm, the first non-repeat since 6pm.
Channel 4's evening kicks off with an old episode of The Simpsons, a mainstay in their schedule. Aside from a new episode of the soap, Hollyoaks and an hour-long news programme, C4's original content does not arrive until 9pm with Shane Meadow's drama The Virtues.
Although it's news-heavy, this midweek evening was made up entirely of new broadcasts for ITV, with one hour and thirty minutes going to popular soaps Emmerdale and Coronation Street.
BBC Two's evening schedule is as reliant on old shows as its morning schedule. They kick off the night with three hours of repetitive content – the first original episode isn't shown until 9pm – episode three of House of Rockets. That equates to just an hour and a half of peak time is something we haven't seen before. By contrast, BBC One's schedule was made up entirely of new episodes.
The nation's favourite TV show is…
YouGov data has determined that the UK's favourite TV show is Only Fools and Horses, the critically acclaimed comedy that ran between 1981 and 1991, with sporadic specials continuing through to 2003. In fact, half of the top 10 shows, chosen by the British public are shows that have long ended.
In fifth place is Fawlty Towers, which ran for two series and ended in 1979. Eighth place belongs to the even older The Flintstones, a beloved cartoon that stopped releasing new episodes in 1966. The ninth favourite is The Two Ronnies which ended in 1987 and is followed by The Vicar of Dibley, ending in 1998.
Like Gavin and Stacey, public appetite has meant that some of the UK's favourite shows have been given a new lease of life in the form of a special – or in the case of Only Fools and Horses, a new but related series. The Green Green Grass, a spin-off focused on characters Boycie and Marlene, ran for four series between 2005 and 2009. The following year, the prequel Rock & Chips aired. Nicholas Lyndhurst, who played Rodney in Only Fools and Horses took the role of Rodney's biological father in the prequel. It ran for three episodes between 2010 and 2011. A musical version of the show has launched in London this year too.
Reboots are quickly becoming a staple of our entertainment schedules too, spanning across more than just TV. Disney's extensive collection of live-action remakes are making waves in cinemas whereas hugely popular names in music from the 1990s like the Spice Girls and Westlife are back on tour.
One of Netflix's most talked about shows of recent years is Queer Eye, a modern day reboot of Queer Eye for the Straight Guy which aired in the early 2000s. Twin Peaks was rebooted 16 years after its run had ended, and even Sabrina the Teenage Witch whose initial run ended in 2003, has been given a grown up refresh in the style of Netflix's Chilling Adventures of Sabrina.
Whether we're choosing to dig into old episodes of our own accord or we're becoming accustomed to the dated schedules that need repeats to fill in the gaps, there is a clear appetite for shows that have long since gone.
Need to get your fix of older shows? Buy DVDs with musicMagpie and build your collection for less.