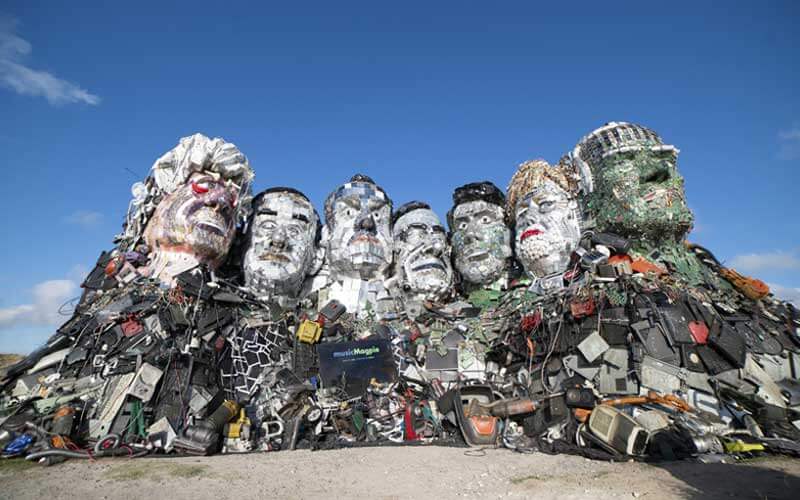 International E-Waste Day 2021
Happy International E-Waste Day! We've partnered with Weeeforum to help raise awareness of e-waste and the importance of recycling your old Tech!
---
What is International E-Waste Day? 
International E-Waste Day aims to raise awareness of the issue of e-waste and explores a different theme each year.
This year's theme focuses on the part each one of us can play in making circularity a reality for e-products. This includes recycling electronics, reusing or repairing them.
The Coronavirus pandemic has had a perceptible effect on the use of electronics, with an increase in consumption as people heavily relied on them to keep connected with family, friends and work. It is important that people know the options that exist for their end of life equipment, to avoid it ending up in landfill.
What is e-waste?
E-waste is any electronic item that is nearing the end of its useful life, and is discarded, donated or recycled.
How does e-waste affect the planet if it isn't recycled? 
It takes thousands of years for e-waste to decompose and it causes numerous environmental issues, including damage from the leaking of harmful chemicals, the limiting of precious resources and the creation of carbon emissions which contribute to global warming.
The chemicals released when tech is burned pollute the air, while the refrigerants found in temperature exchange equipment are greenhouse gases.
The mining of raw materials for electronics causes a devastating impact on the environment, including habitat destruction and contamination of water and soil. As the demand for electronics is constantly increasing, the situation is only going to get worse.
Mobile Phones are just one form of e-waste and they cannot be made without using valuable materials such as silicon, carbon, calcium, coltan, iron, gold, copper, tin and aluminium. 
If Phones aren't recycled properly, then the materials can't be recovered, putting a strain on resources. According to Treehugger, for every one million phones recycled, we can recover 75 pounds of gold, 772 pounds of silver, 33 pounds of palladium and 35, 274 pounds of copper.
What we're doing to combat e-waste
Here at musicMagpie, sustainability is at the forefront of everything we do! As the UK's #1 Recycling service, we're here to help you recycle your unwanted Tech and extend the lifespan of these products and their parts. 
In a year, we give nearly half a million Tech items a second life. 95% of products we buy from our customers are refurbished and we use the parts from the remaining 5% to refurbish other items.
---
Mount Recyclemore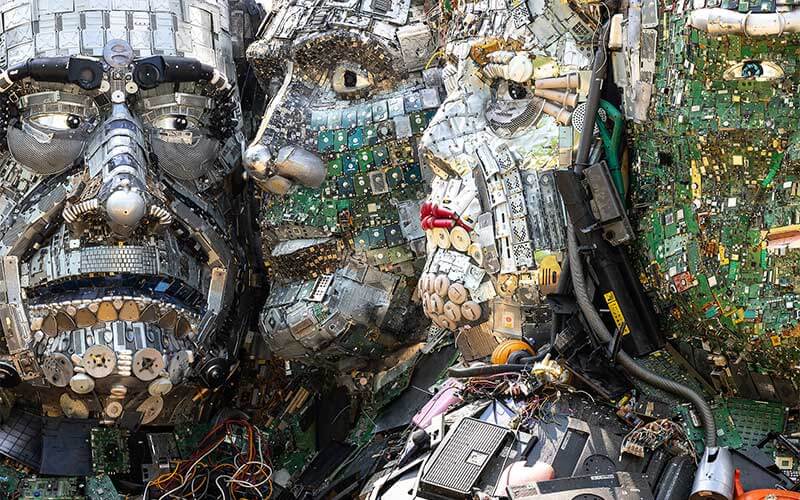 Did you know the G7 nations produce 15.9 million tonnes of e-waste each year?
In June this year, to encourage consumers and leaders to take action against the growing threat of e-waste, we created Mount Recyclemore which is a giant sculpture of the G7 leader's heads made entirely out of discarded electronics.
Mount Recyclemore was originally located on Sandy Acres Beach opposite the G7 summit in Carbis Bay, Cornwall while the G7 leaders met to discuss huge issues facing the planet.
It received coverage from major news outlets around the world, as well as much-loved entertainment shows like The Tonight Show with Jimmy Fallon and The Late, Late Show with James Corden.
If you missed the sculpture in Cornwall or in its second home in Stockport, you can pay Mount Recyclemore a visit at the Eden Project in Cornwall, where it will be for a year.
---
Our planet vs e-waste
Since 2015, the amount of e-waste the world has produced is estimated to have increased by 21% and continues to rise! This is due to factors such as lack of options for repair, short replacement cycles and digitisation.
If e-waste continues to rise at this rate, by 2030 the world will produce 35% more than it currently is.
We've estimated that the UK produces 133,141 tonnes of e-waste each month, which is equivalent in weight to 63 London eyes!
---
How can you make a difference?
Preventing e-waste starts at home and you can actively make a difference by reselling and recycling your unwanted Phones and Tech instead of throwing them away. Buying refurbished Tech instead of new can also expand the lifespan of those products.
musicMagpie is the best place to resell and recycle your unwanted Tech and buy refurbished devices. We're the UK's #1 Recycling Service and we refurbish over half a million Tech items a year! Plus, we're rated Excellent on Trustpilot and have paid out hundreds of millions to our happy customers.
Help make a difference this International E-Waste Day by Recycling Phones or selling Tech with musicMagpie! You can also check out our huge range of refurbished Phones or buy refurbished Tech for less at the musicMagpie Store.
As well as helping reduce e-waste, make your upgrade even cheaper and get up to £60 extra when you trade in and upgrade your Phone or Tech with musicMagpie.