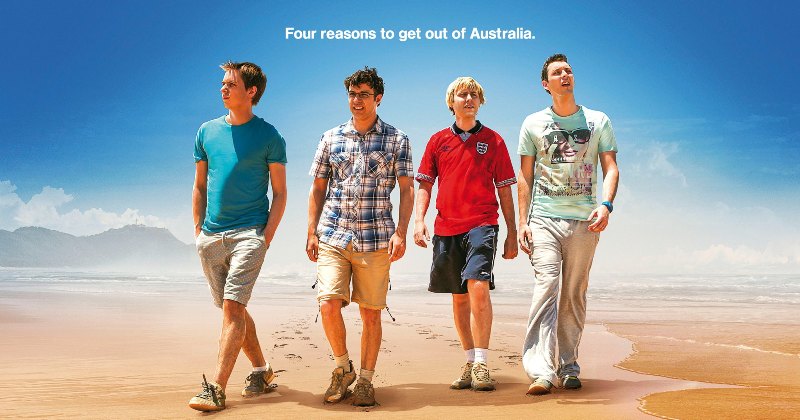 Our Favourite Inbetweeners Moments
The Inbetweeners 2 hits cinemas today and we're more excited than a hyperactive schoolgirl at a One Direction meet-and-greet.
The new movie sees Jay, Will, Simon and Neil backpacking through Australia, presumably getting into all kinds of hilarious and cringeworthy situations along the way. They may be older, but they definitely aren't any wiser.
Anyway, in honour of The Inbetweeners 2, we thought we'd share our favourite moments with you. Enjoy!
---
Football Friend
Jay makes a new friend, who just happens to like football – a football friend, as the rest of the boys christen him. Needless to say, the boy's mocking sends poor Jay a little bit mad…
---
Ooh Sorry
Simon get into a spot of bother with a pair of commuters, and he's really sorry.
---
An Inventive New Insult
The boys bunk off school and get drunk (while eating lots of posh crisps). Neil's dad walks in on them, and receives a remarkable volley of abuse from the normally polite Will – including a very inventive (and very offensive) new insult.
---
Frisbee Fun
The lads aren't cool enough to play football at the park, so they play with a frisbee instead. Unfortunately, in typical Inbetweeners fashion, it goes horribly, horribly wrong.
---
New Shoes
Tired of being ignored by girls, the boys decide to go clubbing in the big smoke. The whole episode is very, very funny but the highlight is Simon swapping his brand new Nike's for a homeless man's shoes in an attempt to gain entry to a club. It works too – for a bit, at least…
---
Fish Punching
What to do if a fish jumps aboard your rowboat…
---
What are your favourite Inbetweeners moments? Share them with us below!