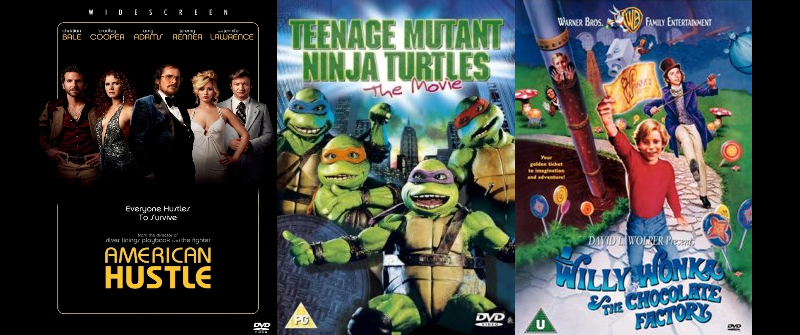 Top Traded DVDs: American Hustle, TMNT and Willy Wonka
Wall-E
Fun fact: WALL-E stands for Waste Allocation Load Lifter – Earth Class. Not so cute when you spell it out, is it?
---
Insidious Chapter 2
Fun fact: The house at the beginning of Insidious: Chapter 2 also appeared in the slightly-less spooky Charmed.
---
Now You See Me
Fun fact: The card trick at the beginning of the movie is actually possible in real life. Here's a guide if you want to try it.
---
Willy Wonka and the Chocolate Factory
Fun fact: The chocolate river is made from real chocolate mixed with water and cream. While that sounds delicious, the river went 'off' relatively quickly…
---
The Lion King
Fun fact: The heroic Mufasa is voiced by James Earl Jones; the same man who voiced the most evil man in the galaxy, Darth Vader!
---
Iron Man 3
Fun fact: Iron Man 3 is the 4th highest-grossing superhero movie of all time, after The Avengers and the second and third Dark Knight movies.
---
Teenage Mutant Ninja Turtles – The Movie
Fun fact: All 4 of the actors who play the Turtles appear elsewhere in the film: Josh Pais (Rafael) appears in the back of a cab; Michelan Sistini (Michaelangelo) plays a pizza delivery boy; Leif Tilden (Donatello) plays a Foot Clan messenger; and David Forman (Leonardo) appears as a gang member during a warehouse fight sequence.
---
The Conjuring
Fun fact: cinema-goers in the Phillipines were blessed by Catholic priests before watching The Conjuring, due to some viewers experiencing  'a negative presence' after watching the film.
---
Rush
Fun fact: The Formula 1 cars featured in the film are actually Formula 3 cars with Formula 1 bodywork. Neither of the lead actors were allowed to drive Formula 1 cars.
---
American Hustle
Fun fact: To play Irving Rosenfeld, Christian Bale gained over 40 pounds (nearly 3 stone) and adopted a slouch. The slouch led to him herniating two disks, while his co-stars (and some extras) took to rubbing his belly for good luck (as you would with a Buddha).
---
If you own any of the DVDs in our Top Traded list, why not see how much you could make for them with musicMagpie? Click here to get an instant price.